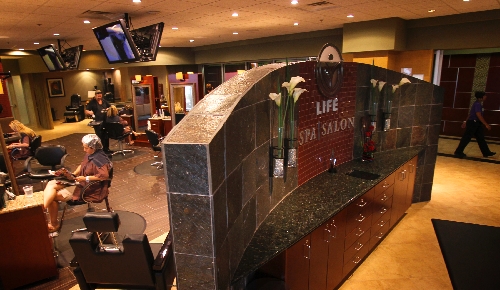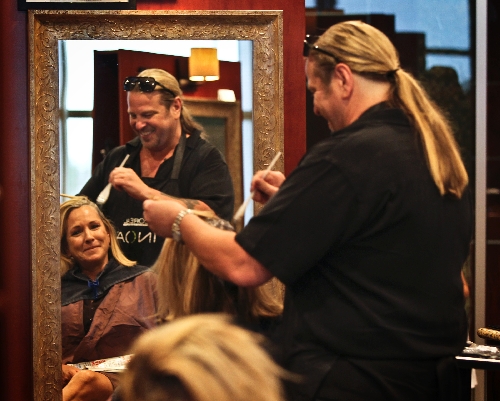 Celebrity magazines might have dropped Paris Hilton long ago, but the only thing Michael Boychuck wants to drop is her name. It's the local celebrity hairstylist's first day on the job at his new salon in Summerlin, and he's mentioned Hilton half a dozen times during an interview.
That's the kind of loyalty that fills his salon on the Strip with famous clients and his new neighborhood salon with locals.
LifeSpa + Salon by Michael Boychuck is a distinct departure from his past projects. For starters, it's inside a gym, Life Time Athletic, 10721 W. Charleston Blvd. Appealing to the busy moms, free two-hour child care is provided to clients. Other perks include access to the fitness center the day of a scheduled appointment and an on-site cafe.
He expects the locale will pull in some new clients, but it also means many existing ones now have a hairstylist in their backyard. Before, they had to travel to COLOR Salon at Caesars Palace or Amp at the Palms, with which he has parted ways.
"I have the best location on the Strip, and now this is the best off-the-Strip location," he says.
And yes, a good number of the clientele at both salons sport the "Boychuck blonde" look, but the stylist makes clear that he's just as fond of other colors, too. In fact, he says, while judging the Miss California USA 2011 pageant, Alyssa Campanella's red locks were enough to convince him she deserved the Miss California title.
"Oh yeah, (the other judges) were gonna go with a Latin girl at first," he says. But Boychuck says he knew 2011 would be the year of the redhead, which Christina Hendricks' popularity on "Mad Men" signaled. So, he says, "I told them it should be Alyssa. One guy agreed and then another one and another one. I talked them into it."
According to the Miss California USA website, "judging criteria includes character, poise, confidence and personality."
Campanella not only won Miss California USA, she went on to win Miss USA 2011, the first redhead to do so since the '70s. She's a natural blond and Boychuck will help her return to that color soon, he says.
When discussing recent hair trends, such as braids, he mentions they're a favorite of Hilton's. His staff styled the braided 'do she wore in the infamous mug shot she took when Las Vegas police arrested her for cocaine possession, discovered in her Chanel handbag. The glamorous mug shot got almost as much media play as the scandal itself.
Boychuck started styling Hilton after her mother, Kathy Hilton, asked him to highlight her then 13-year-old daughter's hair. They've had a loyalty to each other ever since. Paris promotes him, and he promotes Paris. She's even responsible for at least part of Boychuck's social media efforts.
As he tells it, the hairstylist was working on Paris' hair one night when she took to Twitter to tell her followers about it.
"She was like, 'Isn't Twitter great?' " he recalls. "I was like, 'Yeah.' I went home and was like, OK, how do I get on Twitter, and what is it?"
He tweets from @michaelboychuck half-time and his PR team tweets from it the other half. He says he's gained a lot of Canadian clients through social media, and country singer Leann Rimes became a client after seeing a tweet about his work.
Although other celebrity hairstylists have set up shop in Las Vegas, one of Boychuck's distinctions lies in the fact he's based here. Ken Paves, whose salon was a short-lived effort that didn't survive the recession, didn't have a regular presence in Vegas. And Kim Vo generally does hair every other Sunday and Monday at Kim Vo Salon at The Mirage.
Boychuck also refused to let go of his local clients to cater to celebrities. That explains why his celebrity clients form authentically, not through any courting process, he says.
"I never want to inconvenience our guests," he says. "You're tied up the whole day with a celebrity. You have to reschedule all those appointments. It's a pain in the butt for everyone."
He promises an experience at LifeSpa + Salon no different from the one clients get on the Strip. That said, his new Summerlin location is attached to a spa and medispa. He's also bringing in tanning and makeup services, which artist Diana Buzzatta will perform.
"That's who did Paris' makeup for EDC," Boychuck says, referring to the Electric Daisy Carnival. "Paris loves her."
Contact Xazmin Garza at xgarza@
reviewjournal.com or 702-383-0477. Follow her on Twitter @startswithanx.
Primping prices
Blowout: $55-$75
Color: $70 for one process
Highlights: $95, partial; $150, full
Men's haircut: $50
Children's haircut: $35
Haircut and blow-dry: $85-$105, depending on length
Information: 228-2611