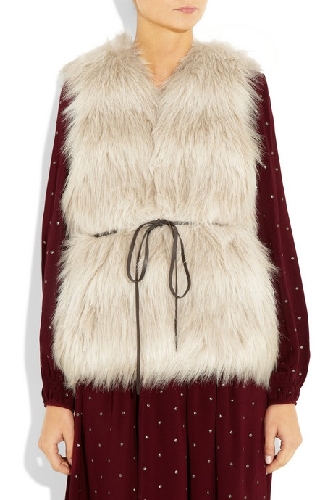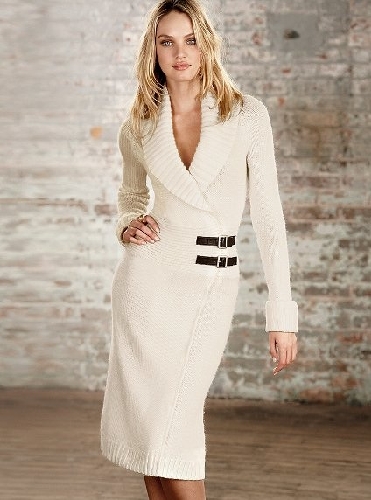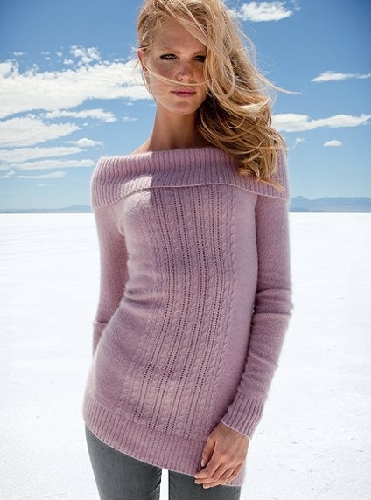 If you're looking at the drop in temperatures as a cramp on your style, you need a new outlook. Cold weather will mean more clothing, yes. But, more clothing should mean one thing: more style points. It starts and ends with the right gear. If you feel bloated when dressing warmly, it's time to re-evaluate your winter wardrobe.
"Take out the bulk and concentrate on thin layers," says Laura Rubeli, local image consultant. "There's no reason you shouldn't feel warm, cute and trendy."
Rubeli has identified five key pieces to accomplish just that. In no particular order, here they are.
Faux Fur Vest
We know what you're thinking. Unless you've got a boyish figure, it's going to have you looking like a starting NFL linebacker. In many cases that could be true, but there's one little exception here.
"I would put this on anybody because it's belted," says Rubeli, "so it accentuates the waist."
That's key with any piece that's puffing you up. If it doesn't come with a belt, such as this Juicy Couture vest, the solution is easy. Find one of your own and cinch away. The wider you go, the more definition you'll get. Forever 21 is an excellent resource for that kind of accessory. You'll find a lot of variety at very inexpensive prices, so you can stock up.
Watch those big bulky sweaters, boxy coats and shapeless shirts lose their frump.
Sweater Dress
This one in particular gets Rubeli excited about winter for the simple fact it's so close to the classic wrap dress. The neckline draws attention to the waist and the buckles define it. Long sleeves and a hemline that covers your knees are sure to keep you cozy. This is one of those pieces that doesn't need any extras.
The best part? You can pair it with textured tights and oxford pumps for an office look or strap on knee-length boots for a semicasual holiday party. You'll get real mileage out of this dress.
Suede Boots
Knee-length boots are a must during colder months. The obvious colors are black and brown, which explains why knee-length leather boots in both shades are staples nowadays. Don't stop yourself there, though. Pick these boots in a brighter color for a little dose of the unexpected. A mauve or even mustard can still, surprisingly, coordinate like a neutral. Animal prints can do the same.
If you aren't ready for brave new colors yet, look to interesting textures to amp up your style. The weave pattern on these suede boots makes them a far cry from the predictable leather boots we see so much of this time of year. And, UGG makes them, so we have no doubt they're comfortable.
Off-the-Shoulder Sweater
If you can see your breath outside, you probably won't want to don anything that shows a lot of skin. In fact matte tights, knit scarves and long gloves almost ensure you'll be completely covered. But, this is one of those pieces that lets you stay warm while exposing just a hint of skin.
The off-the-shoulder sweater is one of the sexiest cold weather pieces you can wear. If it's a soft knit, it might get appreciated with more than just people's eyes. "It's the kind of sweater people want to reach out and touch," Rubeli says.
Depending on the company, that can be a good or a bad thing. We see this piece with skinny jeans or even tucked into high-waist, wide-leg pants. Dangling earrings are a must.
Knit Beanie
"It's so cute you'll want to wear it even when it's not cold," says Rubeli of the knit beanie.
Sans the puff ball on top of this particular one, we can definitely see it working well in spring, too. Don't assume you need to be sporting the most casual of outfits to rock a beanie, either. Pin a brooch to it and this piece can work with dressier numbers, too.
Let's face it, though, the real appeal of a hat like this is the pass it gives us on bad hair days. If it's simply not coming together in front of the vanity mirror that day, don't reach for a ponytail holder, reach for a knit beanie.