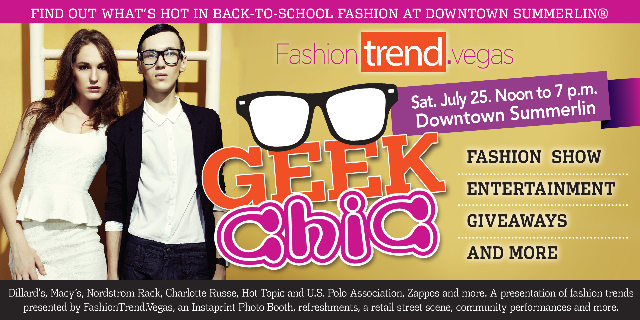 The new school year is around the corner, and every parent is getting ready for the first day. Fashion plays a big part in any back-to-school planning, and to be updated on the latest trends for back to school, come and enjoy a day of fun, fashion and savings at "€œGeek Chic,"€ the first back-to-school event at Downtown Summerlin, Saturday, July 25, from noon to 7 p.m.
Featuring fashions from Dillard'€™s, Macy'€™s, Nordstrom Rack, Charlotte Russe and Hot Topic, among others, attendees will be able to enjoy trends like camouflage prints, grunge, flannel, biker-inspired leather and statement shoes. The items will all be featured in back-to-school fashion shows scheduled for 2 p.m., 4 p.m. and 6 p.m. that day.
This full-day event will also include a presentation of fashion trends by FashionTrend.Vegas, an Instaprint Photo Booth, refreshments, a retail street scene, community performances and more.
Hosted in partnership with Zappos, "€œGeek Chic"€ kicks off at 1 p.m. with a Zappos fashion show, featuring the hottest looks for back-to school for all age ranges. Zappos will also showcase The Zappos Bright Future Experience to include fun stations for kids with Zappos merchandise, a braid and accessories bar and a fun photo experience.
As part of the retail scene, other stores will also be participating, hosting their own experience. Sprint, T-Mobile, Vision by Amel and Posare Salon, Charlotte Russe, New Balance, Sephora and others will be offering special discounts and promotions.
Coca-Cola will have a refreshment station, with a DJ and interactive Emoji wall and tasting lounge, all part of their Coca-Cola Teens Summer Sampling Program.
"We are thrilled to host what we know will be an incredible event for the entire family,"€ said Andrew Ciarrochi, senior general manager of Downtown Summerlin. "€œBack-to-School is an important season for our retailers, and July 25 will be a great kick-off to the season."€
Important information:
Shoppers who spend $300 or more in same-day receipts from Downtown Summerlin shops and restaurants can redeem two free 2015 passes to Wet-€™n-€™Wild, Las Vegas go-to summer destination, compliments of Wet-€n-€™Wild. Shoppers should present at the concierge desk located in the breezeway of the ONE Summerlin Office Tower. One redemption per shopper, while supplies last.
Shoppers can also support homeless teens served by local nonprofit Project 150 throughout the day. Home Aid of Southern Nevada will be on hand to collect donations of backpacks and school supplies, and Zappos is giving customers who bring gently used clothing and footwear for teens a free treat from Cream Inc.
For a complete schedule of events, including a list of retailers offering special sales and promotions during "€œGeek Chic,"€ visit www.downtownsummerlin.com or follow Downtown Summerlin on Facebook and Twitter.