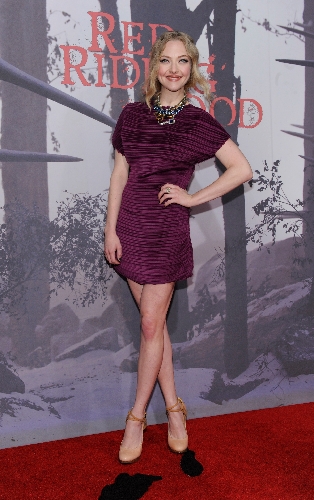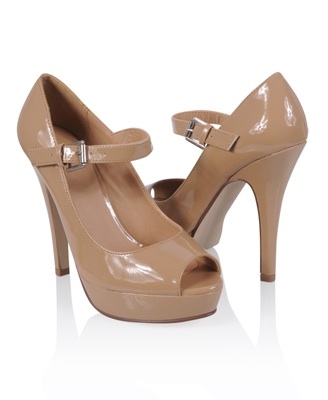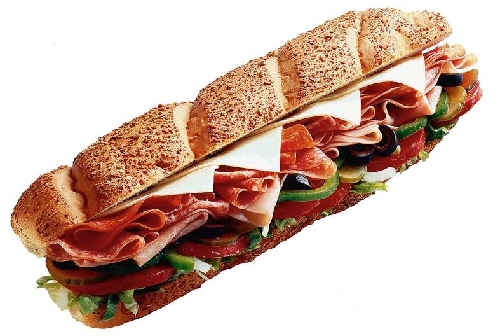 We miss Amanda Seyfried's character on the HBO series "Big Love," but there are a few things we miss even more than that. For instance, her voluptuousness. The actress's cheeks – pick a set – have lost their roundness. Her breasts have lost their bounce. Her midsection has lost its softness. And, for that, we've lost that lovin' feeling.
It was refreshing to see a young woman who had legitimate rights to the "curvy" title walk a red carpet with her slightly cushioned shoulders held back. Seyfried had sex appeal and her clothes couldn't help but announce it. These days she has bones and her clothes can't help but announce it.
This merlot-colored minidress makes no apologies for the two sticks Seyfried refers to as legs these days. Although she's been quoted condemning Hollywood for pressuring actresses to make waifs of themselves, she was only too happy to waif down and then ham it up at the premiere of "Red Riding Hood." Not even the dress's horizontal pleating can trick our eyes into believing there's some meat underneath it.
We love the beige ankle-strap platforms, but the technique of wearing a nude shoe with a skirt is usually used to elongate and thereby slenderize the legs. This is why we would rather have seen another pop of color here or even the same shoe, but in black to break things up a bit.
The fact the starlet can turn sideways and, in doing so, perform a vanishing act impressive enough to make David Copperfield trash every mirror and smoke machine he owns, speaks for itself.
The multicolored statement necklace makes for a fine accessory, but so did the bounty of cleavage she once had. When it's not made of silicone, sometimes we prefer the latter. We realize, however, that a young woman whose career seems to improve with every pound she loses will make do with what she has. Or in this case, what she hasn't.
It's not that a frail physique is always something to frown upon. For the naturally thin it can be a beautiful thing. But when it's influenced by societal pressures, it sends a dangerous message to women of all shapes and sizes.
That's why we'd like to make one small accessory addition to this look. It's called a footlong Subway sandwich and we happen to think it would make both Seyfried and her loved ones very, very happy. Maybe if she starts eating her heart out, we can do the same.
Here's how to copy Seyfried's look, and our suggestion, yourself.