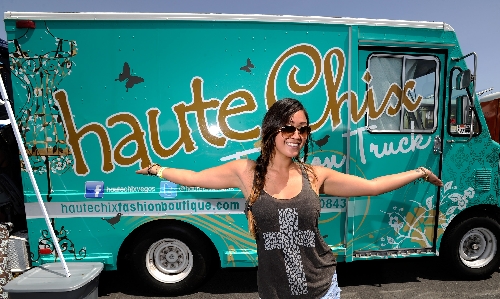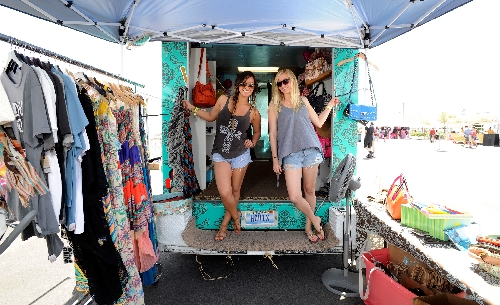 There's one truck parked at the Las Vegas Foodie Fest that stands out from the rest in the Silverton parking lot this Saturday afternoon. Not for its diverse menu; it doesn't have one. It doesn't emit a savory aroma, either.
The Haute Chix truck sets itself apart from the array of food trucks here because it cooks up trends and serves hot fashion. It's a mobile clothing boutique.
You might be familiar with the name already. Owners Selena Viskovich and Mandi Staggs own two storefronts by the same name and another, Cityfied, that features both men's and women's clothing.
They've just set up shop here and the food festival's first patrons are trickling into the parking lot. The turquoise truck with the HCHIX license plate uses the passenger seat area as a fitting room. Curtains attached to rods provide privacy. A fuchsia-colored fan blows from a corner perched above one of two clothing racks, where a fringed T-shirt with Navajo print ($23.80) and sheer blouse with a beaded collar ($38.80) hang, among other trendy garments.
Viskovich and Staggs are expecting a lot of business for this 11-hour event, so they've added a tented area to the back. Scarves, sandals and cellphone cases here are meant to beckon the casual passer-by. Thus far, no one's biting. It's early.
The two decided to go mobile after observing the food truck Fuku Burger. It started parking near Cityfied in Boca Park last summer, and its success illuminated a light bulb thought for the fashion store owners.
"You have to stay innovative because in Vegas things get so oversaturated so fast," Viskovich says. "There weren't many clothing boutiques like Haute Chix when we first opened. Now there are. You have to stay ahead of the game."
She found her truck, formerly owned by FedEx, on Craigslist and designed it to look like the storefront versions. The first event she took a chance on was Vegas StrEATs, a monthly street food event downtown. It took patrons a minute to get used to the idea of a fashion truck in food truck territory. Some asked Viskovich if she had any "haute dogs." But, soon enough she was using the app on her iPhone to ring up debit card purchases and making foodies hungry for fashion.
Everything sold through the Haute Chix truck stays below $50. The median price runs $25 to $30 and accessories don't exceed $20. Although her brick-and-mortar stores stay just as affordable, the boutique atmosphere can lend false impressions to prospective shoppers. There's an intimidation there, Viskovich says. But a truck has zero pretension.
Taking the boutique mobile has expanded its reach.
"We're coming where they are, so we get all walks of life," Staggs says. "(Fuku Burger staff) have given us great tips."
Before she can finish her sentence, Robert "Mags" Magsalin rolls up on a skateboard. His Fuku Burger truck is just a few skateboard strides away. The best tip he and his friends gave Viskovich and Staggs was simple: "Just follow us," Magsalin says. "There's no better way to hit a target demographic."
They've been doing just that since they first parked at Vegas StrEATs. They've also been to Diva's Day Out, some store grand opening events and occasionally visit local businesses, too.
It's now a couple of hours into Foodie Fest and Joanne Gierer, 60, has stopped under the tent to make a purchase. She arrived at the food festival five minutes ago and can't believe this is the first thing she's buying.
"I just saw (the purse) and thought, 'You know what? I need something like this,' " she says.
Her husband impatiently stands by.
Before Gierer has finished her purchase, Tayler Devito limps past.
"Please tell me you have flip-fops?" she asks Staggs, who nods and points her to a basket of sandals. Devito's flip-flop busted.
"I've been walking around like this, hoping someone would have them," she says, digging up her size.
A middle-age couple has now approached the truck. Their teen daughters aren't far behind. Haute Chix is officially in business.
"Even if we don't sell anything when we do this," Viskovich says, "the truck is just great marketing."
Visit hautechixfashionboutique.com to learn more.
Contact fashion reporter Xazmin Garza at xgarza@reviewjournal.com or 702-383-0477. Follow her on Twitter @startswithanx.