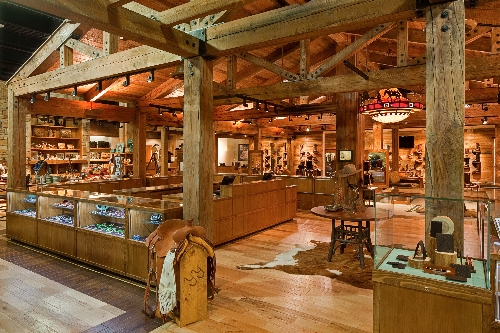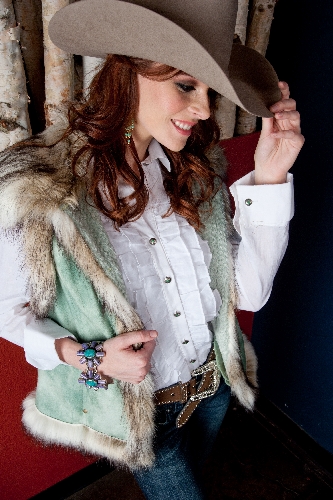 Tip your hat and kick the dust off your boots. Las Vegas welcomes country-western boutique Pinto Ranch to Fashion Show mall.
If you're picturing saddles, belt buckles and cowboy hats, you're on the right track. But take a closer look and — while you're at it — inhale. That's the smell of fine leather and the sight of top-tier craftsmanship. The price tags at the first Pinto Ranch outside of Texas can skyrocket well into quadruple digits, but shoppers here don't just want to look like they rode in on any old horse. They want to look like they rode in on a very high horse.
"These boots are made of alligator, elephant, lizard and ostrich leather," said Bea Garcia, Pinto Ranch director of marketing, during a tour of the store recently. "They start at $795 and go up to $3,000."
Boots here have no metal parts in their construction. They're all handmade and can last a lifetime. Even better, Pinto Ranch stocks its supply (approximately 1,200 pair) in store so customers get instant gratification with no waiting time.
Men's boot designs tend toward classic looks, but many of the ladies' styles have adopted the "go big or go home" mentality of which Texans are so fond. During a trunk show last week for the famed Rocketbuster Handmade Custom Boots, its owner and designer Nevena Christi sold a pair of $3,600 boots covered in Swarovski crystals right off her own feet. It's happened to her before and surprised her in the past. Here in Vegas, though, she expects that kind of thing.
"There are so many places to wear our boots here," she said. "It's just the city in general. You go outside and see all the lights and you wanna keep up."
For instance, the woman who walked away with the $3,600 pair that Christi calls the "chandelier boots" planned to wear them in the fourth row at Rod Stewart that night and again for her wedding.
Christi's designs range from prints that honor Dia de los Muertos, the Mexican holiday honoring the dead, to fringe boots that look very close to mainstream fashion's fall collections. Her Gala Boots are highly crystallized and her clients think of them as statement jewelry.
Christi has designed custom boots for such high profile celebrities as Billy Bob Thornton and Brooks and Dunn, but she also has a large Vegas clientele. The former Nicole Miller designer comes to town every year for the Cowboy Christmas during National Finals Rodeo.
Both NFR and the Professional Bull Riders come to Vegas annually and bring in a huge following. Garcia expects both will mean very busy times for her store, but she also sees locals getting something out of it.
"It's not meant to be a Texas store," she said. "We feel like what we have is a piece of Americana."
A gander into the women's department shows a little crossover from trends the fashion industry has churned out in seasons past. For instance, there are a lot of crossbody bags, floral embroidery and ruffle details.
Pat Dahnke designs are heavy on fur. One of her more popular pieces is known as the Big Kahuna, a black shawl with feather detailing. Jan Faulkner is popular with rodeo queens. Her heavily embellished leather and suede pieces work well for pretty girls on fast horses.
There are just as many casual options, too. BrazilRoxx is a denim line with lots of bells and whistles. Gretty Zueger pieces are all 100 percent cotton. Burned out tees have messages like "Cowboys lie" and "This ain't my first rodeo."
And, it turns out this niche didn't miss the ubiquitous hat trend spurred by a certain British wedding last April. Cowboy hat sales have picked up since the day all those guests paraded around in their bizarre hats. Here in Vegas, Pinto Ranch provides customers with hats that express a little more personality. The expectation is that Vegas and the flash that comes with it will welcome a hot pink brim or crystal decoration on an otherwise traditional cowgirl hat.
All the jewelry here is handmade and such sought after designers as Laurence Dusaulx and Rocki Gorman both have extensive collections. What do the men get? Shiny belt buckles. They're presented in glass display boxes just like the fine jewelry. Pinto Ranch features the work of eight hand-picked silversmiths from all parts of the country.
"The guys love their belt buckles," Garcia said. "They're kind of the signature accessory for a cowboy."
Pinto Ranch is located at Fashion Show mall, 228-3400.