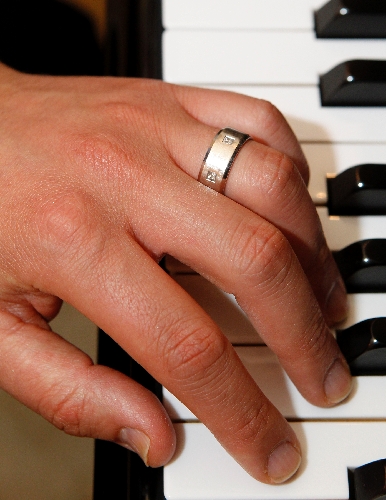 We may not see weepy grooms walking down the aisle, arm in arm with their fathers, anytime soon. But, recent bridal trends are snubbing traditional gender roles all the same.
Danny White, store manager of Jeff White Custom Jewelry at Tivoli Village, has watched more than a few women nervously pick out an engagement ring. Not for themselves, but for their boyfriends.
"If he's dragging his feet, the girl has to take charge," he says. "It's his invitation to man up."
Call it what you will, but the media has tagged it "the mangagement ring." Whether presented along with a marriage proposal or simply worn to signify he's on his way to the altar, one might wonder if a woman was behind this trend.
It is, after all, a fine alternative to the age-old ultimatum. Rather than give her significant other a diamond deadline, she's presenting the little cushion box and popping the question herself. It takes the same amount of courage as it does to tell him he "better ask or else." And, if it comes down to the honey versus vinegar adage, the ring will likely garner better results.
Of course, not all unengaged women visit a jewelry store to shop for their boyfriends. One Jeff White customer took the liberty of cherry-picking a beautiful ring, charging it and then placing a phone call as she admired it on her hand. "She called the guy and said: 'Congratulations. You just bought me an engagement ring,' " White recalls.
Oddly enough, the unknowingly generous customer didn't put up a fight. He honestly intended to get around to it for months and never did. His new fiancee's initiative saved him the trouble of a shopping trip and a bended knee.
That's a rarity, but White has noticed another, more common practice. Shortly after she says yes, the couple come back to the jewelry store. She needs to correct her size, but while they're there, she urges him to pick out his wedding band. And, when should he start wearing it? There's no better time than the present.
According to White, if a man has asked a woman for her hand in marriage, he's usually fine with a traditionally premature ring on his finger. It's called bucking tradition. If you're a certain prince from Buckingham Palace, however, you buck tradition your own way. As 2 billion viewers witnessed last Friday, only one party of the Duke and Duchess of Cambridge is wearing a wedding band. If Prince William refused the ring even after the vows, he surely wasn't ready for the mangagement ring.
Dr. Babak Ghadishah, on the other hand, is fine with it. The 36-year-old internal medicine doctor wore one for five months before marrying his wife, Dr. Lida Ghadishah, 33, last October. He wasn't breaking with tradition, but rather closely following it. Ghadishah hails from Iran, where it's customary for both the man and woman to wear rings during the engagement period.
It's also customary for the woman to be a virgin. For a family to allow one of their daughters to marry means they've put great trust in the husband-to-be. If he should back out of the engagement, it would essentially plummet her stock as a future bride.
As Ghadishah tells it, the man's engagement ring shows he's taking the commitment just as seriously as his fiancee and her family. "In Persian culture, everything is about the man," Ghadishah says. "But in this aspect, it's much more fair."
He has lived in the United States 23 years, but never gave either country's customs much thought. Until his patients, who he has close relationships with, became curious about a man wearing a ring before marriage.
Now that he has had time to consider it, does he find the American tradition sexist at all? "Come to think of it," he says, "it is."
Ghadishah looks at it this way. When his daughter — due to arrive in the world Oct. 7 — gets engaged, he will expect his future son-in-law to wear the same announcement on his left hand that his daughter will wear on hers. No matter his nationality.
"That's how you know it's serious," he says. "That's how he shows his commitment."
Most American men still wait until the big day to sport their new piece of jewelry. It used to be that grooms kept the wedding band as low-key as possible. Solid gold or solid platinum and that's all he wrote. These days they're veering toward titanium metals, considering intricate craftsmanship, even throwing in a few diamonds. In fact, the No. 1 men's seller at David Yurman at the Forum Shops at Caesars is the three-row diamond pave band. Much closer to vain than plain.
Store manager Molly Gaddy credits a new fashion-forwardness among grooms, specifically, for spurring the trend. Men used to pat themselves on the back for rocking a pair of Chuck Taylor Converse on their wedding day, but now they're taking it further. According to Gaddy, the modern, fashion-minded groom wants the Tom Ford suit, the luxury shave and now the blinged-out wedding band on his wedding day.
"Times have changed," she says. "Men want to feel part of a trend now."