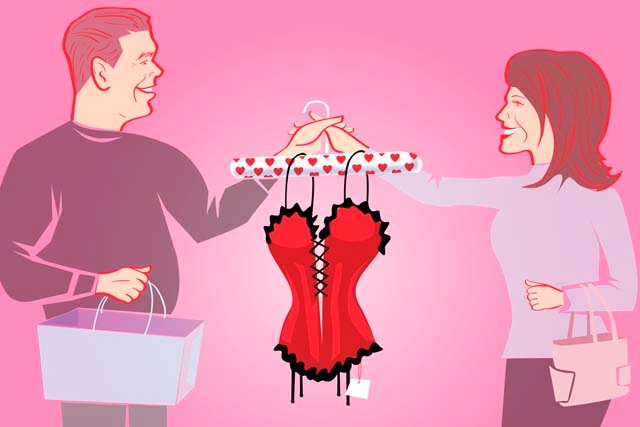 You know what they say: The couple that shops for lingerie together, stays together.
That's certainly the impression in the air today, the Saturday before Valentine's Day at Frederick's of Hollywood. Most shoppers at the store in the Miracle Mile Shops at Planet Hollywood Resort arrive holding the hand of a significant other and leave holding the handle of a tiny shopping bag. Smiles and giggles abound.
For most of these couples, the lingerie stop has nothing to do with the upcoming lover's holiday. It's just about spicing up a vacation.
Take Ed and Teri Chamberlain from Lansing, Mich. Today's Ed's birthday and the two celebrate their 30th wedding anniversary in March. Valentine's Day is their son's birthday, so it's never been about the two of them.
But a trip to Las Vegas is all about them, and so are the contents of their little red bag: a sexy bra and panties Teri describes as having "not much to them."
Are they crotchless? Teri won't say, but store manager Serena Yoo insists the sales associate who helped Teri and Ed can "sell crotchless panties to anyone."
Happy birthday, Ed.
There aren't many men walking into the store alone on this day. Their absence could come down to two factors. Valentine's Day is five days away, light years in procrastinator's time. And, according to today's shoppers, many women prefer to buy their own lingerie.
"Because you know what looks right on your body," says Tonya Katz from Shreveport, La.
That could explain all the ruching details, a gathering of fabric that can camouflage midsections, so ubiquitous on the negligees in the store. Whereas the men tend to go straight toward the French maid number, the table of platform sky-high heels, or anything featuring a garter belt and thigh-highs, women are more concerned with the most flattering look.
"When you're looking good, you're feeling good," Yoo explains. "And when you're feeling good, you're gonna have more fun."
While Katz certainly agrees with that philosophy, she and her husband, Jon, made a quick stop in today to hunt for a bra and stockings. Married 18 years, they have a date to see "O" tonight.
Jon never accompanies Tonya on shopping trips. Today is the exception because they're vacationing together. Jon is helping his wife find her bra size to shorten their time in the boutique. Valentine's Day meant much more to them, they agree, before they got married.
As they leave, two girlfriends covet a hand-beaded purple lace-up corset for $295 in a corner. After more browsing, one of the women tries on her wares while her friend waits on a bench outside the fitting room. Before long, they're both in the fitting room. One expressing body issues, the other giving her best you-go-girl pep talk.
While that Oprah episode plays out, a potent dose of testosterone enters the store. Boney Wise from Yuma, Ariz., wears a bandana across his forehead, a West Coast Choppers shirt buttoned up to his Adam's apple, and more than one silver skull ring. He's holding his wife, Diana's, hand.
The two, married 17 years, are just browsing. When it comes to lingerie, though, Boney lets her take the lead, rather then tell her what will get him going.
"If I told her that, she'd slap me," he says.
He works the night of Valentine's Day, so a big to-do is out of the question. And, Diana wants to make clear, he wouldn't be shopping with her if they were in Yuma. "He'd be too afraid one of his friends would see him," she says.
Erica Saunders of Halifax, Nova Scotia, is shopping without her husband. In town for a software conference, her flight back home was delayed two days because of snowstorms in the northeast. She's here today to give her husband something that she hopes will make up for her time away.
As for Valentine's Day, she suspects the two will "curl up and hang out," nothing fancy. Even their birthdays, which are two days apart, are low-key.
"It's not about the things, it's about the time, the togetherness," she says. "If you need the big dramatic gesture then something's wrong."
Contact Xazmin Garza at xgarza@reviewjournal.com or 702-383-0477. Follow her on Twitter @startswithanx.