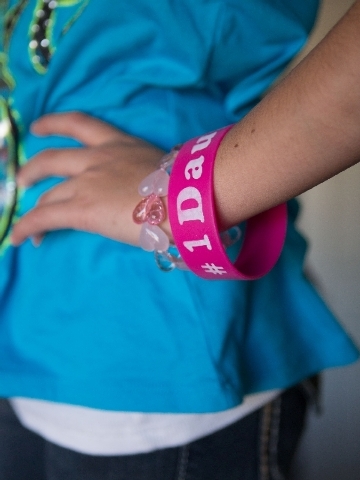 They're hallways, not runways. Still, every year at this time, kids compile a list of must-have fashion items and parents do their best to accommodate them.
Back-to-school shopping is here and so are the trends that dictate it.
"The big trend right now is mixing patterns and colors and that leaves it wide open to their own interpretation," says Gail Ashburn, Fashion Show stylist. "It's almost like the wilder, the better."
The tame end of that style would be polka dots combined with stripes, where the more extreme look would have your sixth-grader donning animal prints with floral patterns with plaid.
One trend that has finally earned the title "out" is the whole skull obsession. Five years ago, they covered every T-shirt and accessory in the juniors section of every department store. Today, they've all but disappeared.
"You don't have to look like a tough chick all the time," Ashburn says. "It's nice to be a girl."
Some of the more girly looks include pastel floral pants, and A-line short skirts that trendy stores such as Forever 21 often pair with a tucked-in oxford shirt embellished with a statement necklace.
The high-low skirts so popular last fall have joined skulls in "so last year" territory. Expect tween and teen daughters to add snappy socks to their wants this school year. Boots remain hot and now girls want a little something peeking out from under them.
The uber popular Toms Shoes, canvas slip-ons, have declined in demand this year. Instead, kids may ask for Vans, but Ashburn recommends just removing laces from sneakers to get a stylish flat.
"They're going to want to follow the trends and look like the pictures in the magazines, but most are going to want to add their own special touch on it," she says.
Ronna Timpa knows precisely what she means. As the mother to a very stylish 11-year-old who will attend a nonuniform school for the first time this year, she's just getting acquainted with back-to-school shopping. And she's on a budget, a small budget.
"I've been going to Savers a lot. She does not like it at all, but it's not like I'm getting crappy stuff there," she says. "I got her a pair of True Religion jean shorts for eight dollars. Eight dollars!"
Timpa scours the racks at the thrift store for brands such as Justice, Abercrombie & Fitch, Apostle and Hollister. She'll head to places such as Target for other, less expensive pieces and to Nordstrom Rack for her daughter Sarah's shoes.
Although it's meant extra expenses that she's not used to, Timpa knows a nonuniform school is the best option for Sarah. "She's a very creative, artsy girl and needs to be her own person versus wearing the same thing every day," she says. "She's going to be finding out what her fashion and style is because she's never had to wear her own clothes to school."
During orientation at Bob Miller Middle School, Sarah approached a few girls to ask where they got their clothes. A brave move for the new girl, but she already has a few ideas for her back-to-school purchases.
"I mostly like dresses, really cute shirts that have sparkles on them and skinny jeans," she says.
She's also a fan of Bridgit Mendler from Disney Channel's "Good Luck Charlie" and the "jean jackets and sparkly belts" she wears. Taylor Swift's "really fancy, like, pretty sparkly dresses."
So, what's with the sparkly stuff? "It just finishes up my outfit," Sarah says. "It makes it look better."
As the school year approaches, it looks as though her clothes could prove the least of Ronna's worries. At orientation Sarah met a friend.
"She exchanged numbers with a boy, Aiden," Ronna says. "I woke her during a dream the other day and she said she was kissing Aiden in her dream."
Contact Xazmin Garza at xgarza@reviewjournal.com or 702-383-0477. Follow her on Twitter @startswithanx.