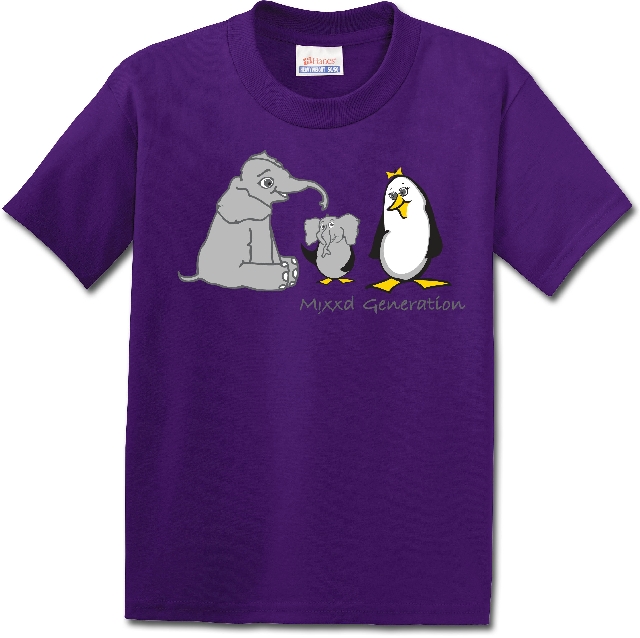 Robin Eastern works in member services at a Costco in Reno. While watching the door one day, a customer entered her store and inadvertently lit a bright bulb over her head.
The teenage girl wore a shirt with an Oreo on it. Her parents, one white and one black, trailed behind her. That's when Eastern, who also is biracial, got the idea for Mixxd Generation, a line of kid-friendly T-shirts designed to celebrate multiracial people.
She went home and called her ex-husband and close friend, Kyle Diamond, who now performs in "The Rat Pack is Back" at the Rio. Diamond liked the idea. The two tossed around themes and hired an illustrator off Craigslist.
They ended up with a range of animal hybrids. For instance, a pink shirt boasts the image of an animal with a giraffe's neck and pig's body. It's appropriately called "Pigiraffe." A purple shirt features an elephant and penguin on both sides of their baby, a creature with an elephant's ears and trunk, and penguin's wings and webbed feet.
Shirts start at $14.99, come in adult sizes and are sold at mixxdgeneration.com.
So, what's the message? "Just love and acceptance," says Eastern. "We want the kids to feel comfortable with what they are."
She and Diamond both grew up in Cleveland. Both are of mixed races, but both were treated and thought of themselves as strictly black. If your skin was a dark shade, that was the assumption everyone in their predominantly black community made. End of story.
It wasn't until Eastern asked her mom why her hair was so (loosely) curly that she discovered her grandfather was Native American. Diamond believes, but isn't sure, that his mother's side is half-Native American and half-white. His father's side is Native American and black.
"It seems when you really get down to it, everybody's mixed," he says.
Neither had issues with their biracial identities growing up, but when they left Cleveland they got their first taste of racism. Diamond experienced it in small towns he'd perform in on the road and Eastern when a boyfriend's mother shunned her son for dating a black woman.
But the shirts aren't necessarily anti-racism as much as they are pro-diversity.
"I think first and foremost the product is there to make you smile," Diamond says. "They're creative things you've never seen before. Although they do have a message, they don't hammer you over the head with it."
Not all the shirts feature the animal hybrids, either. Some just feature the logo and others, such as the "Many Faces … One Race" shirt has people of different colors holding hands in front of a globe.
"I truly believe God gave me the idea," Eastern says. "I've seen so many people of mixed races come through Costco. I always tell them, 'You're gonna have such pretty kids.' "
Contact Xazmin Garza at xgarza@reviewjournal.com or 702-383-0477. Follow her on Twitter @startswithanx.