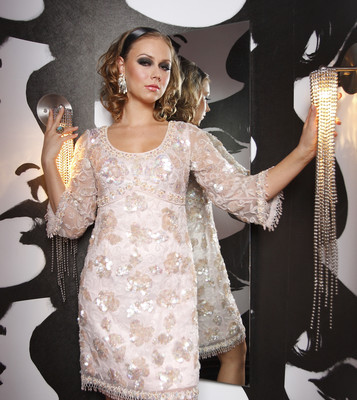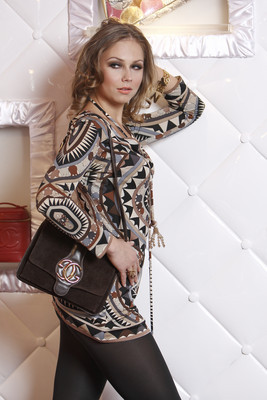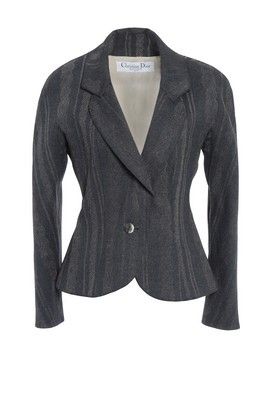 If you aren't yet familiar with vintage, think of it as your safe little fashion haven. It's the place you will turn when all things modern have bored the originality out of you. It will become your go-to reference when you need a custom-made fit without the custom-made price tag. It will lend instant credibility to your wardrobe.
It's vintage and its sizzling hot right now.
For a crash course on all things vintage, take a look at the tips we've compiled for you. Each list will take you one step closer to an "in with the old" frame of mind.
vintage values
Before you set out on your first vintage shopping experience, do your research. Web sites such as Yoox.com, which is currently selling vintage Christian Dior, can help you identify things like appropriate pricing and coveted items. Here, Yoox.com creative consultant, Holly Brubach, offers a few vintage 101 pointers.
1. Start with accessories. "They're easier to work into your wardrobe," Brubach said. Don't jump in head first with a ball gown from the '20s. Think baby steps.
2. You determine the right price. Sure, auction houses provide guidelines for pricing but in the end, it's up to you. If you think the item justifies the price, snag it before someone else does. Unlike non-vintage shopping, it's not guaranteed to be there tomorrow.
3. Consider the context. Before you introduce your best negotiating tactics, take a look around. If the boutique boasts chandeliers from Paris, you probably can't haggle a better deal. "(Negotiating) is really about tuning your radar," Brubach said. "There is a vibe you'll get that tells you if there's an openness to discussing price."
4. Exercise patience. Vintage shopping requires a hunt. You may have to dig through piles or scour racks, even travel a little, to find that prized possession. But once you do, all the effort will seem worth it.
5. Take careful care. The maintenance for vintage garments drastically differs from the clothing currently stuffed into your laundry basket. Consult with a reputable dry cleaner before cleaning or take it a step further: "If there's a museum near you with a costume collection, that's your best bet," Brubach said. They'll know exactly where to take your vintage finds.
clothing clues
You have to pay closer attention to your prospective purchases when it comes to vintage. Fabrics, label tags and other features can act as green or red lights when shopping. Jonathan Warren, vintage wardrobe stylist at The Attic, shares a few things to look out for if ever you question buying an item or whether it's actually vintage.
1. Labels. These can usually date the garment. Warren recommends looking for embroidered labels, which were common in the '50s and '60s. Before that, labels were rarely used.
2. Cashmere. "Pull it and if it pops, it's been washed. Don't buy it," Warren warned.
3. Lace. If you can't stretch it, you will tear it, either in the store or once you have it home.
4. Denim and polyester. Both will stand any test of time.
5. Tailored fits. "Things are usually cut thinner in the mid-section because women were smaller back in the day and they wore corsets," Warren said.
label love
Garrett Bauman and his fiance Annie Lee are the proud owners of Annie Creamcheese, the newest vintage installment to hit Vegas and named for the former legendary store on the Strip, Suzy Creamcheese. This boutique delivers a take on vintage that's brand new to our city: It's "vintage for the future." You'll find the kind of items here that appeal to the most refined vintage connoisseurs. Here are the top 10 labels (in no particular order) to look out for when shopping vintage, according to Bauman.
1. Courrèges: The debate continues over whether André Courrèges or Mary Quant invented the mini-skirt.
2. Balenciaga: Items from the '30s to the late '60s that bear this coveted name are worth a pretty penny.
3. Pucci: The psychedelic prints from days past are almost indistinguishable from today's designs.
4. Yves Saint Laurent: The designer described his clothes from the '60s as "empowering" to women.
5. Halston: His designs are synonymous with the disco days of the '70s.
6. Galanos: James Galanos was known for his chic '60s frocks.
7. Ossie Clark: The British designer brought '70s fashion to new heights.
8. Rudi Gernreich: His futuristic looks give a nod to '60s mod.
9. Donald Brooks: His dresses have late '60s written all over them.
10. Alaia: The fashion house's vintage items carry even more prestige than its modern works.
Model: Alexsandra Pretz for Impact Models & Entertainment
Stylist: Xazmin Garza for the Review-Journal
Stylist's Assistant: Gregan Wingert
Hair and Makeup: Whitney Urichuk for One Luv Agency, oneluvagency.com
Shot on location at Annie Creamcheese at the Shoppes at the Palazzo