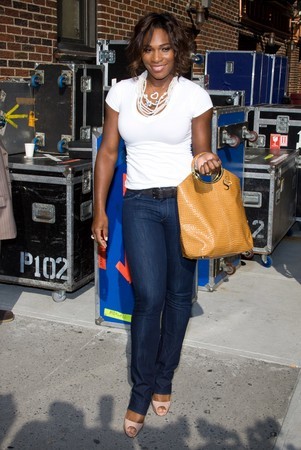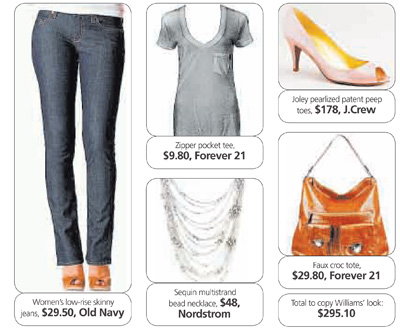 When an athlete sheds her uniform and assembles an outfit all her own, you never know what to expect. Especially with Serena Williams who fancies herself a fashion designer (Aneres is her label), but isn't exactly undefeated in the style department.
We can't come down too hard on her, though. Dressing a body that's as curvy as it is cut comes with its hazards. Namely, inspiring "Dude Looks Like a Lady" to blast in people's heads when entering a room. Yeah, we said it.
If your buttocks muscles can play back court while your chest rubs the net, you can believe some eyebrows will raise when slipping into a dress. That could explain why Williams' casual outfit here impresses us so; it doesn't expose the body part we usually refer to as thighs, but with Williams feel inclined to call quadriceps.
Needless to say, we applaud the denim choice. She instantly goes from stocky to sleek in these dark washed skinny jeans. The way the superstar athlete shifts her weight to one hip and dangles her bag from her wrist tells us she feels just as feminine as she looks. The bunchiness at her ankle only lengthens the long line created by the jeans, which acts as the slimming smoke and mirrors. If this image doesn't destroy the myth that only skinny girls can wear skinny jeans, we don't know what will.
Williams pairs her denim with a white V-neck tee. But on her, this basic isn't so basic. With a chest like Williams' a crew neck simply will not do. Our eyes would be drawn to two exclamation points otherwise known as double D's.
Instead, the V-neck gives us another visual interest and extends her neck, lending some grace to a woman whose grunt is almost as scary as her serve.
But Williams doesn't stop there. As if to say, "Eyes up here, or else," she stays in tune with this season's hottest accessory trend and piles on the necklaces. And a pair of peep toe heels finish off the transformation.
At this point, onlookers have all but forgotten the fact she's hard to distinguish from a raging bull when charging the net. All they can think is how fine she cleans up and how much she must've spent on that crocodile skin tote.
We couldn't agree more with the former and suspect the latter's somewhere in the quadruple digits.
Lucky for anyone looking to copy Williams' look, we've gathered imitations with price tags that will warm the heart of the most frugal recessionista. Take a look.