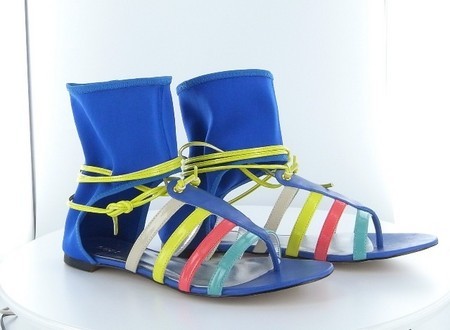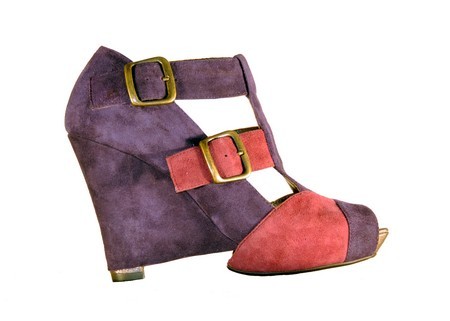 The trade show built around the part of fashion you can still wear after a monthlong carb binge comes to Las Vegas Friday through Sunday. The World Shoes and Accessories (WSA) show, held at the Las Vegas Convention Center and The Venetian, brings thousands of shoes, handbags and hats to town. But it's the shoes that rule the show.
Every six months buyers choose from exhibitors' complete collections and pluck the shoes their instincts tell them will sell best. The decision-making at WSA has its roots on the Fashion Week runways in New York, London and Paris, but the trade shows dictate the options you'll be perusing at boutiques a year later.
Ellen Campuzano, editor and publisher of Fashionfactsfolio, a newsletter for the footwear and accessories industry, will forecast trends for spring '10 at the show. Here's a sneak preview of the footwear she predicts the buyers — and ultimately you — will warm up to next year.
SAY ANKLE
The onset of this trend started a few months ago, but consider it a mere preview of what you can expect for spring '10. And, for everyone struggling to find a name for these, Campuzano did that for you. "The flat sandal with a slouchy sock around the ankle? We call it the sock sandal," she says.
The trend forecaster expects this style to replace the gladiator, but also predicts more ankle treatments in the future. Beware: Once this trend goes into high gear, so will cankle paranoia.
GET SPORTY
Call it a protest to the super high heels that brought back the foot soak ritual, but shoes take on a sporty tone next spring. This time around the sportiness gets a tailored upgrade. Loafers, moccasins, boat shoes — each give your feet a physical break, but keep the aesthetic working overtime.
TONE IT DOWN
Every neon getting the full court press right now will pass the baton onto its mild-mannered little sister: the neutral. Hot pink transforms into blush. Electric blue returns as a clear sky. Neon orange comes back as a soft coral.
Expect a variety of vegetable tanned leathers, too, which come in the form of grays and beiges.
HIDE AND SEEK
Every shoe Gwyneth Paltrow donned to promote "Iron Man" last year seemed to challenge the stiltlike nature of the one before it. This skyscraper trend picked up momentum faster than Iron Man himself and suddenly women were walking at a turtle's pace to prevent dangerous spills. Well, the higher-than-high heels will return, but with a twist — and we don't mean your ankles. "You're still elevated, just not on such a high heel. There's now a hidden platform for walkability," Campuzano says.