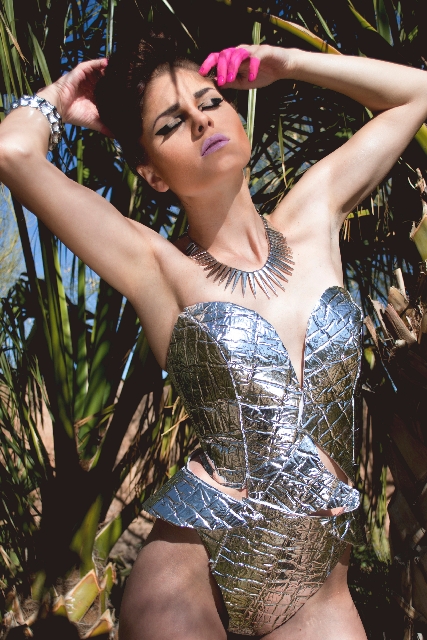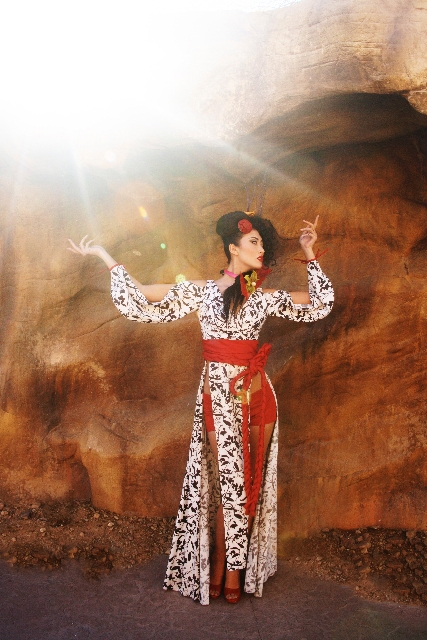 Introducing new ideas is one thing. Ingraining them is another.
It takes effort, passion and collaboration. The "Sustainable Style: Fashion and Photography" exhibit at Springs Preserve came together with all three.
It started when Andres Gonzalez, founder of Fashion for a Cause, a foundation that provides fashion shows for charity events, visited Portland, Ore. While there, he saw a city — that doesn't normally come to mind when people think fashion — enjoying its own Fashion Week. An Ecofashion Week.
Both the concept and the cause resonated with Gonzalez, who returned to Las Vegas and met with Springs Preserve officials, who wanted in on his little light bulb moment.
Las Vegas isn't quite ready for an Ecofashion Week, but an exhibit that runs through June 16 at the Big Springs Gallery of Springs Preserve was certainly feasible. The big party and fundraising event for the Springs Preserve that kicked it off was, too.
"I wanted to do a fashion show that shows both sides (of ecofashion): recyclable things you can do with your kids or you have at home, and organic materials," Gonzalez says.
Gonzales, who works as a fashion photographer, rounded up designers, photographers, models and stylists who wanted to be a part of the same goal. After two months of work, they held a fashion show and unveiled the exhibit.
A corset with matching bikini bottoms is one of many pieces on display. It's made entirely of a windshield sun protector. A plunging sweetheart neckline and cutout details, along with the shimmering silver, give designer Reyna Herrera's creation a futuristic look.
Dayana Rueda's designs prove one woman's trash is another woman's come-up, as the song "Thrift Shop" goes. For one, she used damaged plastic bags and plastic ribbon to produce her two-piece black gown with a fishtail skirt.
Using renewable fiber, recycled polyester and 100 percent organic cotton, Elizabeth Calderon's Asian-inspired white-and-brown-printed dress looks hot-off-the-runways of New York. With billowing cutout sleeves, long skin-baring slits on the skirt and a brick orange kimono sash, it's perfect for a spring statement.
The photos, displayed alongside the dresses, were all taken at the Springs Preserve by top photographers in town, such as Gonzalez, Raen Badua, and Kika and Cristian Erives. With Mother Nature as a backdrop for the clothes, the theme of the shoots comes through clearly.
"We have young, emerging designers and stylists who wanted an event everyone could get organized," Gonzales says.
And, who knows, perhaps it will one day lead to a weeklong Vegas event celebrating Earth-friendly, stylish wares.
For now, the Springs Preserve is fine with the message it sends because it's not just sustainable fashion that's important. "Sustainable everything is important," says Jessica Hougen, assistant curator at Springs Preserve. "Sustainable fashion is still kind of in its infancy, but there are a lot of people who are thinking about it every day."
And for those who aren't, the folks behind this exhibit hope these clothes will inspire them to.
"It's been fun to watch visitors come in here and be like, 'Hey! Oh, that's a tablecloth? Wow,' " Hougen says. "We hope it's getting through to them to think differently about things."
Contact Xazmin Garza at xgarza@reviewjournal.com or 702-383-0477. Follow her on Twitter @startswithanx.
PREVIEW
What: "Sustainable Style: Fashion and Photography"
When: 10 a.m. to 6 p.m. daily through June 16
Where: Big Springs Gallery at the Springs Preserve, 333 S. Valley View Blvd.
Admission: Free for members or included with paid general admission of $18.95 adult ($9.95 Nevada resident), $10.95 ages 5 to 17 ($4.95 Nevada resident), $17.05 for those older than 65 or with a student ID ($8.95 Nevada resident) and $8.95 military (702-822-7700, springspreserve.org)