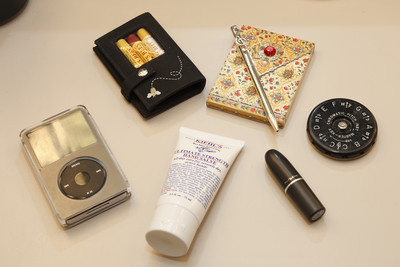 • What's in your handbag? Clockwise from top: Punch Studio notepad with Tiffany & Co. pen, Chromatic Pitch, MAC Lipstick in Spirit, Kiehl's Hand Salve, iPod and Burt's Bees lip shimmer.
• Name: Kristi Holden
• Occupation: Actress/singer in "Phantom of the Opera" at the Venetian
• Occasion: Casual, every day
• What kind of handbag? ZoEve. It's handmade.
• How much did it cost? It was a gift. But, I think around $100 or so.
• Where did you get it? My cousin had this handbag personally made for me as a thank you for singing at her wedding. I got to pick out the style and fabric, and she ordered it.
• Tell us about the first handbag you ever bought. Sadly, I don't remember.
• Why did you choose this handbag today? Summer has arrived and it's a summery purse. And it's time to downsize from my big Nine West handbag. It's breakin' my back!
• How many handbags do you own? Two or three. I'm pretty simple and not a fanatic about owning hundreds of one thing. But, I do have maybe seven small handbags for going out that barely fit my cell phone, lipstick and ID.
• What's the most you ever paid for a handbag? $100.
• Image is … the self-confidence and approachable manner you wear. So, wear them wisely. First impressions are everything.
REVIEW-JOURNAL