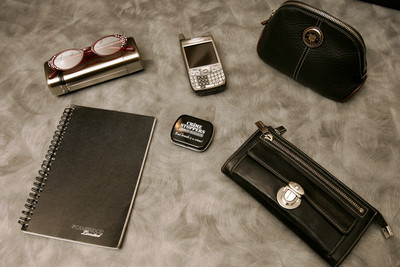 • Name: Heidi Harris
• Occupation: Radio talk show host at News Talk 720 KDWN
• Occasion: After work
• What kind of handbag? Antonio Melani handbag.
• How much did it cost? It would have been about $260, but I got it it on eBay because I couldn't find this specific style in the stores.
• What do you like about this handbag? I like this handbags because it's more fun than most of mine. I tend to buy too many solid-color bags, and this one has more spunk.
• Tell us about the first handbag you ever bought. When I was a teenager, I bought my first handbag at Zody's here in Las Vegas. I couldn't afford leather, but even then I picked a vinyl one that looked more expensive.
• How many handbags do you own? My husband would say, "Too many." Seriously, I have at least 50.
• What's the most you ever paid for a handbag? The most I ever spent on a handbag was $400, for a Dooney and Burke I bought 12 years ago and still own.
• Image is … the impression you make on people by paying attention to details.
• What's in your handbag? Clockwise from top: Palm Treo cell phone, Dooney & Bourke makeup bag, Perlina wallet, Crime Stoppers mints (bad breath is a crime), Cambridge notebook and reading glasses.
REVIEW-JOURNAL