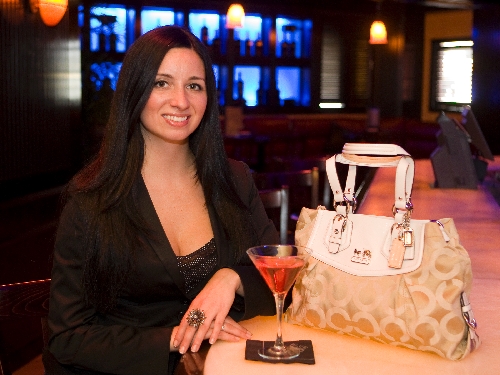 Who? Heather Riggi, events and marketing manager for Blue Martini
Location: Blue Martini at Town Square
Handbag: Oversized Coach shoulder bag
Are handbags status symbols? No, I believe they are more of a personal statement. This is who I am: slightly glam, very functional and always ready to transition from the office to a night out on the town.
What does this bag say about you? I care about quality and style, but don't need to spent thousands to do so.
If someone found your bag and looked inside, what would they think of you? They would say, "This girl works too much!" It's filled with all things Blue Martini: business cards, Lady Blue cards, hospitality cards and my favorite, drink cards.
What's the most important item you've carried in your bag? Superbowl 2010 tickets. I carried them in my bag from coast to coast.
What's the strangest item you've carried in your bag? A stuffed dog named Elliott ad his trusty sidekick, Spencer. I've had them for 20 years. They are my good luck charms.
Tell us about the first special bag you owned. A Coach bag I received two years ago for my birthday. It transitioned me from knockoffs to the real deal. It still looks brand new.
Knockoffs: Love 'em or hate 'em? Love to hate 'em, but I have to admit I've owned a couple in the past.
Image is … the way I see myself and the way I want other people to see me. There is no one side to this woman.
What's in your bag? Set list for my band, Venus Rising, Starbursts, Tabasco sauce (you never know when you will need to spice things up), Lady Blue card (every woman should have one), golf ball, an iPod (to tune out my boss).