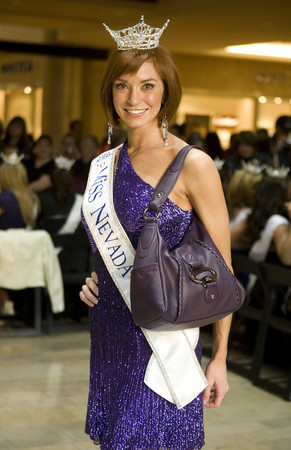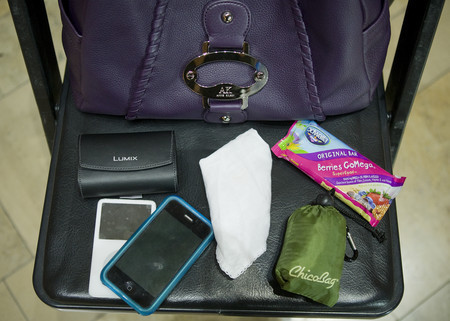 • Who? Christina Maureen Keegan, Miss Nevada
• Location: Fashion Show mall
• Handbag? Anne Klein shoulder bag
• Are handbags status symbols? Not to me, but they can be to those who love bags. I'm a shoe gal, personally.
• What does this bag say about you? I'm a bit of a traditionalist, so I like simple, clean, classic designs. It also has a lot of room to fit all of my Miss Nevada necessities.
• If someone found your bag and looked inside, what would they think of you? That I love technology. As Miss Nevada, I travel a lot so it's important for me stay connected. Also, I'm always hungry! There's usually a Clif Bar or piece of fruit in my bag.
• What's the most important item you've carried in your bag? A NHL ticket to a Pittsburgh Penguins and San Jose Sharks game. I'm a huge hockey fan and they are my favorite teams.
• What's the strangest? As a medical student, I once carried influenza vaccines while participating in a flu clinic for the elderly.
• Tell us about the first special bag you owned. When I was 14, I bought my first "real" purse (one that didn't have Barbie stickers on it) while traveling with my family in Europe. I thought I was very "en vogue," but I recently saw a picture of me with it — ugliest purse ever made.
• Knockoffs: Love 'em or hate 'em? I'm neutral. I've never owned one, but I can understand the appeal.
• Image is … important. You only have one chance to make a first impression and appearance is a big part of that.
• What's in your purse? A chocolate chip peanut crunch Clif Bar, Chico Bag (reusable grocery bag), my grandmother's handkerchief, iPhone, iPod, camera.