Stitched specializes in custom suits, high-profile clientele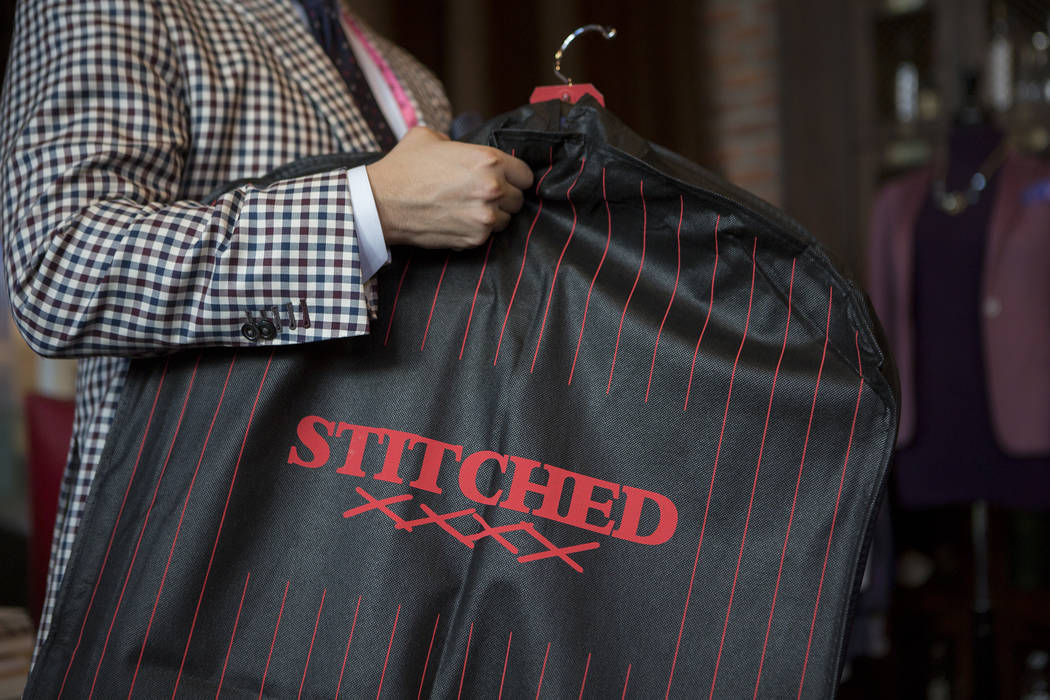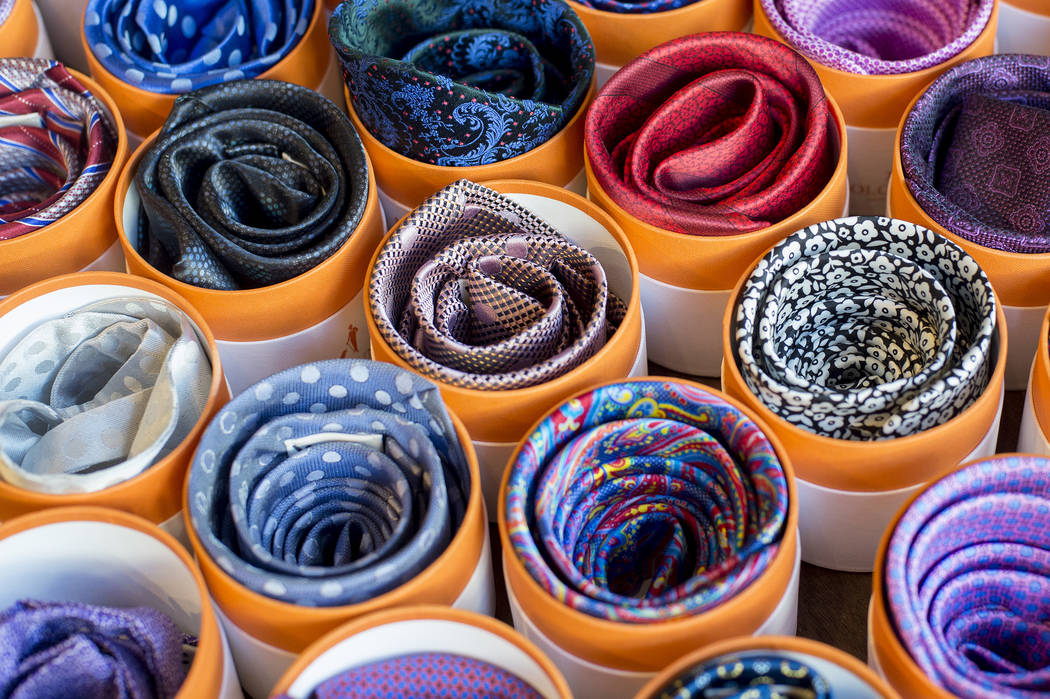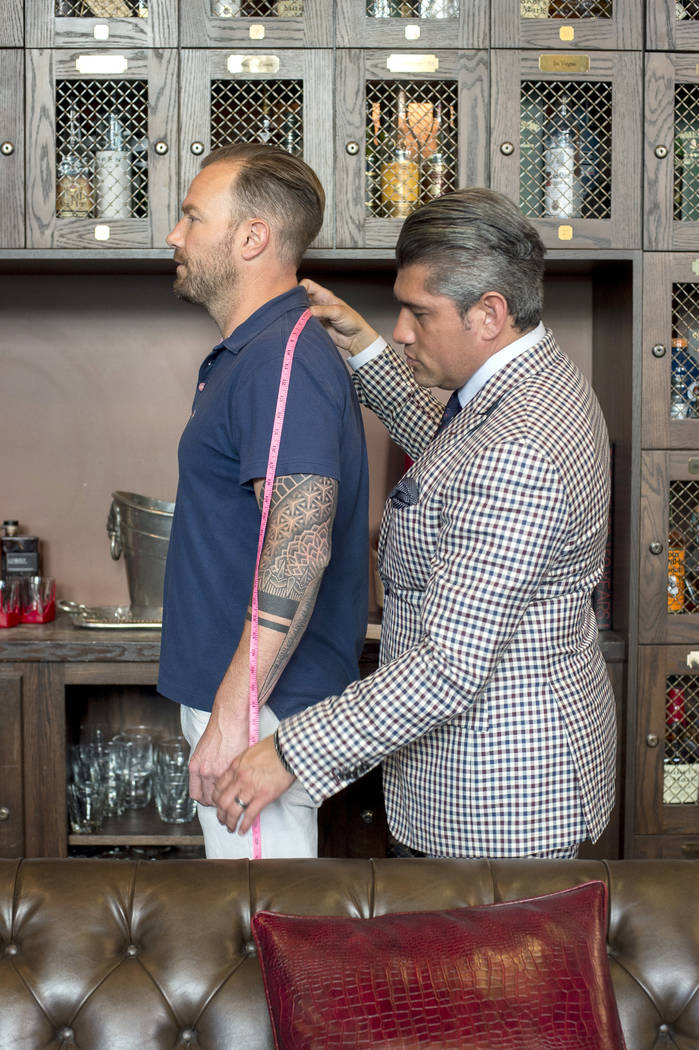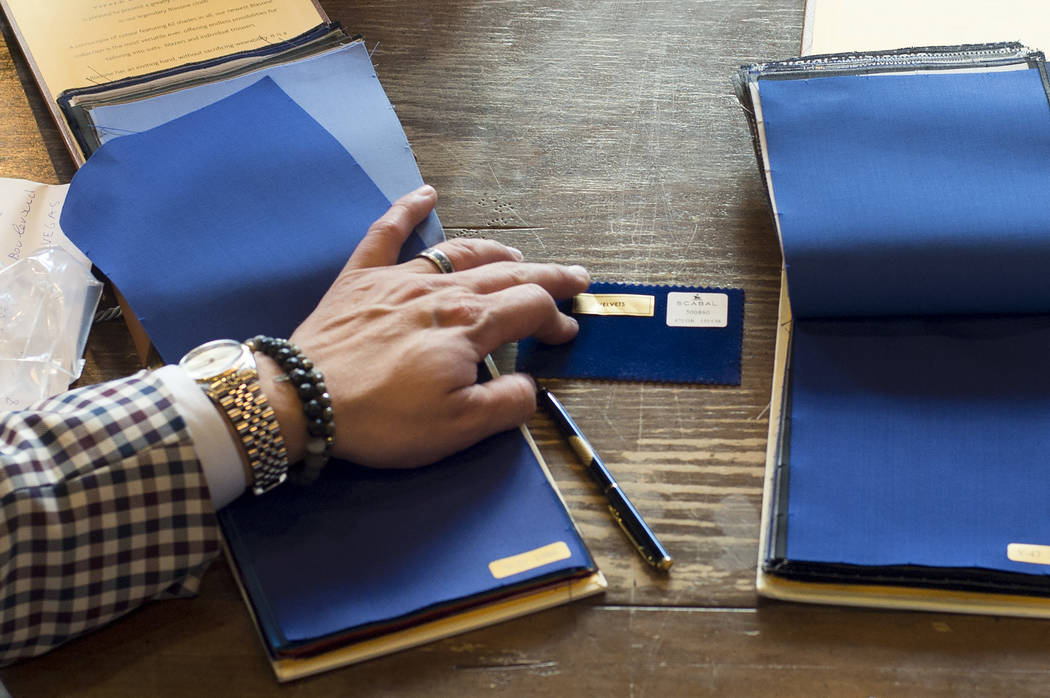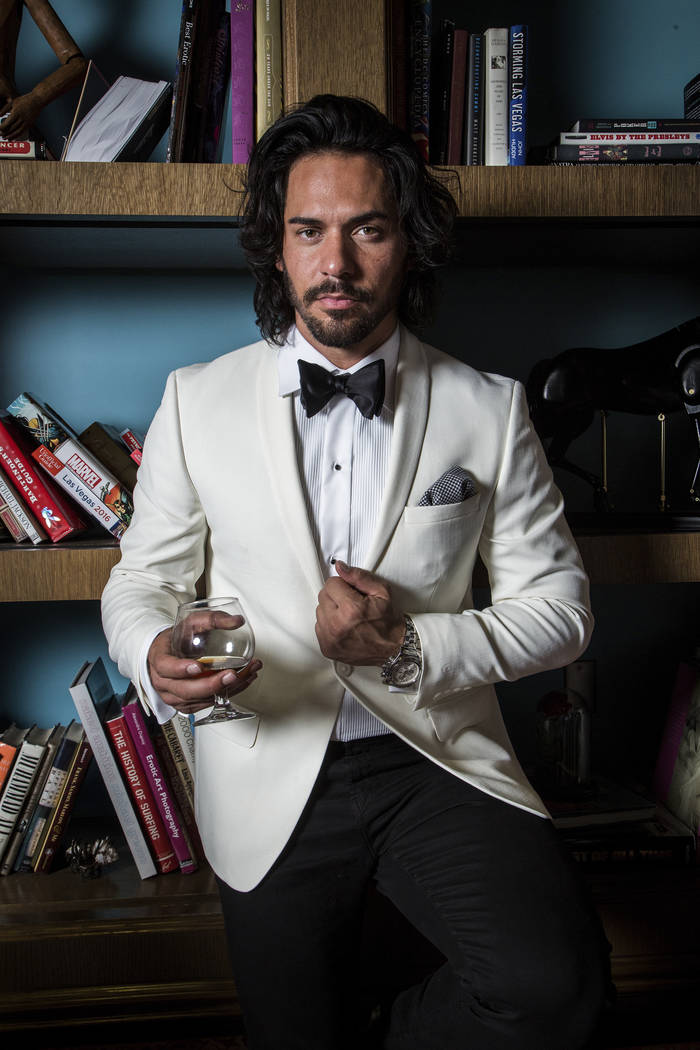 It's where you'll find Bryce Harper lounging at times during the off-season and CEOs rubbing shoulders with restaurateurs. It's where rock stars sip a Jameson on the rocks.
It's not a VIP booth, suite or high-limit room. No one's providing bottle service in the typical sense. Hobnobbing of the highest order is happening nonetheless.
It's the custom fitting room-cum-man cave at Stitched, Las Vegas' homegrown haberdashery at The Cosmopolitan of Las Vegas. Here, one-of-a-kind suits are dreamed up, and the grapevine snakes a bit longer.
"Just about every night of the week are these collisions of conversation capital that happen in this lounge," says Eamon Springall, the suit shop's founder and owner.
The space, furnished with weathered leather couches and red tufted armchairs, is tucked into the Stitched boutique, just on the other side of a partial wall. Behind the couches is a wall of lockers, wood-framed with chain-link facades, each containing the preferred liquor of whomever's name is printed on its respective brass plate — Gatorade for Harper, the Washington Nationals right fielder from Las Vegas. Once your name is up there, the lounge can be your business room, your first stop before a night out, the living room you hadn't imagined.
"You go in the back room, and they have the couches and the game is on and they pour you a scotch or whatever you prefer to drink," says Jon Gray, an executive at the Palms and longtime Stitched loyalist with a locker of his own. "For a luxury experience, it feels very casual, it's very comfortable."
Old-world appeal
Springall loves to use the word irreverence to describe Stitched. A particular customer experience is what he pitched to John Unwin, who was Cosmopolitan's CEO when the resort opened in 2010. Springall said it would be "a centuries-old, 300-year-old haberdashery that was plucked from Britain." Stitched evokes a different atmosphere than the rest of the modern, sparkling hotel, and that was intentional.
"At a time when retail is about revenue per square foot, we're more like, just come hang out and have a drink," says Sam Glaser, vice president of purchasing and operations.
The Stitched experience has clearly resonated. Clientele has included actor Robert Pattinson, DJ Paul Oakenfold, rocker Dave Grohl, reality TV personality Brody Jenner, rapper Ludacris, professional football player Richard Sherman, NASCAR drivers and UFC fighters. The list goes. Just peek at the store's Instagram for a look into the lounge and the folks it has served.
"We've had a really cool breeze on our back right now with celebrities that want to be known for their style and wearing something unique," says Springall, a Las Vegas native.
Stitched has also appealed to the average customer — ones who might not have appeared on magazine covers or stages around the world. Many expressed to Springall that they wished a Stitched existed in their hometowns. In April, Springall opened Stitched outposts in Miami and Washington, D.C.
Custom couture
The back lounge, which seems to encompass all that Stitched is going for, is outfitted for its true purpose: designing custom suits. Though customers can purchase ready-to-wear clothes on the main floor of the shop, Springall envisioned that custom creations would be the store's cornerstone, and it's the custom pieces that get him and his staff excited.
Clients can customize nearly every feature of a suit, from the lining to the color of the embroidery around the lapel buttonhole. They choose their suit's material from books of fabric stacked on the shelves. Sample suit jackets hang in the corner to give clients a sense for the various accoutrements: lapel styles, elbow patches, deviated stitching on the buttonholes, ticket pockets.
A custom suit will ring up at about $1,800, with the price increasing based on the quality of the fabric. In four to six weeks — less, if you're willing to pay to expedite the process — you can have personalized formal wear hanging in your closet. Each suit is one of one, as the Stitched staff call it, in a nod to the art world.
In this lounge, Harper and the Stitched staff designed the jacket he wore to the ceremony crowning him the 2015 National League MVP, as well as the tuxedo for his 2016 wedding to Kayla Varner. That jacket was lined with fabric featuring 12 photos of himself and Varner throughout the course of their relationship.
Tony Sanchez, the UNLV Rebels football coach, was measured here for a jacket outfitted with the UNLV logo on the lining, buttons and embroidery, which he slips on for various events throughout the season.
"When you go in there, you feel like you're the only person in the store," says Sanchez, who has had a couple of suits made at Stitched in addition to the UNLV jacket.
At Stitched, the fashion forward can design the suit of their dreams, while the fashion conscious like Sanchez can up their style. As for what Sanchez considers his style?
"You'd have to ask Stitched. They probably know my style more than I do."
Contact Sarah Corsa at scorsa@reviewjournal.com or 702-383-0353. Follow @sarahcorsa on Twitter.