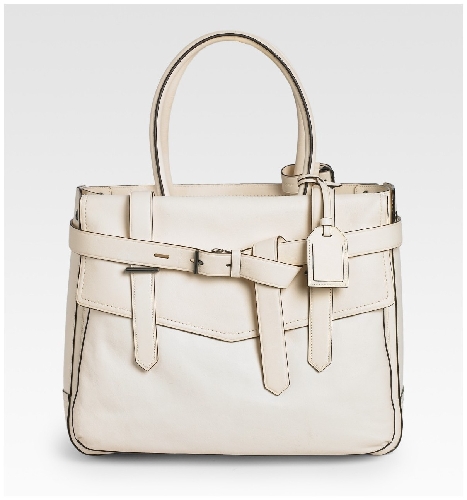 Sak it to Me: Saks Fifth Avenue hosts the Diamonds Are Forever Fashion Show to benefit the Las Vegas Philharmonic at 9 p.m. Saturday at the Lou Ruvo Brain Center. Get your Reed Krakoff purchase personalized by an artist from 1 to 5 p.m. Saturday at Saks. It's Ippolita Focus Week Sunday through March 26 in the fine jewelry department.
Winning!: Beckley, a fashion boutique at The Cosmopolitan, is holding an invite-only event Tuesday. One lucky Facebook winner and one lucky Twitter winner will get an invite to the event, hair and makeup at the event, a gift bag and a $150 Beckley gift certificate. "Like" the store at facebook.com/beckleyboutique and follow it at twitter.com/beckleyboutique for a chance to win.
Prom Time: Jessica McClintock at Fashion Show mall is accepting gently used dresses for Las Vegas Prom Closet, a nonprofit organization that provides complimentary dresses and accessories for local teens who can't afford the expense of a new dress. In exchange for donations, Jessica McClintock is offering a 15 percent discount on any new dress purchases. Donations are accepted through March. Prom goers can also enjoy a prom preview on the Fashion Show mall runway the weekend of April 15.
Ready to Care: The 12th annual A Flair for Care fashion show event, sponsored by Neiman Marcus to benefit Nathan Adelson Hospice, will be held at 10:30 a.m. April 8 at Wynn Las Vegas. All proceeds from the event, which includes a Michael Kors fashion show, luncheon and gift drawings, go toward the hospice and its programs. Tickets are $250 each. To purchase, call 938-3910.
Yay for Yoga: Longtime yogi David Oliphant and personal trainer James M. Wong have opened Zen Yoga inside Emergency Arts in Downtown Vegas. The studio will help people find their zen through yoga, meditation and fitness classes. Specialized classes and workshops, rejuvenation weekends, partner yoga date night and small group training also will be held. For more information, call 769-2991.
Raining Men: Saks Fifth Avenue celebrates its annual Vegas Dozen 2011: The Men We Love and Why We Love Them at 6 p.m. April 13. Twelve men, including Carlos Santana, Jim Rogers and Dana White, will be honored for exemplifying great personal and professional commitment to the community. The event benefits the Nevada Cancer Institute and tickets are $100. RSVP at rsvp@nvcancer.org or call 821-0044.
Chic Charity: Join hosts Susie Lee, Jenna Morton and Emily Goodman for an After-School All-Stars Las Vegas fundraising event from 6 to 8 p.m. March 24 at Elie Tahari at the Forum Shops at Caesars. Twenty percent of all sales will benefit the organization.
Eco Spa: Spa Mio, the four-star spa and salon located inside M Resort, invites guests to go green and save some green through the month of March. The spa highlights its organic treatments with special discounts. For more information, call 797-1800.
Miles of Style: This March Miracle Mile Shops at Planet Hollywood supports the National Multiple Sclerosis Society by turning its fountain orange. All money tossed into the fountain and the center's indoor rainstorm will be donated to the Southern California and Nevada Chapter.
Neimans News: Neiman Marcus hosts the Current Event March today through Sunday in Contemporary Sportswear. Receive an exclusive Rebecca Taylor tote with your qualifying purchase. Neimans' Big Night Out event is from noon to 4 p.m. Saturday in dress collections. The Brunello Cucinelli spring trunk show is from 11 a.m. to 4 p.m. Wednesday.
Shoes Wisely: Shoe Palace, one of the nation's top shoe stores, has opened its flagship store at Fashion Show mall. Spanning 5,279 square feet, it's Shoe Palace's largest store and will be located next to Macy's. Shoe Palace is known for offering up-to-the-moment shoes and apparel in a hip and trendy shopping environment.
Spaaaah: The 14th installation of National Spa Week takes place April 11-17. Thousands of spas and wellness facilities nationwide will offer services for just $50 each. Spa Moulay at Loews Lake Las Vegas and Reliquary Water Sanctuary & Spa at Hard Rock are just two participating in Las Vegas.
Crystal Clear: Yves Saint Laurent is now open at Crystals at CityCenter. Only the second YSL store in Las Vegas, this 4,000-square-foot boutique is the first to adopt the new Stefano Pilati boutique design, which will be the concept for all new YSL stores. This location also has a selection of items exclusively sold here.
Store Opening: New York chic meets Las Vegas glamour as C.O. Bigelow takes up residence at The Cosmopolitan of Las Vegas. The store will feature all the staples the brand is known for, including signature products such as Mentha Lip Shine.