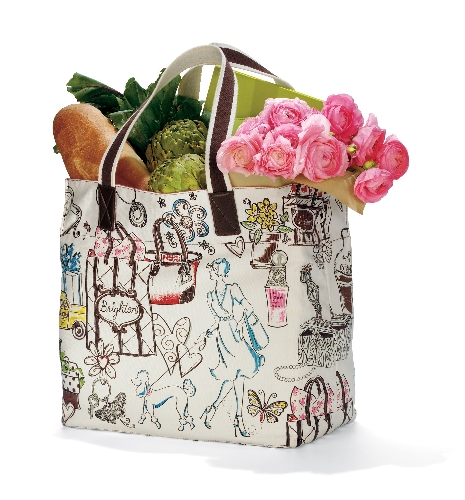 In the Bag: Through June 13, Brighton is offering a limited-edition Brighton Blvd. City Bag free with a single Brighton purchase of $100 or more. The bag retails for $100.
New Store: H&M will open its largest U.S. store to date at the Forum Shops at Caesars in late fall '10. The 60,000-square-foot store will include trends for ladies, men, young ladies, young men and children, as well as accessories. Other new retailers at the Forum Shops include UGG this fall, Christian Audigier this summer, True Religion Brand Jeans this fall and Inglot this fall.
On the Run: From now through the end of August, lucy at Town Square is offering 20 percent off any full-priced lucy item to customers who present a race bib. In addition, racers who come in first, second or third, dressed in head-to-toe lucy, get a lucy Training Tank and Propel Bottom. Log onto lucy.com/competeandwin for more information. Lucy also recently launched the Lucy Propel Collection, made special for runners.
Eco Boutique: Oya Eco-Couture has opened at The District at Green Valley Ranch. It's a boutique with clothing for women and children, made with sustainable materials such as bamboo, hemp, organic cotton, etc. It's the first of its kind in Las Vegas.
Thrifty Opening: The newest Savers in Las Vegas is now open at 2620 S. Decatur Blvd. Check it out for secondhand haute couture, vintage finds and other unexpected treasures.
Sak it to Me: Saks Fifth Avenue hosts Color of Summer Beauty Week through June 5. Spend $75 in fragrances or cosmetics and receive a beach bag with three special offers inside.
Neimans News: The Kaufmanfranco fall 2010 trunk show runs through Friday in the Couture Salon.
Sexy Sips: In honor of "Sex and the City 2," MGM Mirage resorts in Las Vegas are offering Couture Cocktails inspired by the movie and its characters. Mr. Manhattan and Glamour Gal are just a couple you can order through the month of May.
Big is Beautiful: The "My Fabulous Body" contest, sponsored by Swimsuits for All, calls on confident plus-size women to express why they feel fabulous today. The contest runs through Aug. 24 and the grand prize is a $1,000 American Express gift card. Contestants can log onto swimsuitsforallcontest.com for more details.
Fashion App: Like.com has teamed with Glamour magazine to launch Ask a Stylist, an iPhone application that offers free personalized style advice in real time. Users download the free app from iTunes, pick a stylist from the panel, upload one or two pictures of their outfit, type a fashion query and hit send. Within minutes a live Glamour stylist responds with personalized advice.
Locals Discount: COLOR, a Salon by Michael Boychuck at Caesars introduces special, only-for-locals pricing on select hair and nail treatments with a valid Nevada ID, Monday to Wednesday. Call 866-730-7791 for discount prices and to schedule appointments.
Say Om: The Spa at Mandarin Oriental Las Vegas announces weekly yoga and guided meditation classes with Swambi Ramananda, better known as Swamiji and author of "Bliss Now." Las Vegas residents enjoy a special introductory rate of $35 per person. Call 590-8886 to reserve your space.