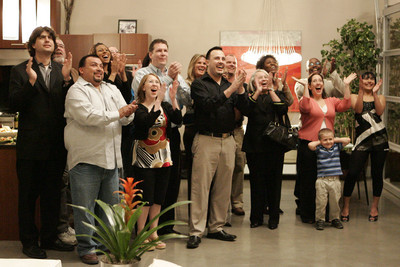 Editor's Note: This is the second in a two-part series about Rosilyn and Kirstyn Cobb's makeover on "What Not To Wear." The first part ran last week in image.
When you're handpicked from thousands of entries to appear as the guest of honor on a show called "What Not to Wear," chances are you could use some fashion assistance. Few makeover subjects on the show get the concept before their transformations on television; local mother and daughter Rosilyn and Kirstyn Cobb did.
"If we were chosen, obviously we didn't know what we were doing so we might as well know what we need," Rosilyn said of her attitude during their weeklong makeover in Manhattan.
But that wasn't how she felt before discovering she'd been selected. Rosilyn thought Kirstyn needed the help, not her. Likewise, Kirstyn found her mother to be an ideal makeover candidate, not herself. The two nominated each other for the show and producers surprised them both with a double-duty ambush.
According to co-host Clinton Kelly, it's not uncommon to recognize fashion faults in others without ever turning the critique lens on yourself. "People have magic mirrors at home," he said. "It tells them they look great … We're all good at talking ourselves into ignoring our fashion flaws."
Before stylists Kelly and Stacy London, hairstylist Nick Arrojo and makeup artist Carmindy got their eager hands on the Cobbs, they too managed to ignore what seemed obvious to outside observers. Rosilyn had fit and laundering issues. She had a bad habit of wearing faded, snug clothes that caused spillage. Kirstyn, 18, was in the midst of a fashion identity crisis. Her attire suffered from multiple personality disorder and her hair sported fuchsia tips.
Part of the "What Not to Wear" agreement requires subjects to surrender their complete wardrobes in exchange for their $5,000 shopping spree. No matter how amenable a guest, at least one item will trigger resistance. "We got in a rift over my fingerless gloves," Kirstyn said. "Stacy stole them and ran. She runs fast in those heels."
When their Bank of America credit cards maxed out, mother and daughter headed back to Las Vegas, where friends and family awaited their transformations and predicted the outcomes. "They probably cut her hair and dyed it all one color. You know, because she had that rainbow effect," said De'Mi Dudley, Kirstyn's friend. "And she'll probably be wearing all non-punk clothes."
As Rosilyn and Kirstyn floated down a long flight of stairs for a truly grand entrance, the gasps and applause filled the house. Rosilyn wore a black halter dress that fit perfectly and, consequently, took 15 pounds off her former frame. She had a new set of bangs and what appeared to be a new daughter. Kirstyn went from Goth to glam. A black pencil skirt slimmed her silhouette while a Dalmation print cardigan and electric blue patent pumps proved London and Kelly didn't rob the teenager of her edge. Arrojo did, however, get rid of the "rainbow effect."
The changes pleased both the crowd and the makeover recipients, who got more than new wardrobes. "When you get there, it's almost like those strength-building seminars because you look at how you represent yourself to others," Rosilyn said. Aside from a new perspective, what did she gain? "Eight pairs of Stuart Weitzman shoes."
Contact fashion reporter Xazmin Garza at xgarza@reviewjournal.com or 702-383-0477.