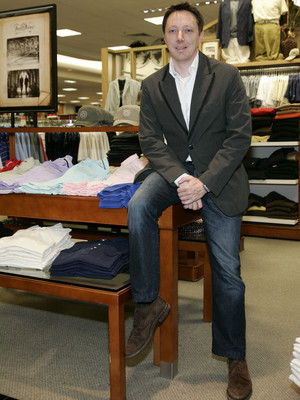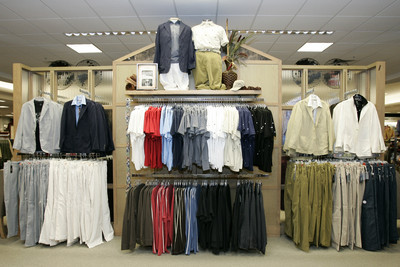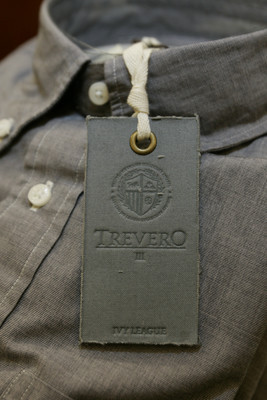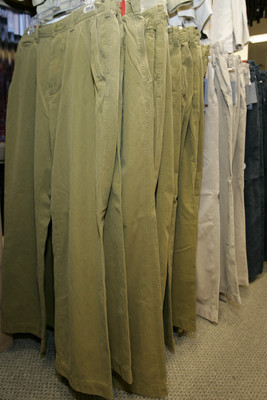 Jamie Davidson wants men to look like men. That means none of the skirts, skin tight pants or neck scarves that saturated men's runways for spring. "I don't want to scare guys from wearing my clothes," the designer said.
According to Davidson, the intention for designers who drape their male models in such outlandish garments isn't to develop a cutting-edge brand. Rather, it's to secure prominent page positions in the fashion magazines. "The runways are a reflection of how influential media has become on fashion," he said. "People are moving to New York now just to be closer to the magazines."
His line, Tre Vero, has nothing to do with that world. It hasn't made any New York Fashion Week appearances, nor has it graced the pages of Details, GQ or Esquire. You won't find it at Barneys, Neiman Marcus or Saks Fifth Avenue.
Tre Vero prides itself on the simplicity it offers. The line sells at Dillard's exclusively and appeals to the guy who only takes 15 minutes to get out the door. His hair is free of stiff product and his skin doesn't sport an unseasonable glow. He's low maintenance and so are his clothes.
"The inspiration (for Tre Vero) is heirloom clothing," Davidson said. "Lots of stuff looks like it could've been handed down from when dad was in prep school." Davidson likes to think of Tre Vero as the graduation point after Polo. Where the Ralph Lauren brand fights for attention with vibrant colors, Tre Vero prefers the subtle approach.
That means chambray shirts with pick stitching, lightweight blazers with rounded shoulders, deconstructed jackets and dark denim with slim (not tight) fits in the thigh and calf. Seersucker, linen and Japanese cotton are essential fabrics in the line. Price points start at $50 (shirts) and end around $500 (leather jackets).
"It's the classic Southern look in springtime," Davidson said. The designer hails from Arkansas and draws heavily from the South for design themes. He also looks to musicians R.E.M. for encouragement. "They were from Albany, Ga.," he said. "And they did their own thing their way without having to move to New York or L.A."
Contact fashion reporter Xazmin Garza at xgarza@reviewjournal.com or 702-383-0477.
the dirt on davidson Hobbies: Restoring vintage cars Wanted to be as a child: I wanted to write movies, I still do. Closet you'd like to raid: I like mine just fine. Guilty pleasure: X Box 360 Wardrobe essentials: A good white shirt, great khakis and a navy blazer Vacation getaway: Charleston, S.C. Signature accessory: Vintage 1960 Waltham watch Can't live without: My family Currently reading: "Age of Turbulence" by Alan Greenspan In the garage: 1970 Jaguar E type Dream car: 1970 Jaguar E type Favorite band: R.E.M. Cocktail: I don't have one but if I did it would be a vodka tonic. Junk food: Coconut cake Best hair, female: Natalie Portman Best splurge: My TV (RCA Scenium) Favorite designer: John Varvatos Pets: A cat I inherited from my grandma Favorite movie: "Harold and Maude"