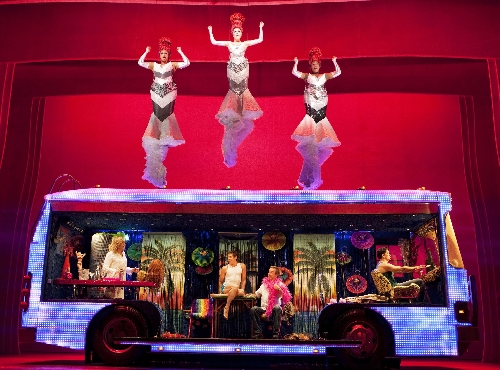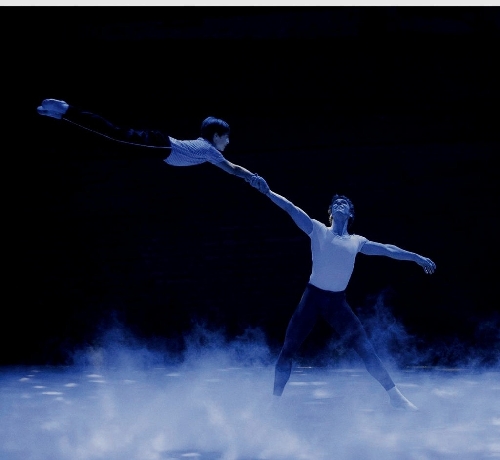 Roger Wilson is a harness master. He toils away in a small workshop, where his creations dangle from the ceiling around him. The human harnesses vary in style and size, but one in the far corner really catches the light and, consequently, the eye. It's smothered in blue sequins.
"That's Katy Perry's," Wilson says. "The orange one was Will Smith's for the (Nickelodeon) 'Kids Choice Awards.' "
Wilson helps people fly, and he does so without the assistance of wings or recreational drugs. He works for Flying by Foy, a Las Vegas-based company that lives up to its name, courtesy of harnesses, pendulums, pulleys and other mechanisms. Flying by Foy has been putting performers into flight, and awing audiences in the process, for 58 years.
It's now collaborating with the upcoming Tony Awards show, "Dancing with the Stars: Live in Las Vegas" at the Tropicana and "Surf The Musical," the production set to Beach Boys music that premieres this summer at Planet Hollywood Resort. Notable past projects include flying Nadia Comaneci over Times Square to light the Olympic torch in 2004, simulations for NASA's Gemini and Apollo space programs and 30 years with the Ice Capades.
The company works with cruise ships, community theaters, film and TV crews, and theme parks. And, at some point in their careers, Lucille Ball, Gene Kelly, U2, Garth Brooks, Miley Cyrus and many more have all soared through midair, thanks to Flying by Foy.
It all started with a man named Peter Foy and a play called "Peter Pan."
The late Foy hailed from Britain, where he worked as an actor and writer for the stage before becoming a Royal Air Force navigator during World War II. When he returned, he found work with a flying company and grew comfortable behind the theater curtain. In 1950, his boss Joseph Kirby sent him to the United States to work on the Broadway production of "Peter Pan," starring Jean Arthur.
Things went well enough for him to return four years later. Same show, different star. Mary Martin had big ideas for her role as Peter Pan. The kind of ideas that challenged Foy and lit a creative flame within him.
According to James Hansen, special projects manager, Foy never had architect ambitions. Technology wasn't a passion of his, either. Rather, he says: "Peter was a problem solver. He solved theatrical problems."
Martin's theatrical problem was risky. She didn't want to float onstage, she wanted to zoom. Foy created flying equipment that used, not one pendulum as was the standard, but two. He called it the inter-related pendulum and it revolutionized stage flying in the 20th century. Two pendulums with two operators sent Martin through the air at speeds approaching 30 mph.
She loved it. Audiences loved it. Foy's boss? He hated it.
Barbara Foy, Peter's wife, still remembers Kirby's fingernails digging into her arm the moment Martin flew – fast and high – over Neverland. It looked incredible, but the velocity made Peter's boss very uncomfortable.
When he finally loosened the grip on her arm, Kirby told Barbara, "The lad can't do this." To which she replied, "The lad knows what he's doing."
Peter and his boss parted ways with a handshake and Flying by Foy went into business. The innovations continued. He created the floating pulley system in 1958 for venues with low ceilings. His track-on-track system in 1962 allowed better "control of lift and travel." In 1977, the inter-reacting compensator marked the first fully motorized traveling truss for the Ice Capades. And, in 1990, he developed the first self-contained, radio-controlled flying system.
Despite his former employer's concerns, every piece of equipment started and ended as a safety device and continues that way today, according to Hansen. The effect comes first. The equipment is built to safely deliver it.
Without this mode of operation, disasters like "Spider-Man: Turn Off the Dark" can happen. In late 2010, four actors and one aerial stuntman, who fell 30 feet into an orchestra pit, were injured during a production.
When it's showtime, Joe McGeough, operations manager at Flying by Foy, doesn't worry about things of that nature.
"No one's gonna fall or collapse here," he says. "But the show could definitely stop running."
That's if something goes wrong, but the company has a reputation for doing things right. That's why the University of Nevada, Las Vegas paid tribute to Foy, who died in 2005, with a posthumous Nevada Entertainer/Artist Hall of Fame induction in March. According to Barbara, the honor "would have meant so much" to Peter, who brought his business to Las Vegas in the early '60s, after falling in love with its sunshine and wide-open spaces.
"I had such a proud evening," she says of the UNLV ceremony. "The presentations, the whole event was done with such dignity and class. I can't say enough and, at the same time, I can't say too much. I get emotional."
Barbara recalls listening to Peter's wild, new ideas over the years. She'd ask how on earth he planned to pull them off and he'd always say the same thing: "Well, darling, I don't know exactly. But, I will. You know that I will."
For more information about Flying by Foy, log onto flybyfoy.com.
Contact fashion reporter Xazmin Garza at xgarza@reviewjournal.com or 702-383-0477. Follow her on Twitter @startswithanx.