Friends and supporters of college attend musical preview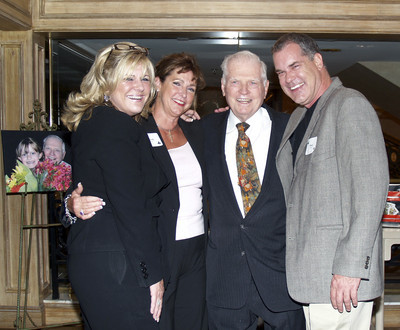 Friends and supporters of University of Nevada, Las Vegas' College of Fine Arts were hosted at a reception by producer Tim Molyneux at his home June 24.
The occasion was a preview of Molyneux's latest creation, "All In: The Poker Musical," which is scheduled to open today at the Rio.
Molyneux, an experienced song and dance man, was born in Alabama. His biography mentions how he has written shows and songs for cruise ships and theme parks.
He created the rock musical "Bite," which will celebrate its fourth year at the Stratosphere.
Dean Jeffrey Koep of the College of Fine Arts and his wife, Julie, were joined by Provost and Vice President Neal Smatresk, and his wife, Debbie; William Boldt, vice president of university advancement, and his wife, Genene; Nancy Strouse, executive director of the UNLV Foundation; and Jennifer Vaughan, public relations director for the College of Fine Arts and Performing Arts Center, as they greeted arriving guests including Julie Raye, Donna and Jack Wishna, Amy Venturi and Jason Firth, Ann Vizzaccero, Vickie Pieper, Audrey Smith, Joe Gatt, Laure and David Mulkey, Darin Hollingsworth, Joyce Gargan, Mike Merrick, Steve Rapella, Roberta Litzinger and Allan Ginsberg.
Caterers Gotojoe catered the party for the 95 guests, who mingled inside the home and outside around the pool. Koep spoke about the college's 3,000 students and its offerings, including the architecture, film, dance and music programs. Koep then introduced Molyneux, who spoke about his five years of singing in his church as a youth and attending Florida State University on a full scholarship, where he began producing opening acts and shows for groups in the South.
He moved to San Antonio and became a producer of shows for Royal Caribbean Cruise Lines.
Chairs were set up theater style in the home's dining and living area for guests to be seated for a showcase performance by the lead actresses and actors, who sang selections from "All In: The Poker Musical" with piano accompaniment by Bob Lynch. The exclusive event was a way to say thank-you to the supporters of the College of Fine Arts.
BIRTHDAY PARTY: Eric M. Hilton, the former vice chairman of Hilton Hotels Corp., and more recently a director of the Conrad N. Hilton Foundation and visionary of the Three Square Program was honored by friends and family members on his 75th birthday. The surprise party took place Saturday evening in the Crown Room at the Las Vegas Hilton. Hilton's actual birthday is July 1.
Arriving guests were met by photographs of Hilton's childhood, days at Texas Western College and his service as a radar specialist in the Korean War. The Crown Room was set up as a poker parlor, as playing poker is his passion. Among the 128 guests were poker buddies from Spanish Trail Country Club and the Bellagio.
Canapes and drinks were served to Carolyn and Bob Rose, Linda and Gary Martin, Sam Pizzoferato, Georgene and Jerry Savio, Brad Apple, Mary Cunningham and Robert Williams, Kay and Ben Maze, Joe Kaufman, Kay and Ben Penn, Teri Brown, Brian Schumacher, Frank Schreck, Don Bratz and Becky Buckley, Steve Lane, Pat Callihan, Jim Bianco, Lisa and Heinz Lauer, Laura and Mickey Colman, Sharon Bolinger, and Julie and Vince Schaffer.
Mistress of ceremonies was Julie Murray and speakers were board members of Three Square, Murray, Punam Mathur, Carolynn Towbin and Lindy Schumacher of the Lincy Foundation.
Proclamations were read from U.S. Sen. Harry Reid, D-Nevada, and U.S. Sen. John Ensign, R-Nevada. U.S. Rep. Shelley Berkley, D-Nevada, presented a certificate of congressional recognition.
Hilton's daughter Linda toasted her father. Three of Hilton's four children were present: Linda of Los Angeles, Beverly Neapolitan of Reno and son, Brad of Arizona and Nevada. Eric Hilton Jr. was unable to attend.
A three-tiered birthday cake decorated in playing cards was wheeled into the room and the Scintas sang "Happy Birthday." Comical moments were delivered by good friend Jerry Savio as he roasted the honoree. A poker party concluded the party.
Board members of Three Square coordinated the event.