Ghosts find happy haunting grounds here
October 26, 2008 - 9:00 pm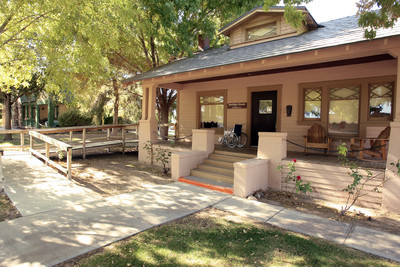 Even if it happened in Vegas a hundred years ago, it apparently stays here.
Janice Oberding claims the valley is crawling with formerly human residents. The author's fifth occult-related book, "The Haunting of Las Vegas," explores dozens of allegedly spooked locales, from the 75-year-old Boulder Dam Hotel (where pianos reportedly play by themselves and disembodied moaning fills the hallways) to the Old Mormon Fort (where the oft-sighted figure of a gaunt old man is alleged to be 1884 murder victim Archibald Stewart).
"I can't count how many times I've tried to get big ghost hunters to do conferences in Vegas, and it just seems to fall through because they say, 'Well, there's no haunted places there and all they've got is casinos,' " says Oberding, a Reno resident who has performed more than 100 investigations as a member of organizations such as Las Vegas Paranormal Investigations and the Paranormal Investigations Team of Nevada.
"I wanted people to know that Vegas does have ghosts, just like everywhere else," Oberding says.
In fact, according to Oberding, we may have more ghosts, since dead folks like coming here for the same reason living ones do.
"If it's true that a spirit can go anywhere they want, then, to me, it's logical that they'd be in Vegas," Oberding says. "If you can go somewhere fun, why are you gonna hang out in a cemetery?" (Perhaps this explains at least some of the news reports about Las Vegas seeming dead lately.)
The most haunted Vegas haunt by far, according to Oberding, is Heritage Street at the Clark County Museum, where several individuals manage to consistently avoid paying the $1.50 admission fee. The most commonly reported is a "little girl with curls" on a closed-off stairway leading to the attic of the Beckley house. (Will and Leva Beckley were pioneer Las Vegans whose house at 120 S. Fourth St. was one of 10 early 20th century structures relocated to the museum.)
About 10 years ago, according to museum registrar Suzanne Turgeon, the weekend supervisor reported seeing "some sort of face" staring at her from the Beckley attic.
"Around that same time, clothing disappeared from the bedroom closet," Turgeon reports, adding that the closet is sealed off with Plexiglas. (Cue the spooky music.)
"Some months later," Turgeon continues, "our curator of exhibits found the missing clothes in the attic."
Oberding — indoctrinated into the occult by seances conducted by her grandmother 50 years ago — says that ghouls frequently hang around because of a sense of injustice.
"Let's take Bugsy," she says, referring to notorious mob figure Benjamin Siegel, whose spirit is alleged to haunt various areas of his beloved Flamingo Las Vegas.
"I think if he would have lived, he might have been able to turn it around," Oberding says. "Imagine you're right where he was at and, all of a sudden, you're killed."
Research for "The Haunting of Las Vegas" took Oberding four years. It included a seance for Liberace at Carluccio's Tivoli Gardens — a restaurant once owned by the flamboyant pianist — and what she calls a real "quickie" at his former mansion at 4982 Shirley St.
Nothing happened.
"But that's OK," Oberding says. "If somebody is looking to show proof to the world that such things exist, that's pretty well impossible, because it doesn't matter what evidence you present.
"Somebody else can always say, 'No, that digital recording's not real' or 'That photo is Photoshopped.' "
So Oberding based most of her latest book on reports by other paranormal investigators and freaked-out tourists.
"I've only seen a ghost once," Oberding says.
She believes it belonged to a co-worker at a Reno casino where she worked as a keno supervisor in 1996. The man had committed suicide two weeks earlier.
"Actually, I should say that I think I saw him," Oberding says. "I hate to say for sure because then people start thinking that maybe you're a little bit weird."
Contact reporter Corey Levitan at clevitan@reviewjournal.com or 702-383-0456.