Breathe in that (indoor) salt air
January 29, 2017 - 9:24 pm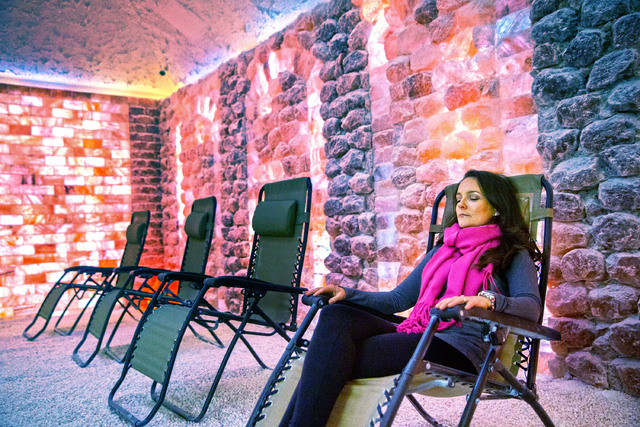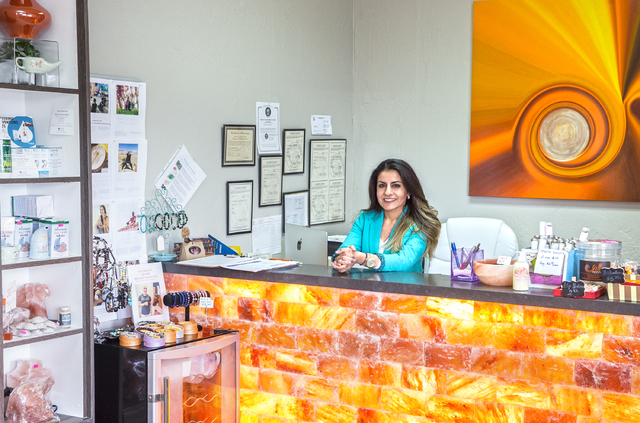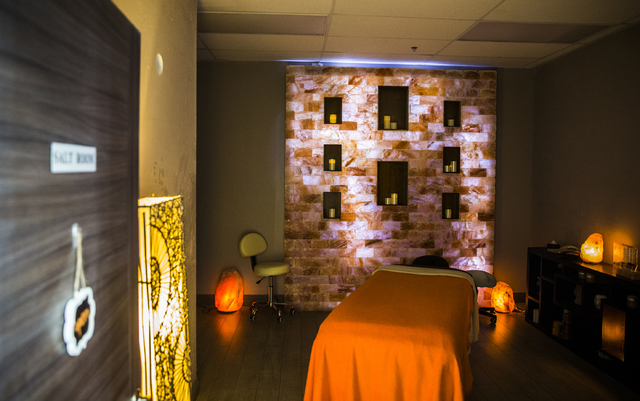 There's something about an ocean breeze that does the soul good. That salty air, it turns out, can have more than just mental benefits. For Las Vegas residents, these benefits — which can include relief from respiratory and skin conditions — can be found a little closer than the coast, in salt rooms or salt caves.
In Las Vegas, there are multiple locations offering these salty sessions, called halotherapy, including the Salt Room LV and NV Float in Summerlin, the spa at Aria and Paradise Salt Cave in Henderson.
In a room lined with pink salt bricks, a halogenerator grinds the salt to a powder and blows it into the air, creating a more concentrated briny breeze than found at the typical seashore. Clients lie in reclining lawn chairs for 45-minute to one-hour sessions, which typically cost about $45.
"Within the first two or three minutes you can tell a difference in the air when you're breathing and you actually feel it," says Richard Warrilow, 74. He began regularly visiting Salt Room LV about a year and a half ago, hoping for relief from lung cancer and chronic obstructive pulmonary disease.
After a session in the salt room, Warrilow can breathe easier and feels less congested. Overall, "it's a very very comfortable experience," he says.
The aerosolized salt does most of the heavy lifting as it settles on the skin and enters the nose, throat and lungs with every breath. The pink salt bricks mainly contribute to the cave-like atmosphere, though they do help ionize and purify the air.
"A lot of people come for just stress relief, to get away from the world," Salt Room LV owner Ava Mucikyan says. "Some just come out of curiosity."
The benefits of salt therapy were first documented more than 100 years ago in Eastern Europe's naturally occurring salt caves. Alina Chervinskaya, the head of the Clinical Research Respiratory Center in St. Petersburg, Russia, has researched the effectiveness of halotherapy for over 20 years. She found that inhaling the salt crystals has a cleansing and anti-inflammatory effect that can help patients with bronchitis, pneumonia and other pulmonary diseases or respiratory infections recover.
"By the end of the course of (halotherapy) all (patients) felt better: They slept well, had no fatigue and weakness, and their nervous system stabilized. Clinical symptoms analysis demonstrated that the number of asthma attacks and respiratory discomfort cases decreased significantly as compared to the initial ones," Chervinskaya wrote in a 1995 article in the Journal of Aerosol Medicine.
She found that patients with skin conditions such as dermatitis, psoriasis and eczema can also see positive results from halotherapytbecause of the same cleansing and anti-inflammatory effects salt has internally.
"It's just like going to ocean and smelling the ocean air," Mucikyan says.
You won't get the view, but the drive is a lot shorter.
Read more from Sarah Corsa at reviewjournal.com. Contact her at scorsa@reviewjournal.com. Follow @sarahcorsa on Twitter.