Doctors hone craft in Las Vegas hospital's new simulation center
December 4, 2018 - 3:52 pm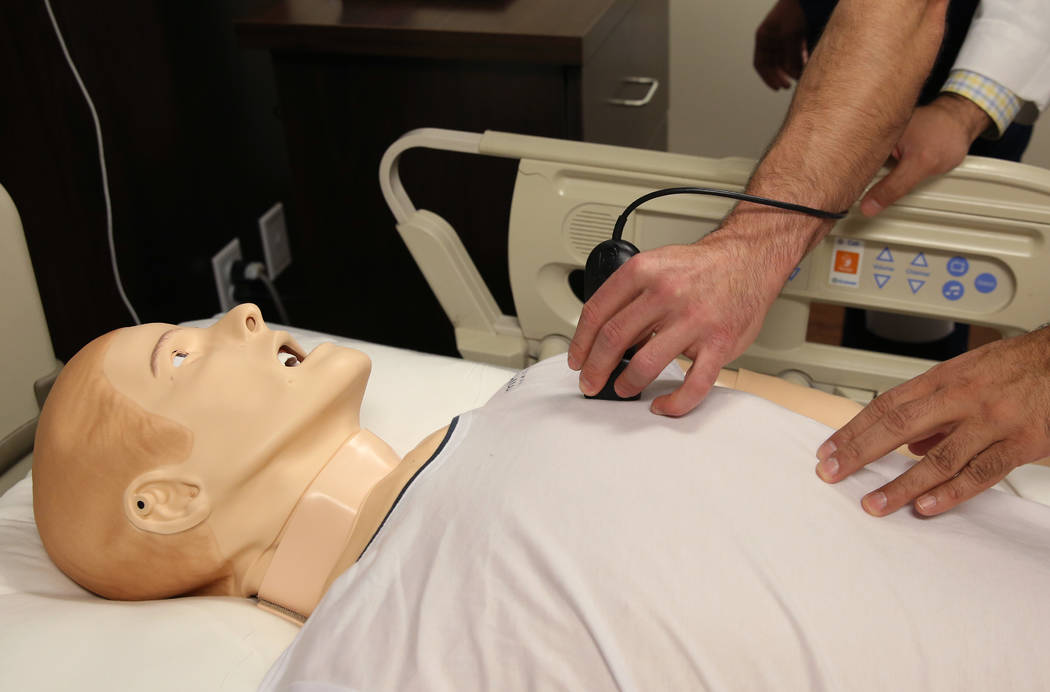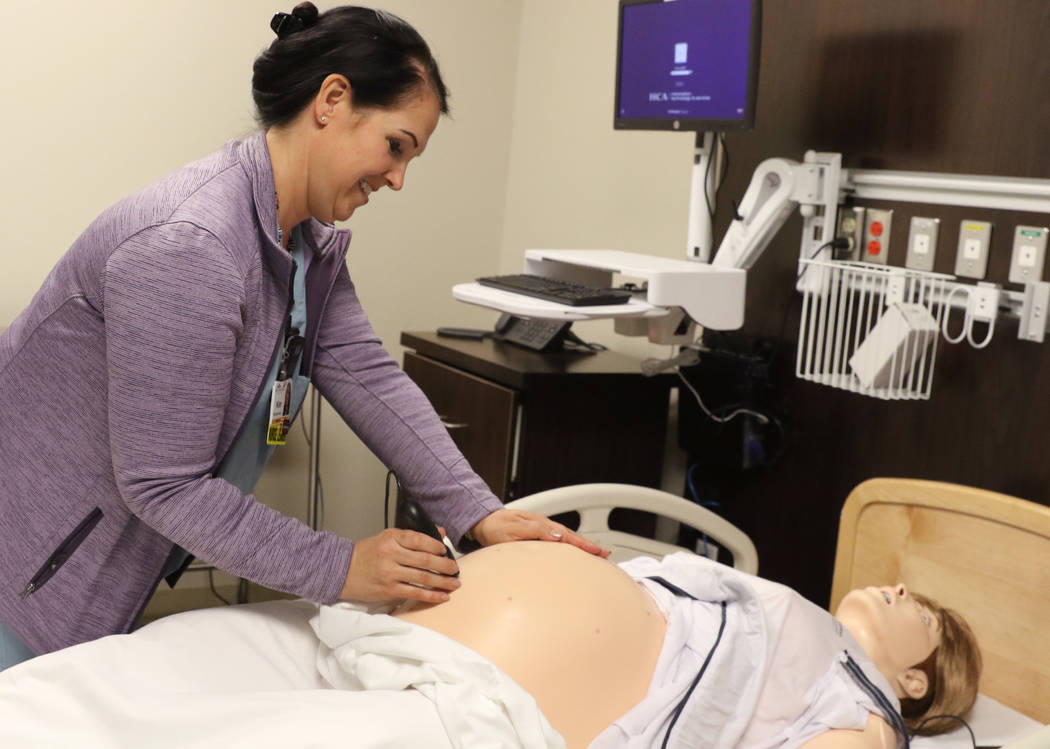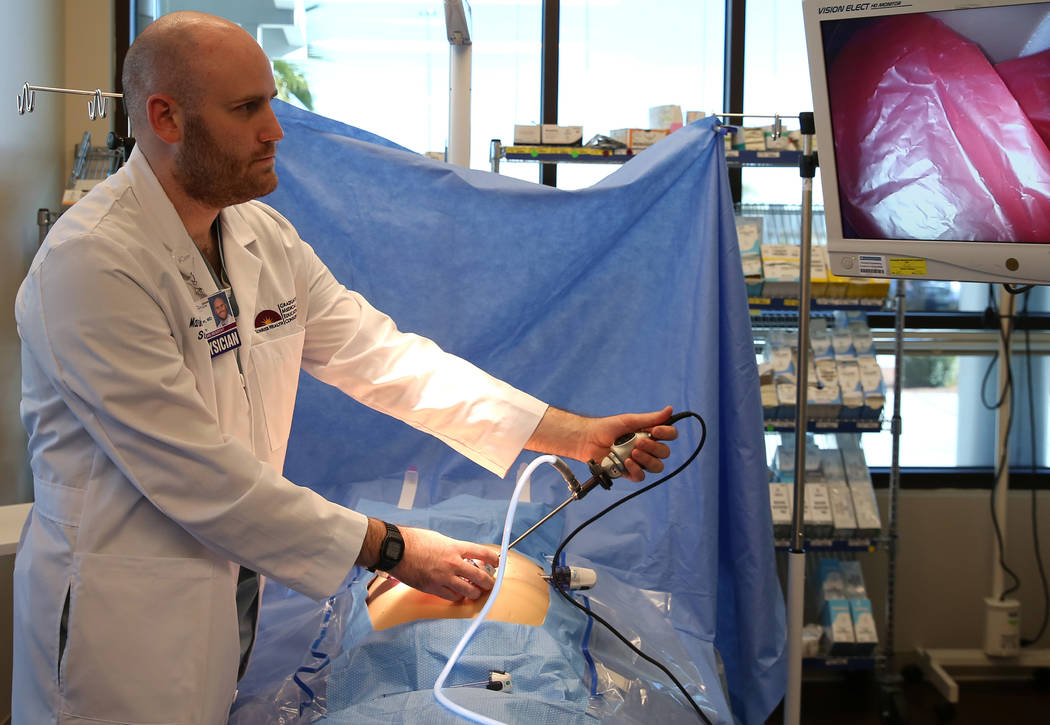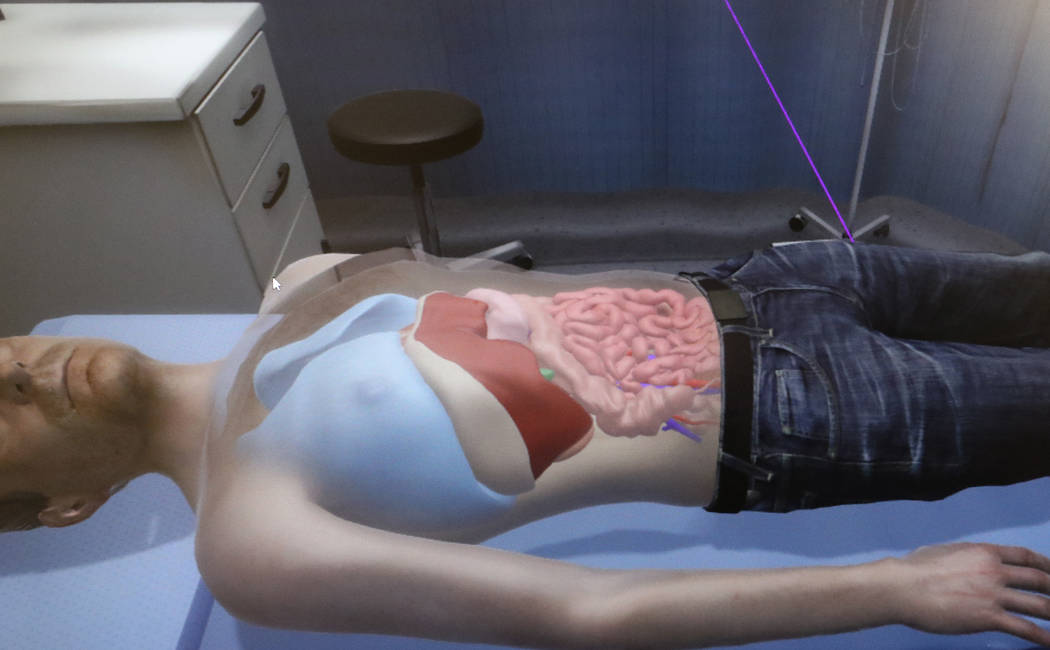 Shine a light in Harold's eyes, and his pupils constrict. He breathes, blinks and even sweats, just like the rest of us.
One striking difference: Harold is made of plastic.
The high-tech dummy is one of several training tools in MountainView Hospital's new simulation center to help medical residents learn basic operations and procedures before they begin working on the living. The hospital unveiled the facility and introduced Harold and his counterpart, a pregnant woman named Lucy, at an open house Tuesday.
"The simulation allows the residents to get that real-life, hands-on experience," said CEO Jeremy Bradshaw. "If they're going to make a mistake, we want them to be able to do that on a simulated patient."
The simulation center, open 24/7, is available to about 150 residents at MountainView and Southern Hills Hospital and Medical Center as part of the Sunrise Health Graduate Medical Education program. Both facilities are part of the Sunrise Health system, which includes Sunrise Hospital and Medical Center and Sunrise Children's Hospital.
Dr. John Nunez, MountainView's chief medical officer, said the center serves as an important steppingstone between textbook learning and real-life patient care that can prevent potentially catastrophic mistakes when real lives are on the line.
"We don't practice and simulate enough before we do the real thing," he said. "That's what (simulation) labs do for us."
The center also has a virtual reality tool to help residents practice procedures like diagnostic scanning while standing at a patient's bedside.
They can also try their hand at laparoscopic and endoscopic procedures.
One tool lets them remove an appendix. If residents pull too hard or pinch too much tissue with the laparoscopic tools, they can see the mistake and feel how the tissues and tools respond, enabling them to correct their technique in a subsequent run-through.
Harold, a SimMan, and Lucy, a SimMom, are manufactured by Laerdal Medical of Stavanger, Norway. They also help doctors practice emergency protocol and obstetric medicine. Lucy goes into labor and screams if a doctor pushes too hard while performing an ultrasound. She even makes vomiting sounds, without producing actual vomit.
Lucy, Harold and their son, a SimBaby named Harold Jr., cost about $180,000.
For Dr. Matt Cadelago, a first-year emergency medicine resident, practicing on dummies helps him prepare for cases that might not come through the hospital doors often. When they do, Cadelago said, he and other young doctors schooled on the dummies will be ready.
"Nobody wants a nervous doctor," he said. "The more practice you have with something that's as real as possible, the more comfortable you are, and the more comfortable a patient is."
Contact Jessie Bekker at jbekker@reviewjournal.com or 702-380-4563. Follow @jessiebekks on Twitter.
Sunrise Health graduate program
The program. the Sunrise Health Graduate Medical Education Consortium, welcomed its first class of residents in 2016.
Today, more than 150 residents are employed at Southern Hills Hospital and MountainView Hospital in internal medicine, family medicine, general surgery, emergency medicine, obstetrics and gynecology and anesthesiology.
Both campuses also offer a transitional year program prior to the start of a residency program.