Henderson man, diagnosed with colon cancer, understands importance of checkups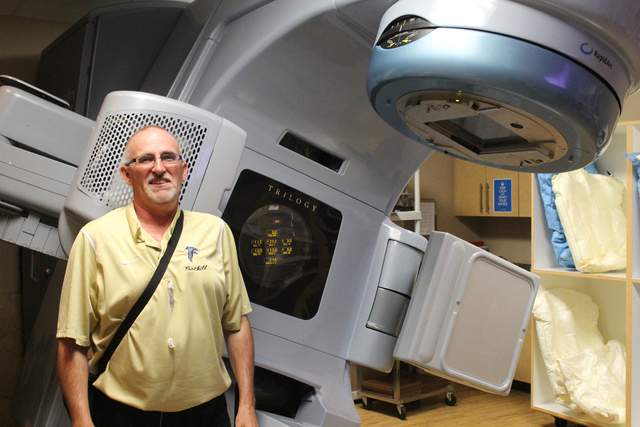 For nine months, 51-year-old Sheldon McArthur ignored discomfort in his body. He thought it could be a number of things, such as getting older.
But it was colorectal cancer.
"I should have gone to the doctor sooner," McArthur said.
McArthur's story is something many people struggle with — resistance to seeing a doctor.
Paul Treadwell, McArthur's doctor who works with 21st Century Oncology, said people need to consult a physician not only when pain is persistent but also for regular screenings.
"When pain or discomfort does not go away after several days or is not related to a specific cause like a fall or injury, it's important to see a doctor," Treadwell said.
Last year, McArthur started dealing with regular constipation. He tried a number of remedies but not much worked. On Christmas Day, the pain intensified after his family finished dinner. Thinking it was kidney stones, McArthur had his 18-year-old daughter take him to the hospital. After running tests, the doctors discovered he had colorectal cancer with multiple tumors.
"My daughter kept telling me to go to the doctor," he said. "I was being a typical guy and didn't think I needed to go."
Because he delayed going to the doctor, the cancer had also spread to his lungs.
"When cancer is diagnosed early, it is generally more treatable," Treadwell said. "When the cancer has time to grow, it can spread to nearby lymph nodes and other organs, which can cause severe symptoms and possibly limit treatment options."
This news came as a shock since McArthur, one of five children, said no one in his immediate family has dealt with cancer.
He wishes he would have gone to the doctor months ago, before his condition worsened.
Treadwell said there are many reasons men don't go to the doctor, such as assuming the problem will go away on its own.
"Some men say that stereotypes about what is 'manly' have created a myth that going to the doctor or getting sick is a sign of weakness," Treadwell added. "Men need to find a doctor they trust and have an open conversation with them about their body. Most cases of colon cancer can be diagnosed early, or in a pre-cancerous stage with a colonoscopy. While the procedure may seem uncomfortable, it can be life-saving."
McArthur started treatment in January.
"They instantly started me on chemotherapy," he said. "I also did 5½ weeks of radiation."
He continued to work as a flag football coach for his daughter's team at Foothill High School.
McArthur approached his cancer with a positive attitude and a sense of humor.
"I was wearing a mask during winter, and someone asked me (not knowing about the cancer) if I was dying," he said. "I said, 'Maybe. I have cancer.' "
But overall, he remained optimistic.
"The best advice I got was not to let cancer run my life," he said. "That really stuck with me."
While he has finished radiation for his colon cancer, McArthur is still doing chemotherapy for his lungs. The doctors are also looking to resect part of his intestines where there are some cancer cells.
"It probably would be done by now if I would have gone to the doctor sooner," he said.
McArthur now talks with his three children — ages 12, 16 and 18 — about the importance of getting checked if anything is hurting longer than a normal amount of time.
But he would give that advice to anyone.
"Get checked out sooner," he said. "It can save yourself some heartache."
To reach Henderson View reporter Michael Lyle, email mlyle@viewnews.com or call 702-387-5201. Find him on Twitter: @mjlyle.