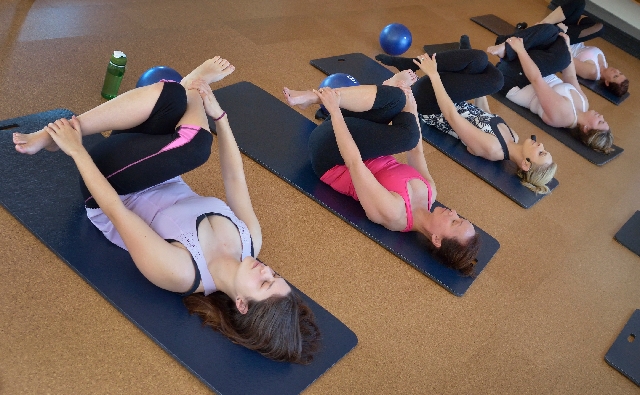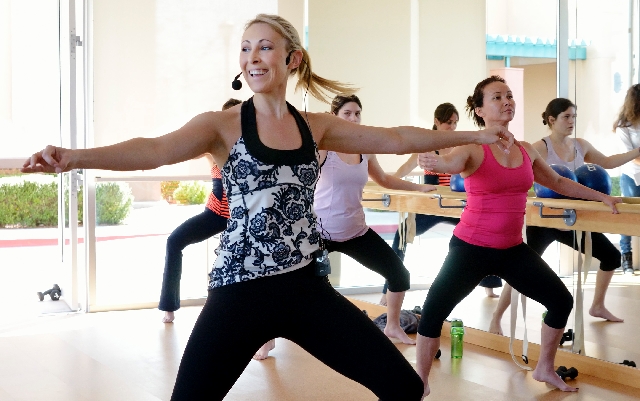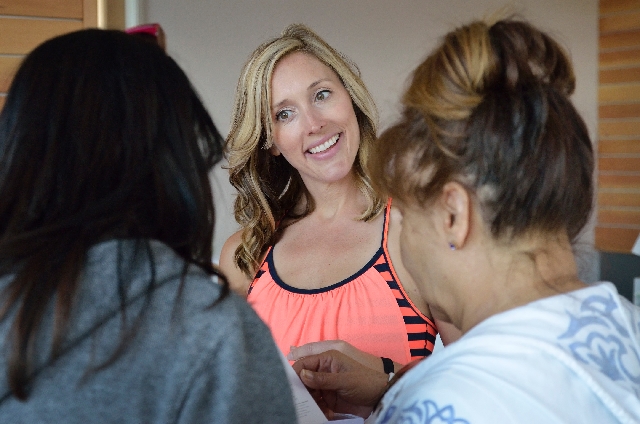 Pit Bull and ballet don't normally go together. Yet here at barre3, at The District, the reggaeton artist's music is blasting and women are plieing. There are no pointe shoes in sight, though.
Barre3 just opened last week. It's a ballet studio, but it's also a fitness practice that blends ballet, yoga and Pilates — hence, the 3 — in 60-minute sessions. And on a recent Friday morning, it had 13 booties shaking from the intensity of it all.
"Your body never gets used to it," says instructor Meredith Still. "Each time you find something new to engage. Maybe you're dropping your heels a little lower, maybe you're squeezing tighter."
It makes for changes in the body you can't get from the treadmill or yoga alone, Still says. It's the trifecta of the ballet movements, combined with yoga and Pilates that works problem areas the way other systems can't.
Her students use the barre for balance, but the more advanced they get, they won't need it at all. Floor work consists of a yoga mat, medicine balls and small hand weights.
Today's class is full of women. Later classes are primarily working women, but this morning brings mostly stay-at-home moms to the studio. Five of them brought their kids along. For a charge of $5 per kid, Barre3 has an onsite day care for children 6 weeks to 8 years old.
While telling students to "squeeze, squeeze, squeeze," Still noticed, at one point of the class, a Post-It note on the glass door. "Is Caitlyn's mom here?" she asked students, after reading it.
Caitlyn's mom was there, and she promptly left the studio to tend to her baby, who was inconsolably crying in a small play area, amid building blocks and children's books.
With their kids right outside, even new moms feel comfortable spending an hour away from their babies to get their old bodies back.
Jackie Edlund, who owns barre3, started going to a studio in her native Seattle after her second son was born in 2010. The former interior designer felt so passionate about the results, she decided to bring it with her when she moved to Las Vegas.
"A lot of thought has gone into making it feasible for moms with busy schedules. It really has that family feel to it," she says of the company.
The 3 in barre3 also stands for a balance between personal mind, body and spirit.
New students pay $30 for three classes. From there, single classes are $20. Packages also include one month of unlimited classes for $160.
Today's class is the second time Kim Dorfman has tried barre3. She lives in the area and normally gets exercise through yoga, Pilates, running or hiking. Dorfman's trying barre3 for something new.
"Yoga is just stretching and Pilates focuses on a good spine," she says. "This focuses on all muscles in your body and it makes me feel like I'm working muscles I wouldn't normally use."
That's exactly why Edlund thinks the practice of barre, as it's called, won't prove to be another fitness fad.
"Remember when yoga was first getting big and it seemed like the latest craze, but it wasn't?" she says. "I'm thinking barre will be the same thing."
Barre3 is at 120 S. Green Valley Parkway, Suite 194, 754-0290. Log onto barre3.com for more information.
Contact Xazmin Garza at xgarza@reviewjournal.com or 702-383-0477. Follow her on Twitter @startswithanx.