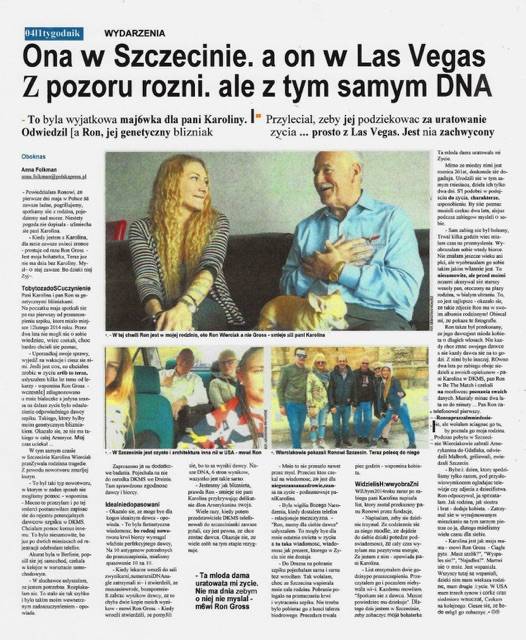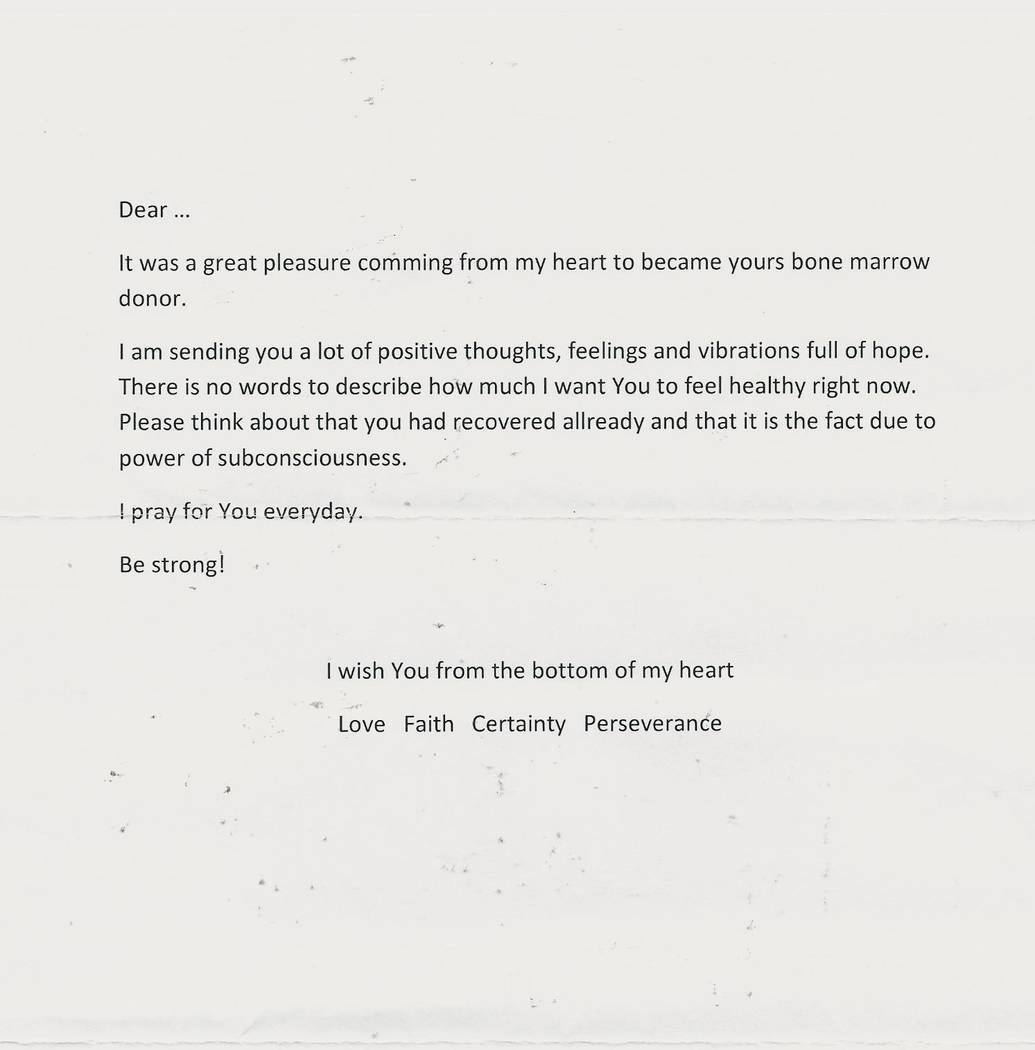 Four months ago, Ron Gross met Karolina Wierciak, the woman who saved his life in 2014. He lives in Las Vegas, she in Poland.
Their story is a testament to the awesome power unleashed by combining of the wonders of modern medicine with the passionate resources of the heart.
"After cousin died of cancer, I got down on knees and prayed for way to help somebody, to help save life," Wierciak said in broken English from her home in Szczecin, Poland.
Six years years ago, Gross, then a computer instructor who also did security at the Rio, had no clue he'd need a bone marrow stem-cell transplant from a woman nearly 6,000 miles away to stay alive.
"I definitely didn't think I had something that could kill me," Gross, now 66 and retired, said recently.
He did have a painful problem at the time, but not a life-threatening one — a sore neck, the result of some discs out of whack. Fusion surgery was planned.
The bad news
Gross then had the routine blood test patients take in the days before a hospital procedure.
It turned out he had a blood disorder, myelodysplastic syndrome, or MDS, a condition that made national headlines in 2012 when ABC "Good Morning America" anchor Robin Roberts revealed she had the disease.
"I couldn't believe it at that point," Gross said. "I didn't feel bad, not overly tired or anything."
Doctors told him they'd try to manage his MDS, frequently referred to as preleukemia, through transfusions and chemotherapy. His treatments were carried out at Sunrise Hospital.
By 2013, however, he was becoming weaker and weaker and physicians said a bone marrow transplant, which saved Roberts' life, was his only chance. He began treatment at Stanford Hospital in California, where such a transplant could be done.
Members of his family were tested, but no one had the correct blood properties for a transplant.
What Gross didn't know at the time is that Wierciak was making what amounted to a life and death decision for him.
After her beloved cousin passed away from cancer, she decided one way she could honor his memory was to try to save someone's life by registering as a bone marrow donor. Because Poland didn't participate in the worldwide Be The Match Registry, she drove 200 miles to Germany in October 2013 to get her blood drawn and tested for the registry.
"I feel inside my heart this is my obligation," the 37-year-old clothing designer said.
In early December 2013, doctors told Gross he probably couldn't get a transplant in time to save his life. It was time, they said, to get his affairs in order.
The amazing news
Then he would get the best Christmas present of his life.
On Christmas Eve, he received a phone call at his Las Vegas home from Stanford. A match had been found.
Gross returned to Stanford where they prepared him for a transplant in February.
In the days before the Feb. 12 procedure, Wierciak once again drove to a German hospital, where doctors withdrew liquid marrow from the back of her pelvic bone and then shipped it to California.
"I'm happy to get ready to help somebody," she said, noting that the procedure under general anesthesia did not hurt.
Two days after the transplant, Gross received an anonymous letter from his donor. Because of National Marrow Donor Program/Be The Match privacy regulations, donors and recipients aren't allowed to know each other for a year nationally, and two years internationally.
In the letter, the donor told Gross that helping him was a "great pleasure (that came) from my heart.
I am sending you a lot of positive thoughts, feelings and vibrations full of hope."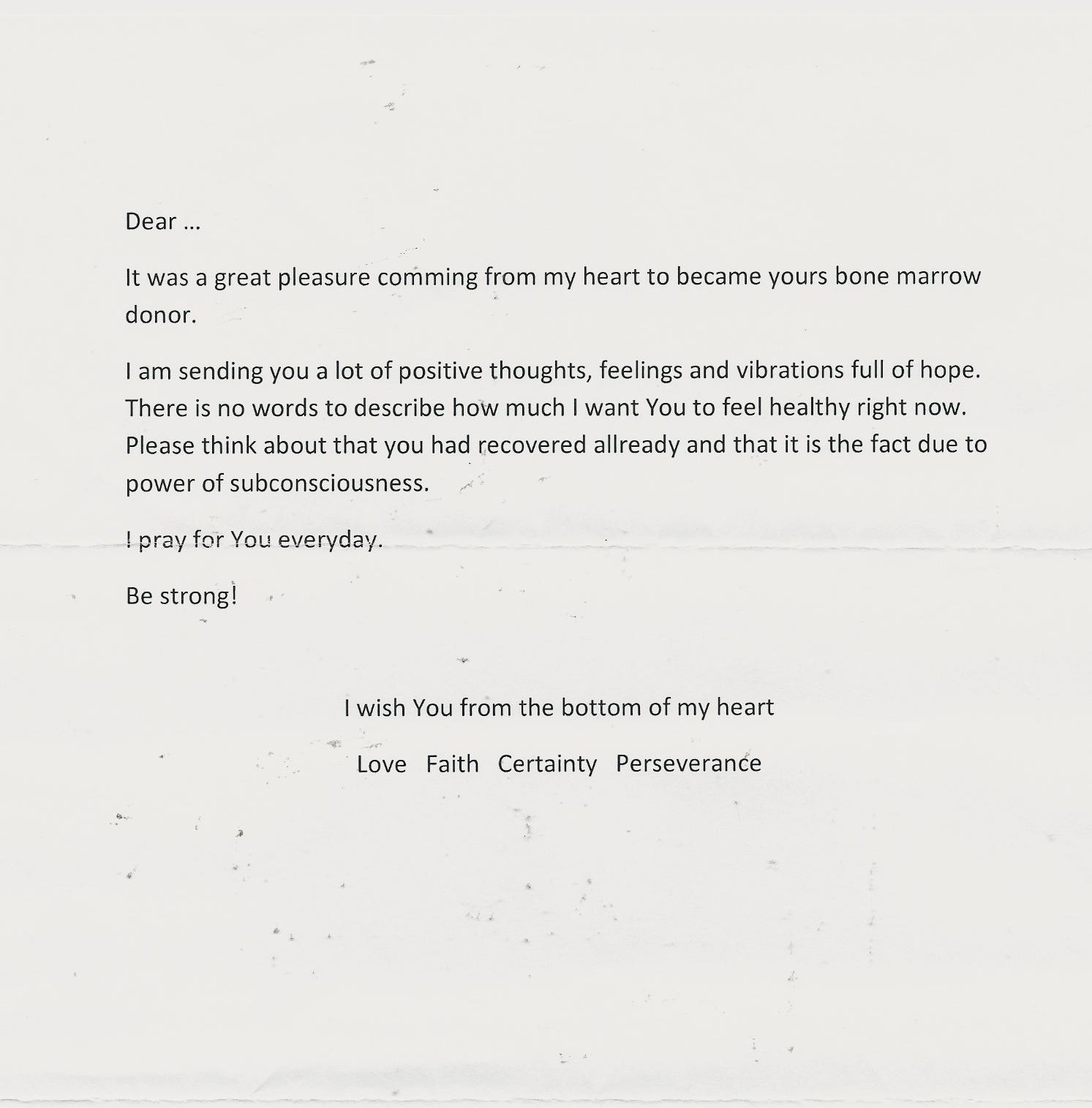 Anonymous letter Ron Gross received after the bone marrow transplant. Later he learned that the letter was from Karolina Wierciak of Poland.
Gross, who spent more than three months either in Stanford Hospital or nearby as doctors closely monitored his progress, was touched by the initial letter and others that followed.
"She really cares," Gross said. He now says he feels as good as he ever has.
Dr. Linda Burns, vice president and medical director of health services research for the National Marrow Donor Program/Be The Match, says thousands of people who've received transplants are doing well.
According to Be The Match records, 80,000 transplants have been performed since 1987. More than 470,000 new potential donors signed up in 2016. More than 75 percent of the time, donations are made in a nonsurgical, outpatient procedure similar to donating platelets or plasma.
Two years to the day after the 2014 transplant, Gross and Wierciak talked on the phone and got to know each other.
"We are so connected, when I telephoned her I immediately received a busy signal," he said. "I disconnected and my phone started ringing. It was my donor. We were excited, sharing our feeling and experiences. … We discussed the things we both treasure the most, our families and our love for the sea."
They decided that Gross would first visit Wierciak in Poland. In May he went for a few days without his wife Eva, who suffers from both heart and back issues. He stayed in an apartment close to his donor's.
"You can't imagine how I felt when I saw him," Wierciak said. "I am not married and to think I'm part of somebody and helped with survival — it is unbelievable feeling."
A reporter in Poland, Anna Folman, learned through friends of Wierciak that Gross had traveled to meet her. She wrote a front-page story on their journey.
The Polish newsppaer GLOS did a story on the pair in May. Glos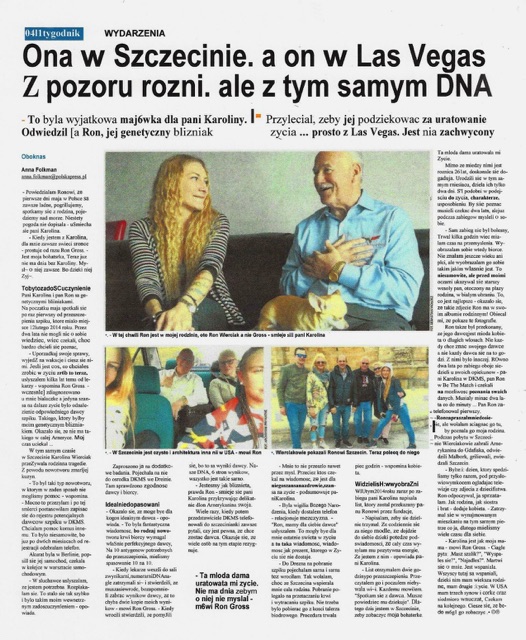 The Polish newsppaer GLOS did a story on the pair in May. Glos
"It was very emotional," Folman said. "They were like father and daughter."
Gross looks forward to the day Wierciak can visit him and his family in Las Vegas.
"She is my hero," he said. "She will always be part of me."
If you would like to register to potentially save a life, visit join.bethematch.org/WMDD2017.
Contact Paul Harasim at pharasim@reviewjournal.com or 702-387-5273. Follow @paulharasim on Twitter.
By the numbers
■ 1: Number of people diagnosed with a blood cancer every 3 minutes
■ 1: Number of potential donors who actually become donors, for every 430 on Be The Match Registry
■ 70 percent: Share of patients who do not have a fully matched donor in their family. They depend on the National Marrow Donor Program and its Be The Match Registry.
■ 39,000: Averge number of potential donors who join the Be The Match Registry in the U.S. each month.
■ 472,000: Number of potential donors who joined in the U.S. in 2016, about 38 percent of whom identified as people of color
■ 16 million: Number of potential marrow donors on Be The Match Registry
■ 238,000: Number of cord blood units on the registry
■ 66 percent to 97 percent: Patient's likelihood of having a matched, available donor on the registry. Patients are most likely to match the tissue type of someone who shares their ethnic background.
How to donate
■ A marrow transplant replaces a patient's unhealthy blood-forming cells with healthy ones. The cells used in transplants come from three sources: marrow, peripheral blood stem cells (PBSC) and umbilical cord blood.
■ Adults can donate in one of two ways: About 77 percent of the time, a patient's doctor requests a PBSC donation, a nonsurgical, outpatient procedure similar to donating platelets or plasma. The rest of the time, the doctor requests marrow, a surgical, outpatient procedure that takes place at a hospital.
■ A third source of cells used in transplants is cord blood, which is collected from the umbilical cord and placenta immediately after a baby is born. It is stored at a public cord-blood bank, and the cord-blood unit is listed on the Be The Match Registry.
■ Join the Be The Match Registry in person or online at bethematch.org. Potential donors need to meet age and health guidelines and be willing to donate to any patient in need. Registration involves completing a health history form and giving a swab of cheek cells.
■ Young people of diverse racial and ethnic heritage are needed now to help patients searching for a match. People ages 18-44 are most urgently needed because they're requested by transplant doctors more than 95 percent of the time, and research shows that these donors provide the greatest chance for transplant success. People ages 45-60 who want to join the registry are welcome to do so online with a $100 tax-deductible payment.
Why the anonymity?
Donors and recipients are required to remain anonymous for one year after transplant if the two are from the U.S., two years if the two are from different countries.
The primary reason is to allow the patient to focus on his or her recovery. The first year can be difficult, and a subsequent donation request could be made of the donor during this time.
Confidentiality during this period protects donor and patient from any undue pressure.
Some countries have a policy where the two must remain anonymous indefinitely.