Las Vegas now home to the top-ranked kidney transplant program in US
Updated February 2, 2023 - 10:23 pm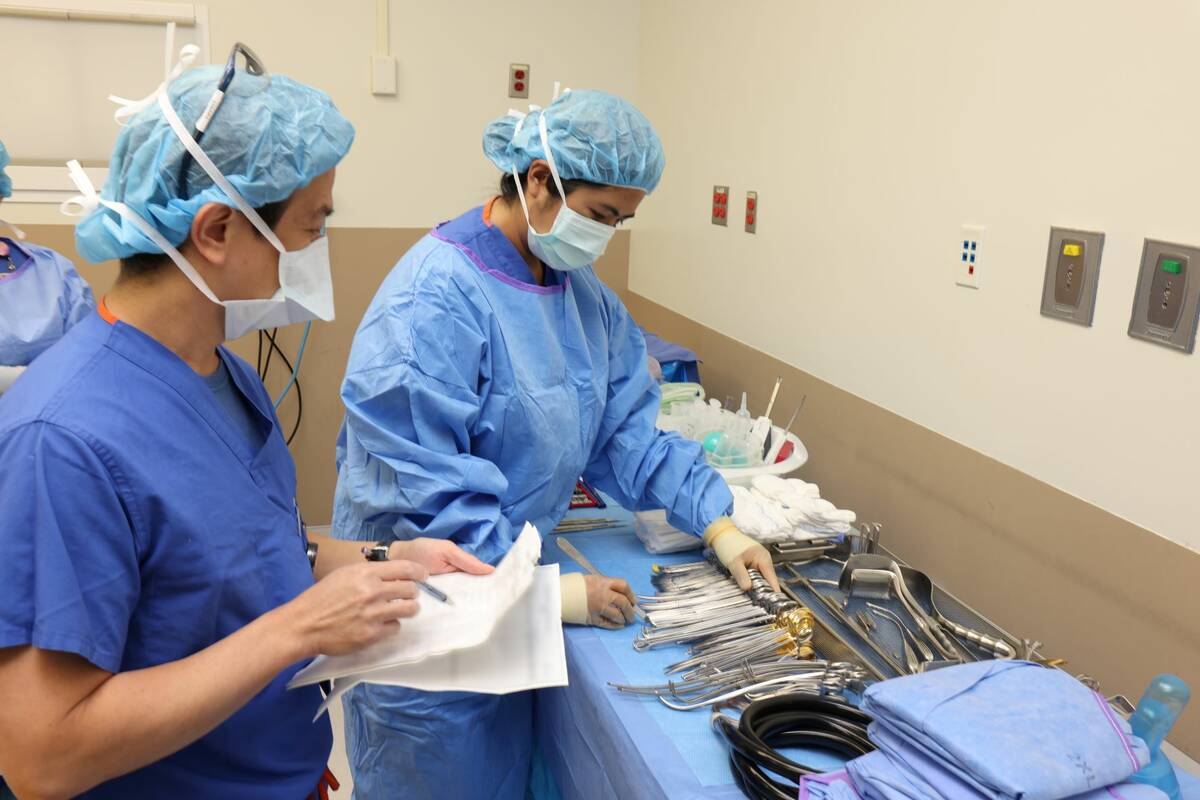 Michael Mitchell has been visiting Hawaii, one of his favorite places in the world, since he was 7 years old, but hasn't been since 2019.
Since his last trip, the 55-year-old Las Vegas resident went into kidney failure and was diagnosed with polycystic kidney disease.
Mitchell said he was stunned when he learned his kidney had failed, but that polycystic kidney disease runs in his family so he had family members who had previously gone through transplants so he could talk to them about the process.
He received a kidney transplant from the University Medical Center of Southern Nevada's Center for Transplantation in October of last year, one year after he first went into renal failure, and just four months after he was put on the transplant list to receive a kidney.
Mitchell's speed in receiving the transplant is just one of the reasons UMC is now the top-ranked kidney transplant program in the country, according to new data released last month by the Scientific Registry of Transplant Recipients.
The data, which assesses kidney transplant programs for their one-year kidney survival rates and for the shortest time spent waiting for a transplant, ranked UMC first in the nation among 257 kidney transplant programs.
It's a distinction that Dr. Sunil Patel, the program director for UMC's transplant program, calls the "holy grail" for any transplant program.
"I just hope that it's sustainable," Patel said. "To sustain that growth is kind of the next big job."
Tripling the number of kidney transplants
Organ allocation in the United States used to give a preference to local candidates for local organs, so a patient in Las Vegas would typically get kidneys recovered in Las Vegas.
But that system meant patients in larger cities were waiting longer for organs.
Now, the system operates in concentric, regional circles, where organs get allocated throughout the circle, according to Patel. Southern Nevada and Las Vegas now have to compete with much larger, neighboring regional hospitals such as the Mayo Clinic in Arizona and UCLA in California, for available organs.
But with Southern Nevada's growing population, the city and UMC needed a more robust transplant program. So, they began building a team that could streamline its transplantation processes and be more efficient.
That included streamlining the education process for transplant patients, so that they could educate themselves on the transplant process and take the required test for patients at home, instead of having to come into the hospital for training.
As a result, where UMC traditionally performed 30-40 transplants a year prior to the pandemic, that number has nearly tripled to approximately 145 kidney transplants each year.
'Give them back their lives'
Most patients at UMC will wait 18 months to two years for a kidney, but patients in some large cities across the U.S. can sometimes wait 10 or more years before receiving transplants, according to Patel.
For patients who are on dialysis several hours a day, several days a week, that wait and the maintenance becomes what Patel describes as a second job, while patient's bodies are slowly deteriorating.
Such a situation underscores the importance of transplants.
"That's the goal of transplantation, is to extend their life, but also to give them back their lives," Patel said.
It's a sentiment that Mitchell echoed four months out from his transplant, as he cautiously makes plans to return to Hawaii, once he feels more comfortable traveling amid the respiratory viruses still circulating in the community and while cognizant that he will have to wear more sunscreen and avoid too much sun exposure with his compromised immune system.
What is he looking forward to doing once he can return to Hawaii?
"Probably just to sit on the lanai and watch the palm trees sway and the waves of the ocean, which is key," Mitchell said. "I like that."
Those moments are exactly what Patel said patients get back once they have their quality of life restored post-transplantation.
"You do have to put sunscreen on," he added, laughing.
Contact Lorraine Longhi at 702-387-5298 or llonghi@reviewjournal.com. Follow her at @lolonghi on Twitter.