Las Vegas prostate cancer survivor arms patients with information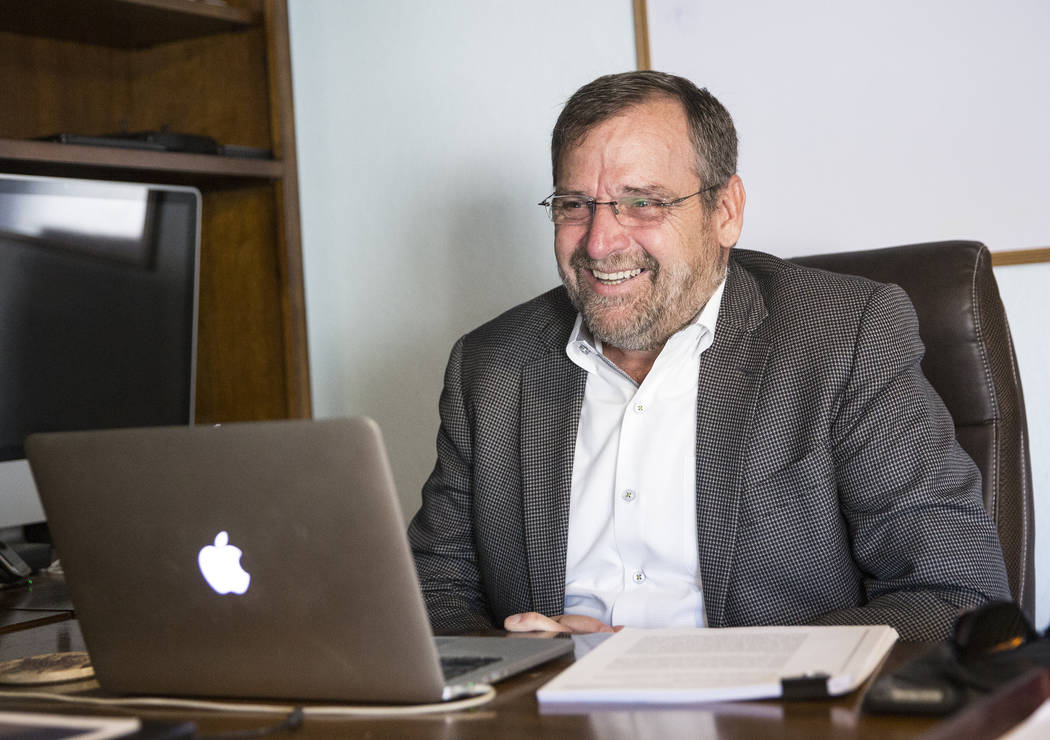 You'd expect to see the thick document regarding guidelines for treatment of localized prostate cancer in a doctor's home or in a physician's office.
At first blush, the fact that it sits on the middle of a desk in the Las Vegas home of Tony Crispino, an account manager for Black Box Network Services, a provider of communication products, seems strange.
But the more you learn about the 55-year-old Crispino, the more you understand why it's there.
"We're fortunate to have Tony in Las Vegas as a patient advocate," says Dr. Nicholas Vogelzang, the world renowned Comprehensive Cancer Centers of Nevada oncologist who's treated Crispino and developed therapies for prostate cancer.
"Tony's remarkable — he's made a lot of difference to a lot of patients with what he's taken upon himself to learn," Vogelzang notes. "Many of the prostate cancer doctors know him across the country. … I realized he'd make a good advocate and helped put him in touch with a variety of groups."
One prostate cancer survivor told me Crispino saved his life: "I wanted to kill myself, and he showed me I had a lot to live for."
Crispino, in remission from prostate cancer diagnosed when he was just 44, is so respected in the medical community that he was part of the panel that developed guidelines for treatment of localized prostate cancer — they were recently adopted by the American Urological Association, American Society for Radiation Oncology and the Society of Urologic Oncology.
He's the only one of the 13 panel members without an MD or Ph.D. following his name. He made sure the guidelines encourage clinicians to make patients aware of community support programs that can help them deal with both the physiological and psychological challenges surrounding treatment for prostate cancer.
'A calling'
"I guess you could say I see advocating for patients as a calling," Crispino says. "I think that's why (God) spared my life."
President of the Us Too Prostate Cancer Support and Education chapter in Las Vegas since 2009, the devout Catholic learned he had prostate cancer in 2006 after a blood test he took to see if he had physiological problems preventing his wife, Ruth, from becoming pregnant.
Results of a prostate specific antigen, or PSA, blood test prompted a biopsy and the subsequent cancer diagnosis.
"It was just before Christmas, and I didn't sleep for four days," Crispino recalls.
Once he got on the internet his attitude began to change. He made contact with prostate cancer survivors from as far away as Australia. It was then that he realized education about the disease was crucial.
"After I was diagnosed, I was like so many men who come to our Us Too support group," he says. "Like a deer caught in the headlights. Totally unaware of what was coming. It really helped me to have someone to chat with."
Working on the advice of a local urologist and his own research, Crispino decided to go to City of Hope Cancer Center in California for a radical prostatectomy — the removal of the prostate gland and some tissue around it.
Part of a man's reproductive system, the prostate is a walnut-sized structure that wraps around the urethra, the tube carrying urine out of the body.
Crispino said he was stunned when his surgeon told him before the procedure that nerves affected during the surgery could mean sexual activity as he knew it could come to an end.
He said conversations he and Ruth had after discussions with the surgeons were highly emotional.
"Ruth was far more concerned about my life than sexual activity," Crispino said. "She asked far more questions than I did of the doctor. When you're the one with cancer, you only hear about half of what is said. That's why I always tell somebody to have someone with them with they go to the doctor or to take a recorder."
Unfortunately, the surgery, which caused temporary incontinence as well as erectile dysfunction, didn't get all the cancer. Radiation would follow. So would three years of hormonal treatments.
Now off medication, Crispino noted that he and Ruth recently celebrated their 20th wedding anniversary.
"Intimacy has come to us in another way," he says.
Reaching out
As Crispino fought his cancer, he became convinced that he should share with others diagnosed with prostate cancer what he learned from his own experience, research and discussions with other patients and doctors.
He did so initially online and through Us Too. Vogelzang got him involved with the Southwest Oncology Group.
Crispino is pleased that in April the U.S. Preventive Services Task Force relaxed its controversial opposition to routine screening for prostate cancer. Five years ago the task force concluded that the risk of screening through the PSA test outweighed minimal benefits.
The risks included false-positive results, overtreatment of slow-growing cancers and side effects from the treatment. This year the task force concluded that because two studies now show the benefits slightly outweigh the risks, it would be best if patients aged 55-69 discuss the need for a test with doctors.
Crispino points out that if his high PSA didn't indicate the need for a biopsy when he was 44, he'd now be dead.
Both Vogelzang and Las Vegas urologist David Ludlow, who says surgical technology has advanced to the point that fewer people experience severe side effects from procedures, agree that too many surgeries were done over time on the basis of a high PSA reading, which does not necessarily mean cancer.
Vogelzang said the task force guideline of having patients talk with their doctors candidly is important.
He also says that doctors now know there are five types of prostate cancer — three require surgery, he said. He said biopsies and MRIs are used to detect what kind of cancer a patient has.
Slow-moving cancer
Ludlow also noted many prostate cancers are so slow moving patients would die of something else before prostate cancer. Eighty-two-year-old Nelson Sardelli, a retired Las Vegas entertainer diagnosed with prostate cancer, finds himself in the medical category of "active surveillance."
"I'm more afraid of being attacked by climate change than having prostate cancer kill me," he says.
Crispino, who routinely counsels new prostate cancer patients who come to Us Too meetings with questions about everything from treatments to diets, says he'll never quit trying to help men deal with prostate cancer.
"There are people who want to know what's down the road with their prostate cancer, so they need to talk to people who are coming back."
Paul Harasim's column runs Monday in Health. Contact him at pharasim@reviewjournal.com or 702-387-5273. Follow @paulharasim on Twitter.
By the numbers
After non-melanoma skin cancer, prostate cancer is the most common cancer among men in the U.S.
■ Nearly 210,000 men are diagnosed with the disease annually in the U.S.
■ Nearly 28,000 men die from it each year in the U.S.
■ About 1 in 7 men will be diagnosed with prostate cancer during his lifetime.
■ Prostate cancer mainly occurs in older men — about 60 percent of cases are diagnosed in men 65 and older.
■ Prostate cancer often has no early symptoms.
■ Most men diagnosed with prostate cancer do not die from it. More than 2.9 million men in the U.S. diagnosed with prostate cancer at some point still are alive today.
Source: American Cancer Society
Support group schedule
The Us Too Prostate Cancer Support Group Las Vegas chapter — one of 300 chapters around the world — meets the third Wednesday of each month, except July and December.
Meetings, which run from 7-9 p.m, are held at the St. Rose Dominican Hospital — San Martin campus, 8280 W. Warm Springs Road, Las Vegas.