Las Vegas woman combines music with therapy
Updated June 2, 2018 - 3:16 pm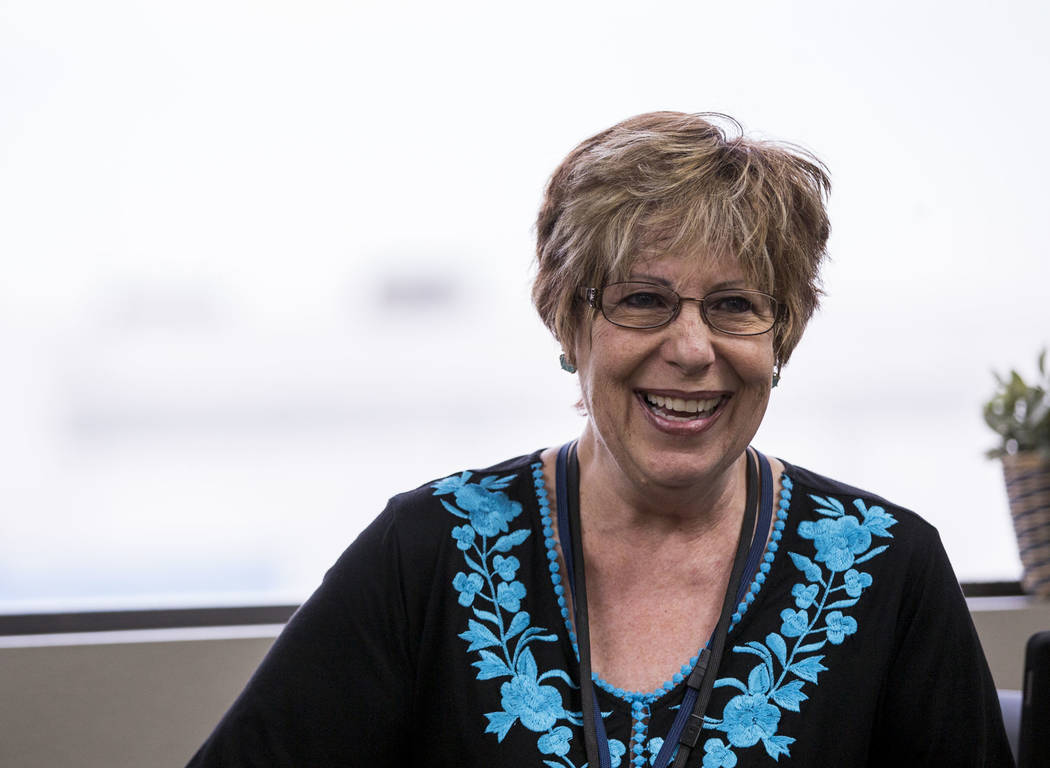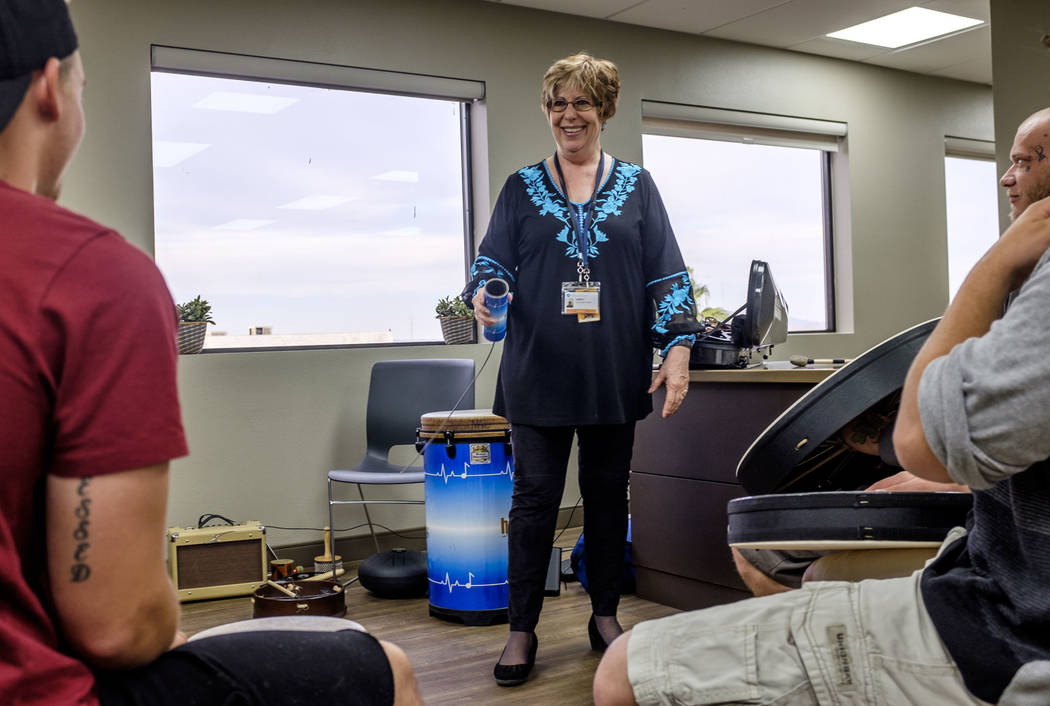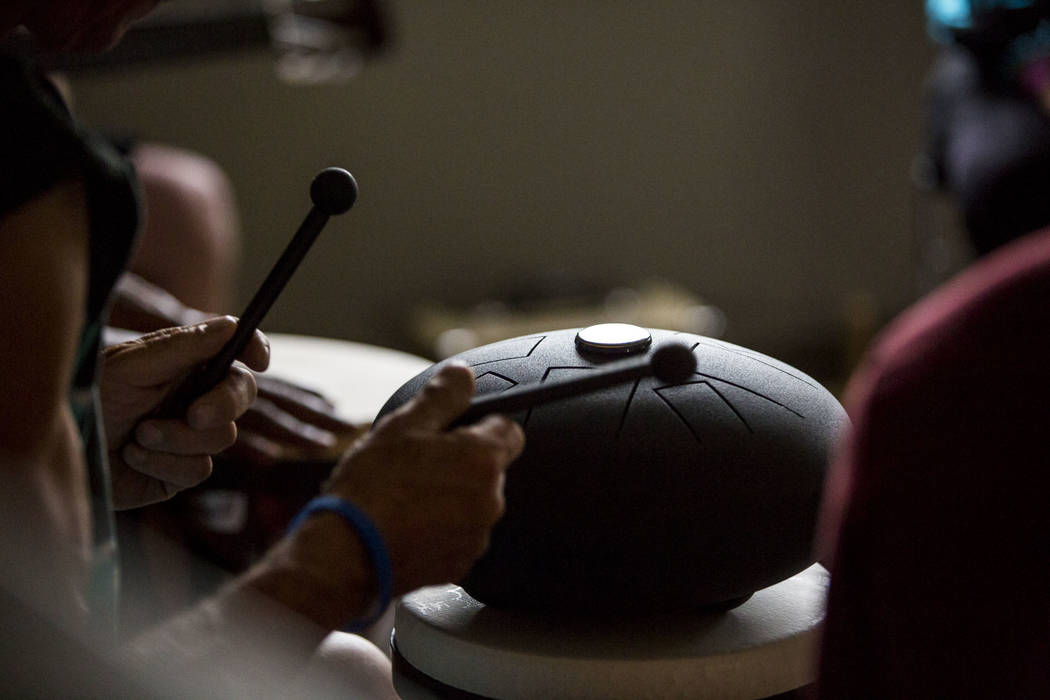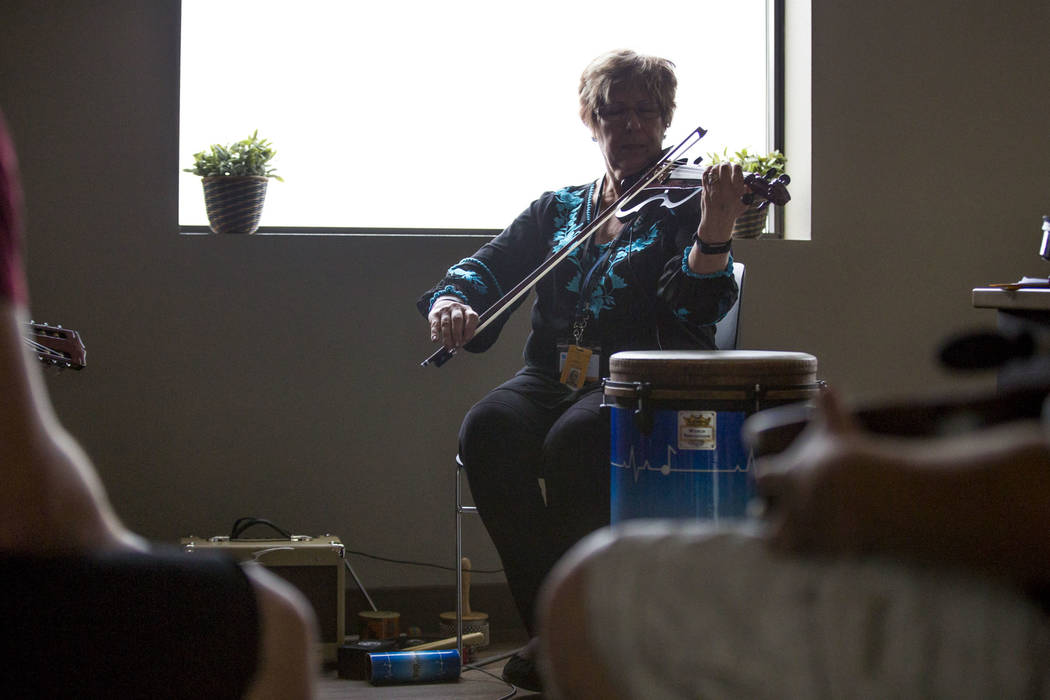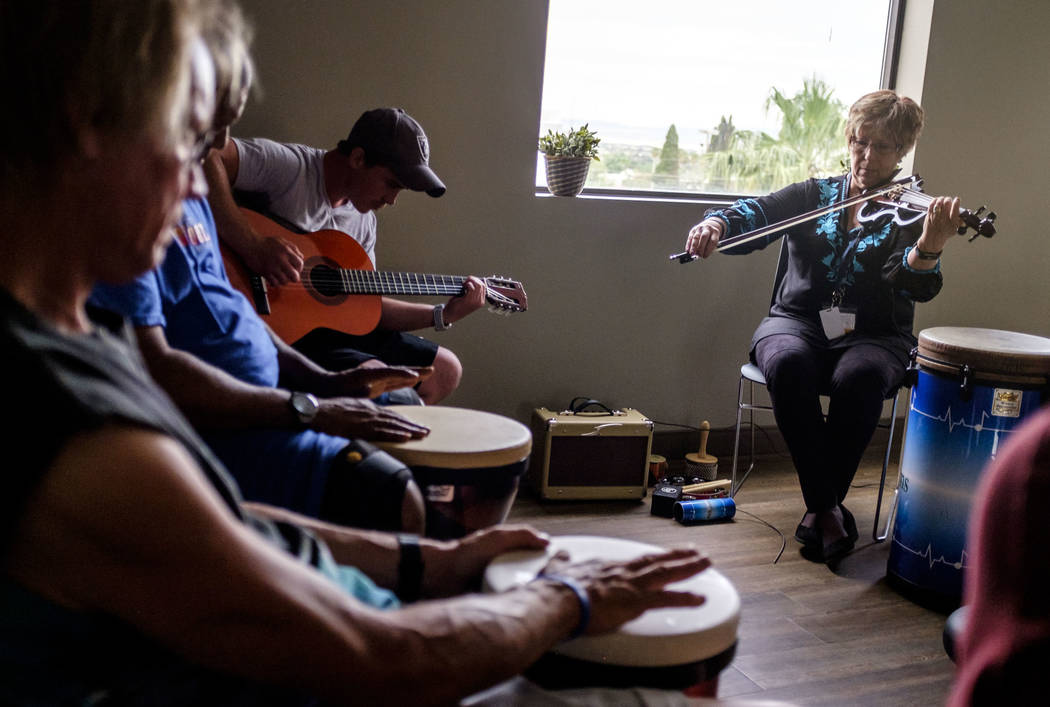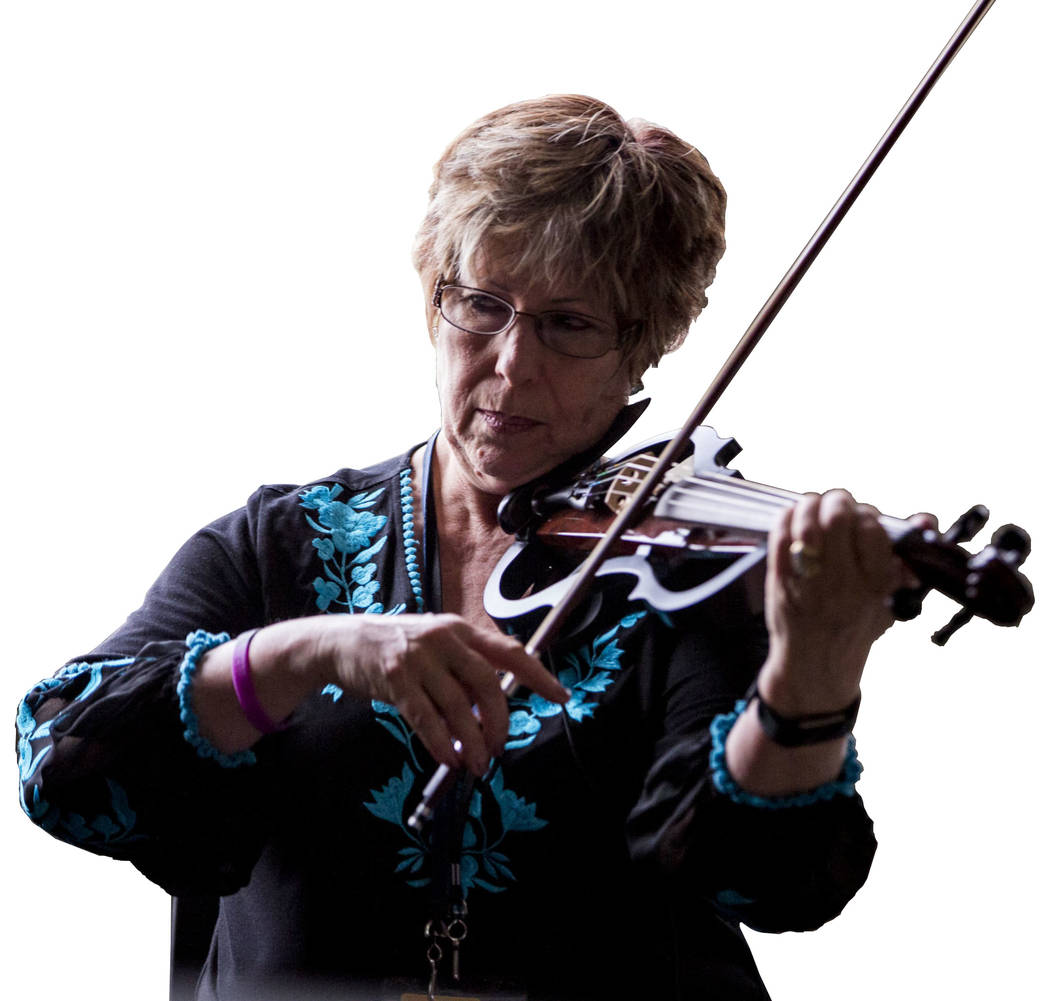 The light bulb moment came in an Alaska hospital 32 years ago.
Judith Pinkerton's then-husband was recovering from emergency back surgery. He was also battling high blood pressure.
Pinkerton, a classically trained, professional violinist who also ran her own talent agency, found that her playing helped him sleep at night, reducing the need for medication.
While he was hospitalized, Pinkerton recorded her playing on cassette and gave it to him on a Walkman.
One day at noon, he partook in a listening session a half-hour before a visit from a nurse.
"She came in, read his vital signs and whipped around and said, 'What's he listening to?' " Pinkerton recalls, her voice approximating the nurse's mix of surprise and mild agitation. "And I said, 'Me.' She said, 'This is impossible. I'm supposed to be giving him medication and he doesn't need it.'
"She went over to the medical records and scratched out that medication had been used, that music had brought his high blood pressure into normal range. I was like, 'Wow, I want to do that for the rest of my life.'"
With that, a pioneering career was born.
'The healing power of music'
Though it took 25 years, Pinkerton in 2011 became the nation's first officially licensed music therapist, as Nevada — along with North Dakota — positioned itself at the forefront of recognizing the discipline.
She was instrumental in shaping and advocating for the legislation that made it all possible.
Pinkerton, who moved to Las Vegas in 1989, has written books, given TED talks, performed with artists from Metallica to Andrea Boccelli, and established the Vegas-based Music 4 Life Center, where she works part of the time in addition to Solutions Recovery and Desert Hope Treatment Centers.
She sees 150 patients a week, individually and in group sessions, her subjects include young kids with behavioral issues, recovering addicts and those curious as to how they can use music to better their emotional and mental health.
Because of her efforts, Pinkerton recently won the inaugural ACM Lifting Lives Honor as part of the Academy of Country Music Awards, receiving the accolade for "her selfless dedication to bringing the healing power of music to those in need."
Perhaps most significantly, though, Pinkerton has labored to further legitimize and spread music therapy, a growing field, which now boasts more than 8,000 practitioners nationwide.
In Pinkerton's TED Talk, she says 1 in 7 patients prescribed anti-depressant medications see significant improvements in their mental well-being; with music therapy, 1 in 4 experience significant improvements.
This is among the reasons that music therapy is gaining support on an institutional level, including among legislators such as state Sen. Pat Spearman, a Democrat who has toured the Music 4 Life Center and has become a supporter of the discipline, seeing it as an alternative to what she thinks is an overreliance on prescription medications.
"I was blown away," Spearman says of her visit. "It's something that I would encourage a lot more people to look at, because it's something that's helping. It's not getting a lot of attention, but it should."
'Really powerful stuff'
Her family and friends were preparing themselves for her funeral.
So was she.
"Nobody thought I was going to make it out alive," says Kassandra Crossing, a recovering addict. "I didn't."
Crossing started using drugs and drinking when she was 14 and battled addiction for years, going through 10 treatment centers and sober houses, by her estimation.
In February 2014, the Iowa native came to Las Vegas to enter the Desert Hope Treatment Center. But she took a detour first, getting high on cocaine before calling the center to come pick her up in a fit of paranoia.
She was still feeling the enervating effects of the drugs leaving her system when a fellow patient persuaded her to attend one of Pinkerton's music therapy sessions.
"I go in there, and I'm just pissed as hell because I'm coming down off coke, and I just don't even want to be in this world right now," Crossing recalls from her home in Iowa. "I didn't realize what she was doing at the time — she explained it to me later — but she purposely played music to make me feel unsettled. And then she played music to soothe, and she actually put me to sleep in the room.
"I was in this terrible place physically and mentally, in no condition to be soothed to sleep, but she did it with the music. That was what really caught at me first: This is really powerful stuff."
Later, in a one-on-one session, Pinkerton worked with Crossing to create a CD of songs to help her process her emotions.
"It was like all this stuff that had been buried, all these emotional triggers and traumas, it brought it all out of me and just expelled it," Crossing says. "It was this crazy intense experience. I cried a ton, but it was this huge relief."
She's been sober since.
"I'm over four years clean, which is absolutely incredible," Crossing says. "I think a huge part of it was because of the music therapy getting rid of all these emotional triggers for me."
The USE method
This all may sound simple enough — and not terribly scientific — selecting a handful of tunes to help someone deal with their feelings.
But it's deeper than that, part of a methodology that Pinkerton developed under the acronym USE, each letter corresponding with a category of music: Unsettling, Soothing and Energizing, which Pinkerton details in her book "The Sound of Healing," first published in 1996.
The unsettling category features "music that jangles nerve ends, bestirs the soul and blackens a mood." For the soothing designation, it's "music that numbs, calms or deeply relaxes." Energetic music "puts physiological and psychological 'fizz' in your life."
For Pinkerton, the goal is to base one's music listening habits around playlists that correspond with each category. The idea is to have a balanced musical diet, as well as an awareness of how music affects a person emotionally.
"We have instinctive habits where we push play on music that matches where we're at, 'It's what I feel like listening to right now.' It's what we all do," she says. "When you think about being in a stress state and you're pressing 'play' on music that matches where you're at, you could actually be fueling anxiety or anger or depression.
"If you're so stuck in those moods, you could misinterpret what to call them and say that you're calm when you're actually depressed. Then you're calling your music soothing, when it's actually fueling depression. Those are danger zones."
'It changes your outlook'
Her point, then, isn't that unsettling music should be avoided, it's that the emotions those sounds stir up need to be processed and then balanced by the other categories of songs.
One of Pinkerton's patients, Shawn Wallen, elaborates on how the process affected him.
"She showed me that if I'm feeling down and out, it's good to listen to some down-and-out music as long as you listen to something afterward that's soothing or energetic — both the music and the words," says Wallen, who first met Pinkerton at Solutions Recovery last October. "It changes your outlook."
Emotions are messy.
Playlists are ordered.
For Pinkerton, it's all about employing the latter to guide the former.
"We're always going to feel angry, anxious, depressed and sad, because those are biological parts of us," she says. "It's how long you swim in them. When you understand how to manipulate the music listening habits that work for you, you can keep yourself in such a state of centeredness and peace most of the time."
Contact Jason Bracelin at jbracelin@reviewjournal.com or 702-383-0476. Follow @JasonBracelin on Twitter.