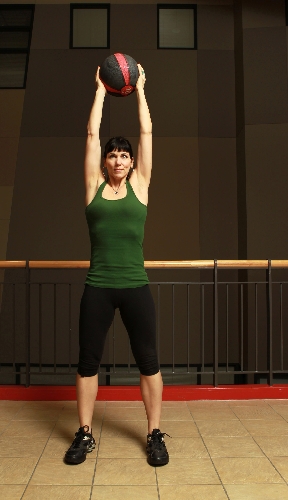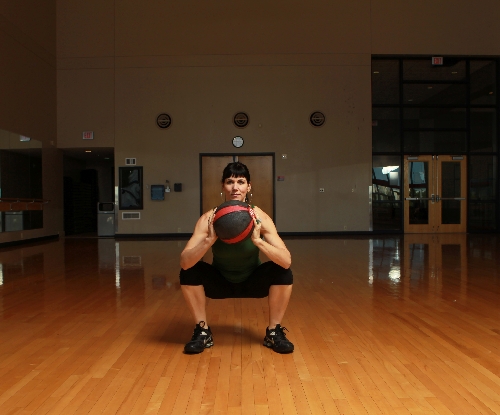 In my high school gym at Eldorado, we had a few medicine balls. All we used them for was intensifying our ab exercises. We would rocket the ball at each other after doing a crunch. It was a bonus if the other guy dropped the ball because you threw it so hard.
As I look back on that exercise, I think of the horrible form we used and shudder. We were oblivious to the core and just acknowledged the superficial abs. None of my stabilizing muscles were engaged. My spine was floppy, and swinging into the motion meant I could throw the ball harder back at my workout buddy. I remember my arms being sorer than my abs. It's a miracle I didn't hurt myself. I guess you really can take more of a beating when you're younger.
The medicine ball slam and thruster are exercises I wish I knew back then. They are good for all ages and teach valuable principles in movement mechanics. I'll get into that later. Let's talk squats first.
The prerequisite movement for both of today's exercises is the squat. By now, yours should look pretty good. The feet don't flatten or turn out on their own anymore. Your knees don't wobble going up or down, because of all the slow-tempo work you have put in. Your back stays straight because of the planks you've been practicing for so long. You might even have begun to add weights to make the squats more difficult.
If you need help with your squat, ask a trainer at your gym, write me, or ask a workout buddy to watch you. Squats are foundational. If an injury isn't holding you back, then squats should be on the workout plan.
The thruster movement uses a squat that has the thigh break parallel with the floor. The requirement for a safe movement is that the back remain straight by keeping the core tight. If the hamstrings or outer thigh muscles are too tight this will be difficult. Have a trainer help identify areas you might need to work on.
All movements have the power chain. A power chain, as I call it, is a checklist of muscles to contract or keep contracted during a movement. All power chains start at the core.
For example the power chain for a squat is the core and glutes. So think, "core and glutes." From a standing position, the core needs to be contracted before the hips bend to initiate the squat. The glutes aid in the lowering of the hips (along with other muscles). When you reach the bottom of your squat, think about the power chain again. First: The core should still be tight. If it's not, tighten it. Second: Think glutes. Contract them to bring yourself to a standing position.
Try today's exercises slowly while thinking through the power chains. It will help train you for proper muscle recruitment and form. Power chains for today's exercises are in the descriptions.
Chris Huth is a Las Vegas trainer. He can be reached at 702trainer@gmail.com. Consult your physician before beginning any exercise program.