Mental health options in Nevada on the rise
October 18, 2016 - 9:07 am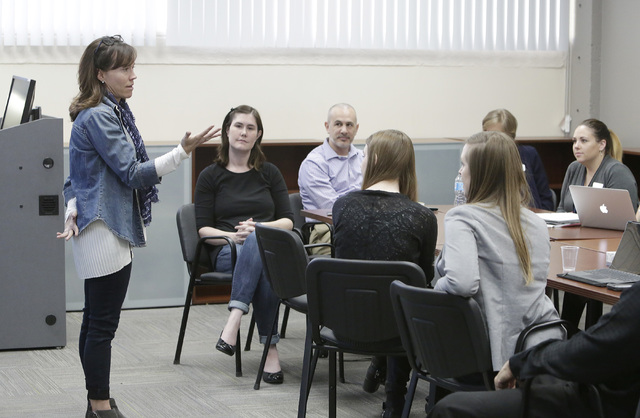 It's well known that Nevada rarely tops lists when it comes to accessibility of mental health services.
The Silver State ranked 50th among U.S. states in 2013 for number of psychiatrists per capita and routinely falls at the bottom of Mental Health America's overall ranking of access to care.
Though the state has its challenges, some local groups are working to close the gap in mental health service availability, especially for lower-income individuals that may feel as though the services are out of reach.
"We're here to really help the people who are falling through the cracks. We like to refer to ourselves as the safety net below the safety net," said Volunteers in Medicine of Southern Nevada Executive Director Amy Schmidt.
Volunteers in Medicine of Southern Nevada provides free health services only to individuals without insurance, including those who are undocumented as well as people who can't afford insurance while also unable to qualify for Medicaid.
After an approval process, clients can be assessed for any psychosocial needs and referred to appropriate care at another facility through the group's new social and behavioral health services program, launched this spring.
The majority of referrals made through that program since April have been for mental and behavioral health services, Schmidt said.
To develop its own mental health offerings, the organization is working to grow its number of volunteer psychiatrists on hand. Currently, it has one to handle a small number of cases.
The nonprofit is also planning to launch group and individual counseling programs next year.
Schmidt said patients seen by the organization often suffer from co-existing physical and mental health issues such as diabetes and depression.
By offering additional services to help address these issues, the facility is taking a holistic approach to care, Schmidt said.
It's an approach that's been pushed by the state in recent years — making mental health part of routine health screenings.
Another local nonprofit, Nevada Health Centers, is also taking that approach to heart, emphasizing that it makes it easier for their clients to access care.
"What this allows for is our providers to have direct access under the same roof to mental health professionals," said Sandra Abdullah, clinical director of behavioral health for the health centers.
Abdullah said the facilities focus on integrating mental health care into their existing clients' primary care and can offer psychotherapy, assessment and referral services.
If a patient who goes to see one of the organization's primary care providers is referred for mental health counseling but is on the fence about receiving help, Abdullah or another of the group's social workers can actually enter the exam room and allay their concerns.
The nonprofit organization, which takes insured and uninsured patients, generally charges uninsured patients about $30 per session, though that can go higher or lower depending on income, Abdullah said.
Patients can only be referred by a Nevada Health Centers physician.
Abdullah said the expansion of the centers' program is part of a tremendous growth of local mental and behavioral health programs she's witnessed in her nearly two decades in Southern Nevada.
"Mental health services has grown tremendously," she said. "Does that mean we're on par (with other states)? No, we still have a long way to go."
It's a sentiment shared by Michelle Paul, director of a community mental health clinic at UNLV called The Practice that allows graduate students in clinical psychology, school psychology and mental health counseling to provide psychotherapy and assessments under faculty supervision.
Paul said the state has been slowly chipping away at its "impoverished mental and behavioral health workforce," and she thinks programs like hers are part of the solution.
The Practice, which works on a sliding-scale cash pay system, allows students to train and stay on the cutting edge of new techniques while also giving the community access to developing professionals and their experienced mentors, Paul said.
The facility is working with the nascent UNLV School of Medicine to be able to expand payment options and has a social work intern who can help clients to pursue housing options, find food, and work through the insurance process to get access to certain medical equipment.
Its primary goal is to provide training while also serving the community, Paul emphasized.
"People can expect to come to a place that gets down to business," she said.
Contact Pashtana Usufzy at pusufzy@reviewjournal.com or 702-380-4563. Find @pashtana_u on Twitter.