Nevada again lands at bottom of national health-care ranking
September 30, 2018 - 9:47 am
Updated October 1, 2018 - 1:42 am
Despite improvements in several areas, Nevada is once again listed at the bottom of a new national health care ranking.
Nevada ranked 50th nationwide in a review of more than 100 population-level and patient-level measures published by the Agency for Healthcare Research and Quality. Only the District of Columbia scored lower overall than the Silver State.
"There (are) actually areas where Nevada does fairly well — chronic disease care, diabetes, heart failure, stroke — but then, like other states, there are also areas that are weak and deserve attention," said Karen Chaves, director of the agency's health care Quality and Disparities Report Division, which produces the annual report.
Some of the areas needing improvement come as no surprise.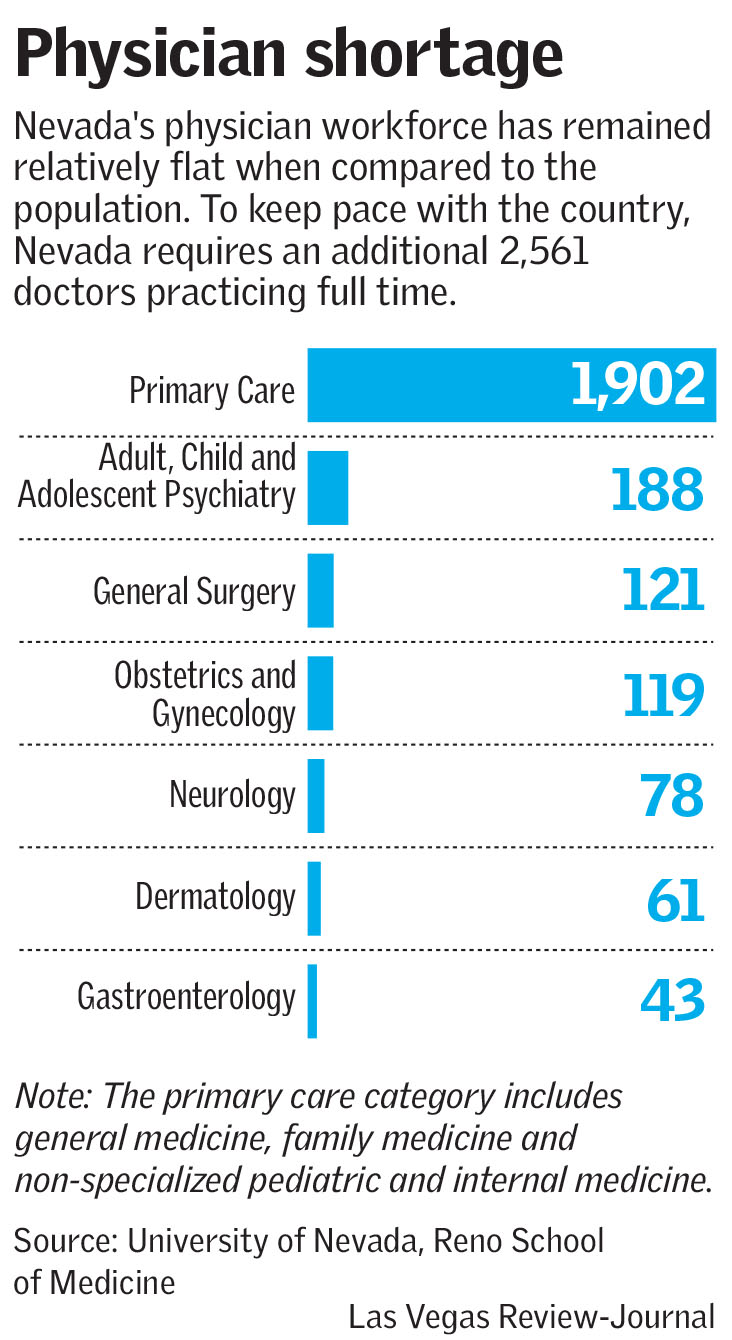 Access to care remains a big problem. Nevada's physician workforce hasn't kept up with the state's ballooning population, causing a doctor shortage, as the University of Nevada, Reno, School of Medicine noted in a report in June. The federal report cited multiple issues in accessing care, including getting an appointment with a primary care physician, having enough time in a doctor's office and finding a specialist.
But others have not received as much attention.
The rate of new HIV diagnoses is rising in Nevada, for example. The state rate was 15.9 diagnoses per 100,000 residents in 2012, just 0.2 points above the national rate. By 2014, however, it had climbed to 18.6, compared with a declining national rate of 15.1. In 2016, Nevada's rate was 21.4, compared to a national rate of 14.7.
Some bright spots
The news was not all bad. Between 2000 and 2015, Nevada's rate of death due to any type of cancer fell from 213.6 per 100,000, which was above the national average at the time, to 157.2 per 100,000, just below that year's national average.
But Nevada isn't improving fast enough to keep up with other states, preventing its ranking from climbing, Chaves said.
"The rankings are based on a score … and so they're relative to other states," she said. "And so I think while the rank is striking in a sense, because Nevada is at the bottom, it doesn't necessarily tell us a whole lot of what's actually there."
Julie Kotchevar, administrator for the Nevada Department of Health and Human Services Division of Public and Behavioral Health, agrees that the ranking has some built-in shortcomings. While she said Nevada could do better cutting death rates linked to cancer and lung and heart disease, it's made improvements in other areas, like childhood vaccination.
And because there's a lag in the data — the federal report used numbers from 2009 through 2016 — these types of analyses don't provide an up-to-date picture of public health in the state, she said.
"We've made a lot of progress and I think we're going to see more," she said, citing as an example the doubling in the number of Nevadans covered under Medicaid to more than 650,000. "In a couple years now, we'll start to see a payoff in the investments we've made so far."
Providing education and easier access to resources for parents looking to immunize their children helped improve childhood vaccination rates, Kotchevar said. It also helped that Nevada only allows exemptions for religious purposes, not personal conviction, which makes it harder for parents to evade the potentially life-saving measure.
More funding urged
Kotchevar is hopeful a proposal passed at the late September Interim Legislative Committee on Health Care meeting to increase funding for prevention will improve outreach and education for other health care issues, like smoking.
It'll require more than a few extra dollars though, she said, to produce a substantial improvement that can move the needle in rankings like the one released last week.
That also requires better coordination between health care systems and public health advocates, she said.
"I think winding those two tightly together, that's something that could be a step we could take," she said. "It's not necessarily funding, it's better use of the resources we have."
Even then, Kotchevar said, change takes time. And if every other state makes those adjustments, Nevada's rank might not look so different over the next few years.
"All states improve, but they improve together," she said. "I just hope even if we're 45th, we're all in the 90th percentile."
Contact Jessie Bekker at jbekker@reviewjournal.com or 702-380-4563. Follow @jessiebekks on Twitter.