New director taking over Ruvo Center for brain studies in May
Updated March 5, 2018 - 11:58 am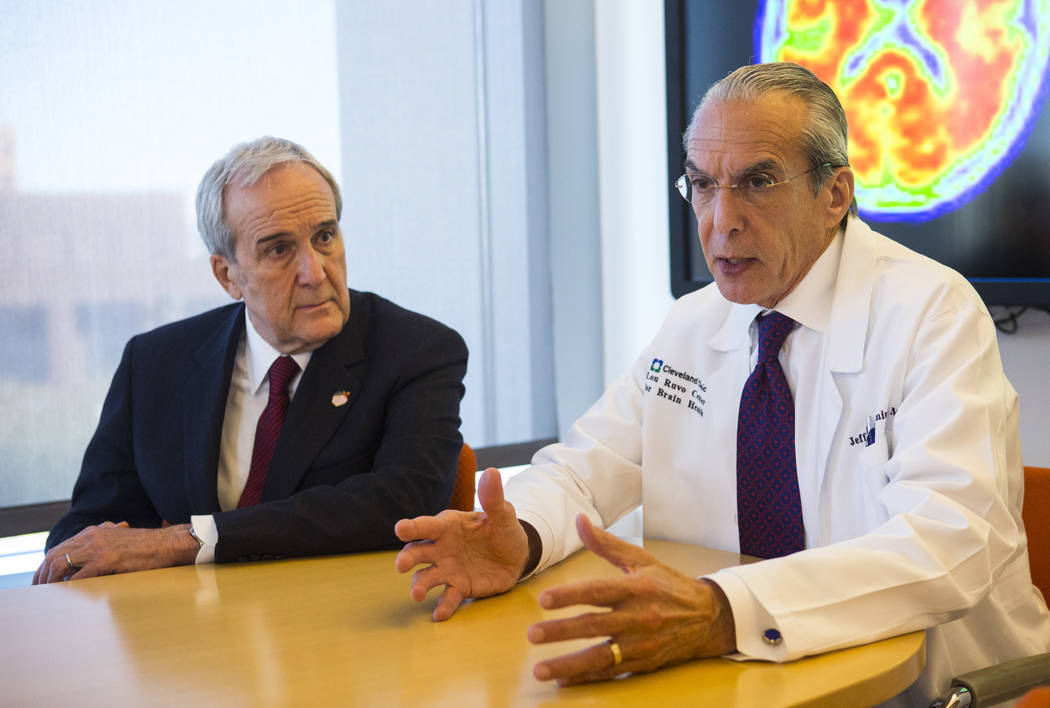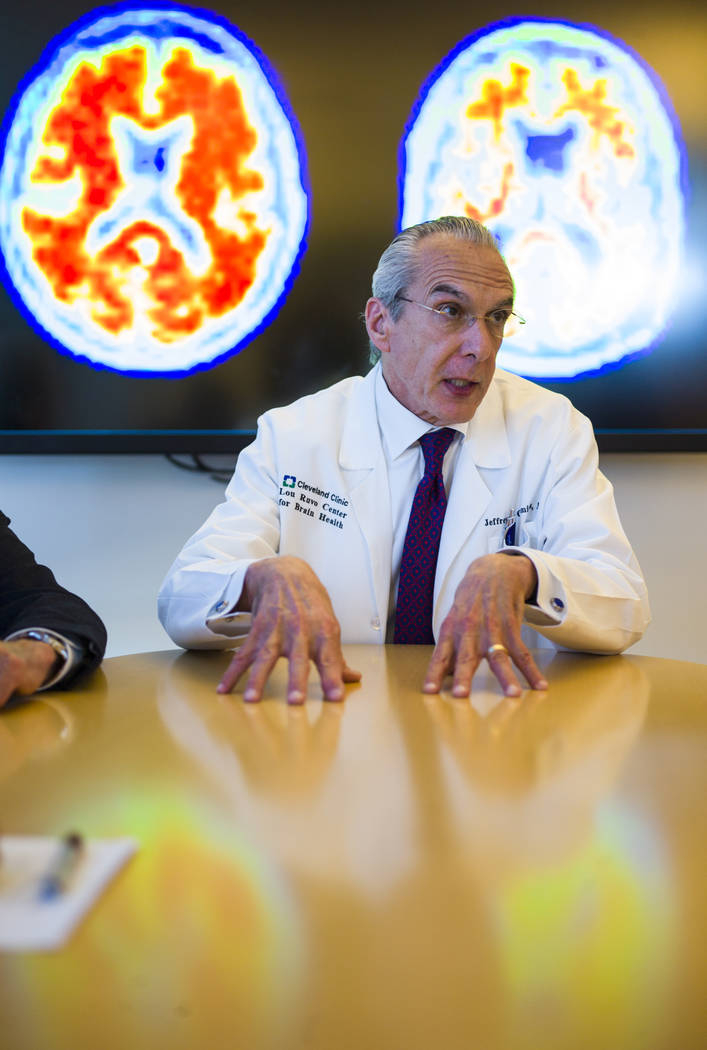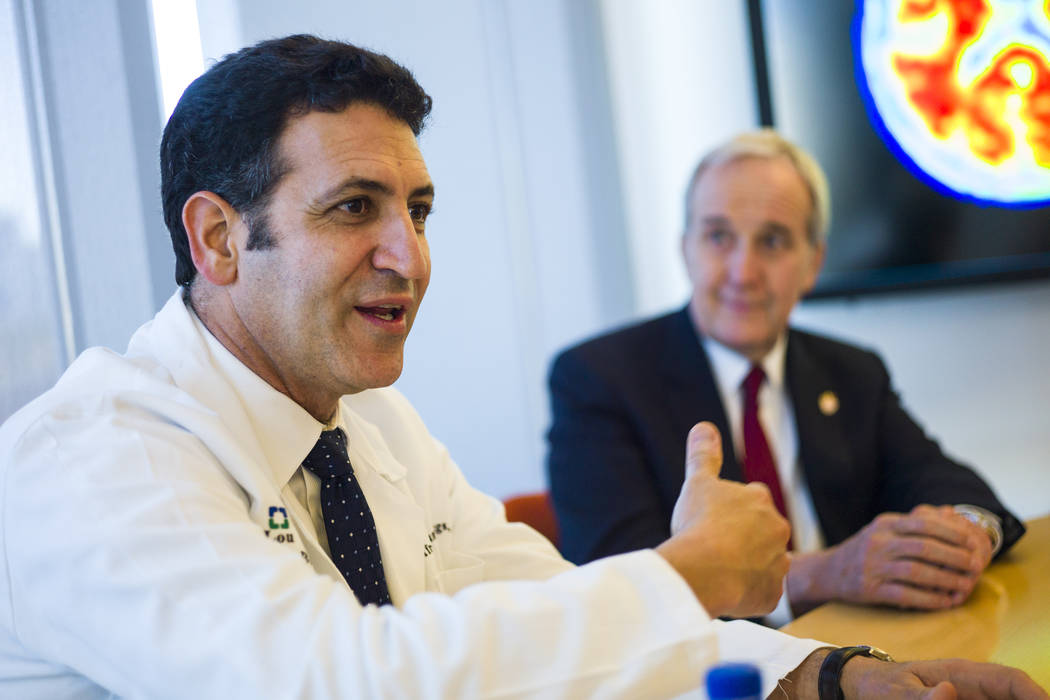 Dr. Marwan Sabbagh fell out of his chair when, in July 2016, an email appeared in his inbox. It was Dr. Jeffrey Cummings, director of the Cleveland Clinic's Lou Ruvo Center for Brain Health and the "Babe Ruth" equivalent in the world of neurological research. He was making plans to leave his post after eight years to allow for fresh eyes to take on the clinic's brain disease studies.
He wanted Sabbagh, a neurologist at the Barrow Neurological Institute in Phoenix and longtime colleague in what they call a tight-knit community of Alzheimer's disease researchers, to take over as his successor.
"Actually, Marwan (Sabbagh) was the first person I emailed when I knew I was going to step down," Cummings, 69, said in an interview Wednesday at the Lou Ruvo Center on Bonneville Avenue in downtown Las Vegas, which opened in 2009.
Sabbagh smiled at the memory. He told his wife that evening about the opportunity, who immediately gave him her blessing.
When Sabbagh takes over in May, he'll have a large list of tasks, including improving clinical trial recruitment, conducting Alzheimer's diagnostic research and implementing programs for patients with Lou Gehrig's disease and Lewy Body dementia, a progressive brain disorder.
Sabbagh will oversee existing Lou Ruvo clinics in Las Vegas, Cleveland and Weston, Florida, plus locations in development in Abu Dhabi and London.
It was Sabbagh's passion for his work that helped Cleveland Clinic leaders choose him to as their next director, said Larry Ruvo, who founded the center in honor of his late father, who battled Alzheimer's.
Sabbagh was chosen from a field of 10 candidates.
"They didn't have the excitement," Ruvo said. "They didn't have the dream to do more."
Sabbagh lit up as he talked about the work he hoped to do at Lou Ruvo. He's working on creating a blood test to screen for Alzheimer's, and a spit test to detect amyloids, a protein found in greater quantities in the saliva of those with Alzheimer's.
He's hoping to repurpose cancer drugs for the treatment of brain disease.
Cummings said while he's spent most of his career researching brain health once patients are in the throes of illness, the field is changing to become more proactive — and he wants a younger mind to take it on.
"The field has exploded so that we can now identify the beginnings of Alzheimer's disease in people who have no symptoms, but they have positive brain scans," Cummings said. "I think the shift in the field requires a new look."
Part of that change will require revamped recruitment efforts. So far, it's been difficult to locate patients who fit strict clinical trial requirements, Cummings said. After stepping down, he'll work part-time at the center on clinical trials.
But Sabbagh, who comes to Lou Ruvo with 27 years of experience beneath his white lab coat, isn't worried. He's landed the job "people are now falling over themselves" to get, Sabbagh said.
On his wish list: expanding the Las Vegas campus and its staff. He wants people to automatically think of the Lou Ruvo Center when deciding where to go for care.
"I want to say that I left the world in a better place than I came into it," Sabbagh said. "If you see what (Cummings) led in eight years, imagine what we'll do in eight more years."
Contact Jessie Bekker at jbekker@reviewjournal.com or 702-380-4563. Follow @jessiebekks on Twitter.