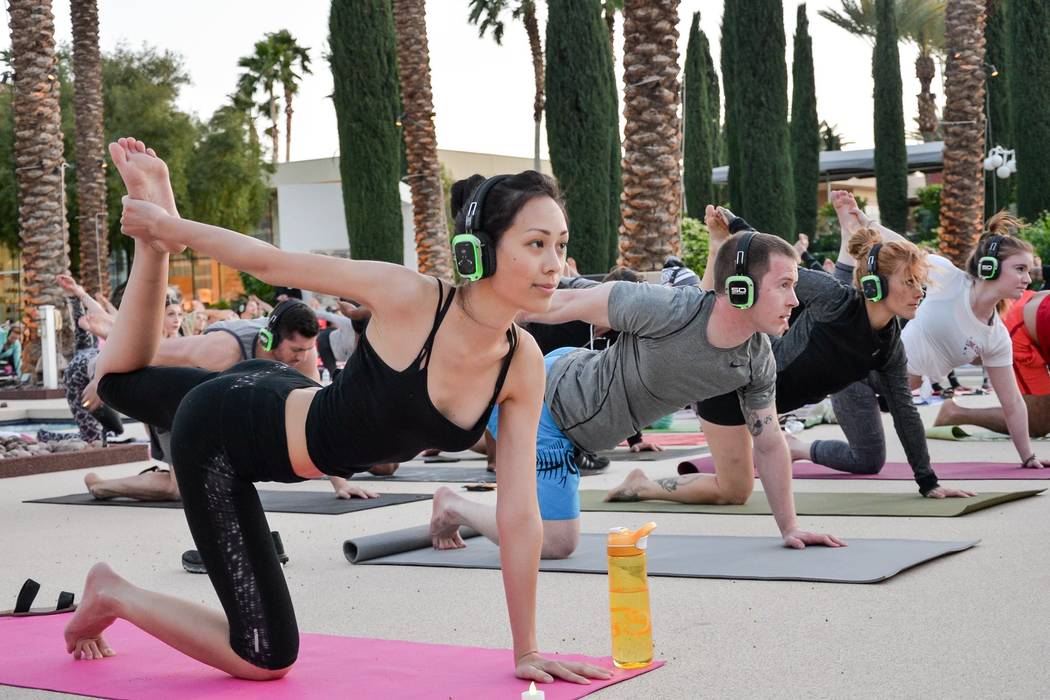 Red Rock, Green Valley host poolside silent yoga
Green Valley Ranch Resort, 2300 Paseo Verde Parkway in Henderson, and Red Rock Resort, 11011 W. Charleston Blvd., continue their 2018 Silent Savasana seasons, with monthly outdoor yoga events through fall. Yogis of all levels, age 21 and older, are welcome at the free events, which take place at the pool areas of both resorts. Through Silent Savasana's signature headphones, participants will hear instruction and motivational music. Pool areas open at 6 p.m., with yoga starting at 7 at each location. Upcoming dates at Green Valley Ranch are Thursday and Sept. 13. Upcoming dates at Red Rock Resort are Aug. 16 and Sept. 20.
Annual symposium on Parkinson's care Aug. 18
Friends of Parkinson's will present its second annual Interprofessional Health Symposium for Parkinson's disease from 10 a.m. to 3 p.m. Aug. 18 in the auditorium of the United Healthcare building, 2716 N. Tenaya Way. Neurologists and local physicians will present the most current information about the treatment of the disease. The symposium is aimed at health care professionals, but registration is free and open to the public. Register at friendsofparkinsons.org.
Walk with a Doc series continues Sunday
The second annual Walk with a Doc: Kids Time series continues Sunday at Mount Charleston and will change venues for September and October. Families with children and local pediatricians will take part in free 45-minute guided walks. At 10 a.m. Sunday, walkers will gather at Spring Mountain Visitors Gateway, 2525 Kyle Canyon Road. A local doctor will speak briefly on "No Bones About It: This is How We Grow" before the walk begins. Events are also scheduled for 8:30 a.m. Sept. 9 and Oct. 14 at Springs Preserve. The series is hosted by the Nevada chapter of the American Academy of Pediatrics.
Hot yoga in the Boneyard on Saturday afternoons
The Neon Museum, 770 Las Vegas Blvd. North, continues hosting 60-minute hot yoga classes led by certified instructor Eileen Lorraine from 4:30-5:30 p.m. Saturdays this summer in the Boneyard. Classes are scheduled for Aug. 11, 18 and 25. Each class is $18, or $10 for Neon Museum members. Guests should bring water, mats, towels and any other needed items. neonmuseum.org/events.
Free immunization clinic for children, teenagers
In conjunction with SilverSummit Healthplan, FirstMed Health and Wellness Centers will host a free back-to-school immunization clinic from 10 a.m. to 1 p.m. Saturday at 3940 N. Martin Luther King Blvd, North Las Vegas. The clinic will be on a first-come, first-served basis for Medicaid-eligible, uninsured or underinsured children and adolescents. fmhwc.org.
Submit event information at health@reviewjournal.com.