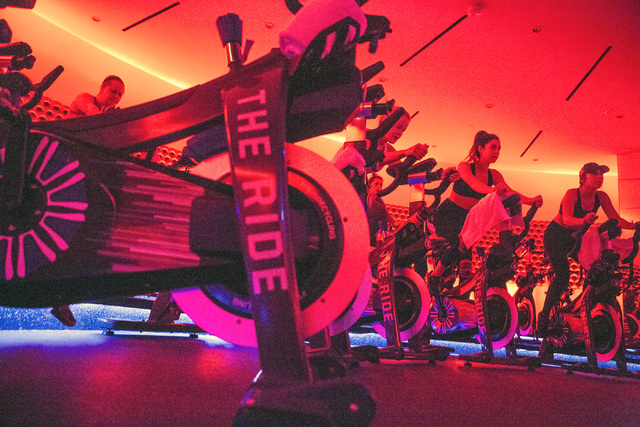 Thinking of taking a spinning class for a spin?
Sure, you could go after that new year's resolution by joining a spin class at a big-box gym.
Or you could check out one of a growing number of boutique cycling studios across the Las Vegas Valley. While not a new concept in bigger cities, stand-alone spin centers are just now gaining a following here.
From flashing, pulsing lights to state-of-the-art sound systems and bikes, to juice bars with snacks and luxury locker rooms, spin studios in Las Vegas are going big. Owners tout the virtues of their small classes and spaces designed to bring people together. And research suggests that building a community of like-minded individuals is key to sticking with fitness and health goals.
Gregorio Serrata and his wife, Maria, embrace this philosophy as they prepare to open a Cyclebar franchise studio in Henderson this year. "We wanted to do something together that we were passionate about and that brought the community together," Serrata said.
The new studios also integrate a charitable component by making their spaces available to nonprofits for charity rides. Example: Britney Spears hosted a charity ride at Xcycle, raising $553,130 for the Nevada Childhood Cancer Foundation. "That's the stuff that gets me excited," says Jen Barnet, owner of Xcycle. "I love being here, and the reason I love being here is because people appreciate it."
FSY FITNESS STUDIO
Where: 670 S. Green Valley Parkway, Suite 100, Henderson
Who: Scott Lobenberg and Susan Yelle
Why: Opened in January 2015, FSY was one of the first stand-alone cycle studios in the valley. "We're both retired," Lobenberg says. "We put two studios under one roof because we wanted to bring families together."
What sets it apart: FSY is a hybrid studio, with one side a high-intensity interval training (HIIT) area for workouts with with dumbbells, rowers and kettlebells, and the other, a classic cycling studio. And with rides ranging in price from $9-$15, the price point is significantly lower than many boutique fitness studios.
Pricing: A current special is $69 for the first month of unlimited membership, and $119 for months after. New members can also try three classes for $3.
XCYCLE
Where: Boca Park, 750 S. Rampart Blvd., Suite 6, Las Vegas
Who: Jen Barnet says she is responsible for getting Spears into cycling. She also is Spears' manager's fiancee. "She's changed my life," Barnet says of the pop diva.
Why: Opened in April of 2016, Barnet's studio was, she says, the first indoor cycling-only studio in the area. "I saw that there was a hole in Vegas."
What sets it apart: Lights flash to the thump of the music as high-energy classes more closely resemble a nightclub than a gym. "It's Lights! Camera! Action! Dance party, GO!" Barnet bellows. Instructors can choose from 20 channels for a light show, like a roaring fire to set the mood for a heavy hill climb. What really sets this studio apart, however, is evident in Barnet's personality: passion and energy. "Energy should have been my middle name," she chuckles. Barnet's mindset toward spinning ("let it all go") is how she conducts each class. Expect high intensity exercise with short periods of recovery, but encouragement and motivation from instructors.
Pricing: $23/class, or monthly unlimited membership for $155.00.
THE RIDE PREMIUM INDOOR CYCLING
Where: 4245 S. Grand Canyon Drive, Suite 116, Las Vegas
Who: Shannon McBeath
Why: McBeath was inspired to open a spin studio in Las Vegas after attending her first cycling class in Newport Beach, California, three years ago, a moment she refers to as "My love at first ride." She wanted to bring her passion for the indoor activity back home. "I don't feel like we have that caliber here yet," McBeath said of other spin studio options.
What sets it apart: Celine Dion's sound consultant orchestrated the sound system. Showers and locker rooms feature luxury toiletries that are sold in-studio, as well as a studio-specific fitness apparel line and high-end cycling shoes. In the same strip of shops, House of Alchemy will create custom juices for the studio, such as "Ride to the Beet." But, as McBeath said, "It doesn't matter about those bells and whistles if you don't have the instructors." Instructors include former Cirque du Soleil performers and dancers from shows on the Strip. "We've put a ton of time and energy into finding the most dynamic instructors that we could," McBeath says.
Pricing: $24/class, or $195 for unlimited monthly membership. There are also different pricing models based on frequency of attendance.
CYCLEBAR
Where: Expected to open as early as next month at The District at Green Valley Ranch in Henderson
Who: Gregorio and Maria Serrata, Las Vegas residents of 10 years.
Why: "Maria and I are very laser focused on bringing in the new person," Gregorio Serrata says. "We want it to be a refuge for people who are intimidated to work out." Serrata was on Season 8 of American Ninja Warrior and hopes to compete again in Season 9. His preparation for ANW brought him to try cycling, which, he says, "kicked my butt. I realized I had a gap in my training regimen." Serrata's wife, Maria, is no slouch either: she started doing triathalons after she took her first spin class.
What will set it apart: In what Serrata calls the "cycle theater," cyclists will find tiered seating and Imax quality acoustics, along with air that is recirculated by a powerful HVAC system every 10 minutes. Eighty-inch screens will feature music videos during classes. To measure progress, bike stats, along with the workout playlist, can be emailed to participants free of charge.
Pricing: Cyclebar will offer new-rider promos upon opening, but other Cyclebar studios throughout the country charge $149-$199 for unlimited monthly rides.
Contact Brooke Wanser at bwanser@reviewjournal.com. Follow @Bwanser_LVRJ on Twitter.