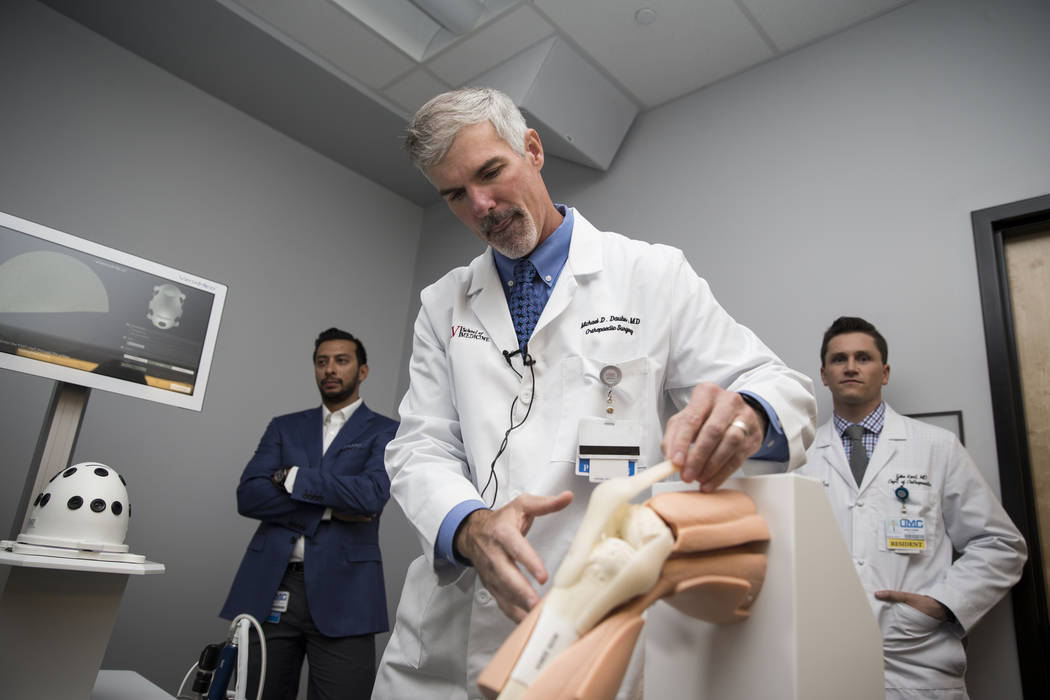 By his own admission, Dr. Tyler Kent cut off too much meniscus — a C-shaped piece of tough, rubbery cartilage that serves as a shock absorber in the knee — during a surgical procedure he performed Wednesday.
"I should have switched tools," the graduate student at the UNLV School of Medicine said, shaking his head as he put down his surgical instrument and stared at a screen with images of the knee he just worked on.
The good news about what happened is that it really didn't happen.
So it goes when graduate students/resident physicians practice their arthroscopic craft on artificial knees, shoulders and hips created for use with a state-of-the art simulator recently installed at the new medical school.
Dr. Michael Daubs, chair of UNLV's department of orthopedic surgery, likens the experience that Kent, a graduate of the Georgetown School of Medicine, and 19 other orthopedic residents are getting to that of commercial airline pilots in training.
Flight simulation, he notes, helps fledgling pilots practice and prepare for challenging scenarios before they take off. So now that a truly realistic simulator, known as the ArthroS, has been developed by the Swiss company VirtaMed, it only makes sense to use it to train up-and-coming surgeons, Daubs said.
"Why wouldn't we want those training for surgery to have the most realistic training possible?" he asks, standing inside the Clinical Simulation Center of Las Vegas near University Medical Center and Valley Hospital Medical Center. "When I was in training, they weren't around."
UNLV's simulator, purchased for "hundreds of thousands of dollars" in late summer and one of only 10 currently available in the United States, provided Kent with surgical instruments that looked, felt and worked just like those found in operating rooms. The anatomical construction of the knee — the shoulder and hip models that connect to the computer also have precise internal elements — matched the real-world experience of entering the internal human knee.
On a large screen, he viewed three-dimensional imagery that realistically mimicked live arthroscopic surgery.
Scenarios include shaving the meniscus, suctioning and controlling bleeding. If you make a serious mistake, a red liquid substance resembling blood covers the screen.
Kent, who's in the second year of a five-year orthopedic residency, says he decided to do his residency in Las Vegas because of the one-on-one attention he'd receive through the UNLV School of Medicine.
"That's just not something you get everywhere," he says. There are nearly 300 graduate medical students at UNLV.
Daubs, known for his expertise in spine surgery, says he expects to continue to get top graduate students in orthopedics with the help of the simulator, which allows him to record and grade the students on their precise movements.
"Very few medical schools have anything close to this," he said, noting that graduate medical students in their early residencies previously did much more watching than doing. "(Now) they can become better much faster."
Contact Paul Harasim at pharasim@reviewjournal.com or 702 387-5273. Follow @paulharasim on Twitter.
What is arthroscopic surgery?
Arthroscopy is used to diagnose and treat joint problems.
A surgeon inserts a narrow tube attached to a video camera through a small incision — about the size of a buttonhole. The view inside the joint is transmitted via fiber optics to a high-definition video monitor.
Arthroscopy allows the surgeon to see inside the joint and even repair some types of joint damage with pencil-thin surgical instruments inserted through additional small incisions.
Source: Mayo Clinic