Shade sails provide sun protection
August 11, 2018 - 8:05 am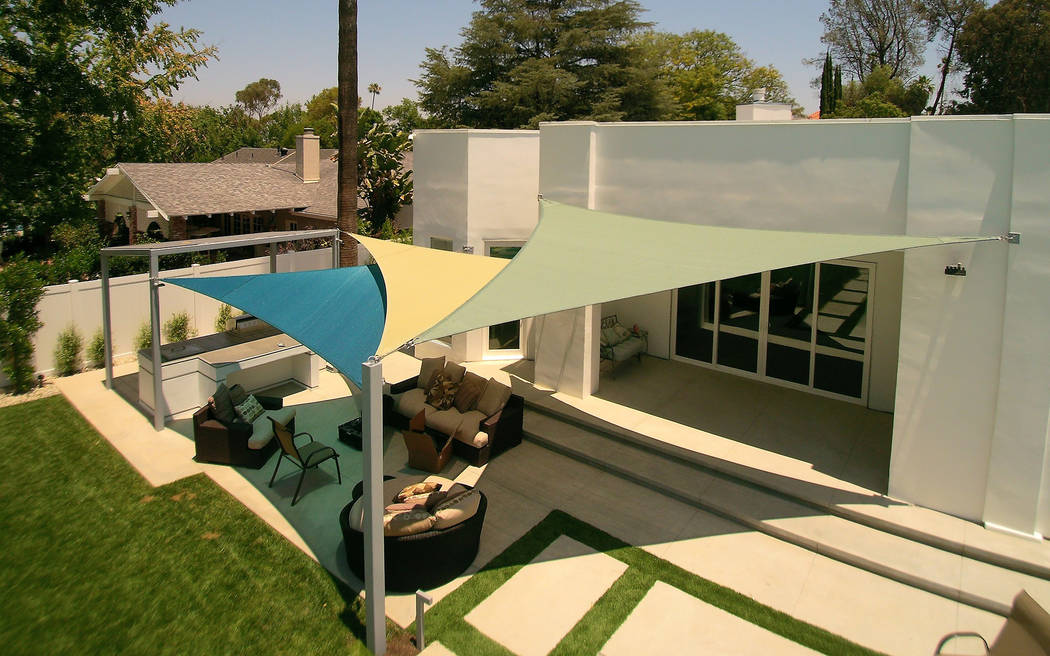 Everyone is looking for some backyard shade these days, and the latest sun protection is a tensioned fabric canopy called a shade sail. Versions of these canopies originated in the 1990s in Australia and South Africa, where they were made of sailcloth. Today, they are made of high-tech synthetic knits that wear better and block out more ultraviolet rays — up to 95 percent.
Derek Warner is president of Got Shade in Henderson where he designs, fabricates and installs shade sails.
"Over the past 10 years, shade sails have become extremely popular throughout the Sunbelt states," he said. "We started in residential and have now morphed into more commercial work. Their sleek shapes and taut surfaces present a dynamic look because they represent the latest in backyard sun protection and can cool an area as much as 20 degrees. It's a permanent shade that is versatile enough to go with most architectural styles."
The fabric is warranted for 10 years against the sun and UV degradation. The most important factor in determining how long the sail will last is how well it is installed. Loose or sagging sails wear out faster. When properly installed, sails should last many years.
Shade sails are not waterproof. A light rain will roll off, but a heavy downpour can cause water to pass through the sail. They are about 10 percent porous, which allows for hot air to rise and escape.
When canted, the sails shed rain to the perimeter with a mist getting through. If the sails are flat, water puddles and eventually drains through the knit.
"Shade sails belie their practical mission," Warner said. "It's a smart investment for permanent shade. They're easy to care for because all you need to do is to occasionally hose them off. If the lighter colored sails get really dirty, use a mild detergent."
And among the many colors are rust, mahogany, sage, silver, red, ivory, yellow, khaki and blue.
"In general, the darker colors block more sun and UV rays and provide more shade. Most shade sails block between 90 to 95 percent of UV-A and UV-B rays," he said.
Shade sails can be custom fabricated in different sizes, shapes and dimensions for areas other than homes, including schools, office buildings, parks, churches, swimming pools and parking lots.
They are not intended to support snow or handle hurricane force winds. They can come down in winter, but because they are mainly seen in the Southwest where sunshine is predominant, they usually stay up year-round.
According to Warner, there are a number of ways to use shade sails.
"First of all, you don't need a large backyard," he said. "All our work is custom, so we can do any size or shape. Just let us know your requirements, and we'll go from there.
"If there is an area set aside for dining, a triangular shade would look quite contemporary. If you have a favorite reading spot in the backyard but want a bit more shade or privacy, we can do that. We can even use a lighter material for something like a horticultural shade for special gardens."
Warner said buyers should be aware of what they are purchasing because there are products on the market claiming to be shade sails but are not using the proper synthetic knits.
"It's important to learn all you can before ordering," he said. "When we get a call, we arrange for a design consultation with the customer. One of my people will go to where the sail is going to be erected and measures out a site plan. Then we sketch in the sail to give it a final look. The customer now has the opportunity to change and alter the design.
"Once we start, it takes one to two days to install cables, rigging and turnbuckles that are made of marine grade stainless steel. Concrete footings go into the ground to hold the sails. We measure again to make sure everything is correct based upon our original design. Then it's back to the office where we custom fabricate the sail and return in two weeks to install it."
Warmer said Shade Sails will not mildew, fade or rot. The perimeter of each sail is designed with a gentle curve inwards toward the center to control the fabric tension. They have reinforced webbing at each corner for added strength and utilize special marine grade stainless steel rings. When properly tensioned, they will not wrinkle, sag or flap in the wind.
Commercial custom sails are designed for winds up to 85 mph. However, they can be engineered to withstand winds over 100 mph. Periodically, sails should be checked for proper tension and turnbuckles may need to be tightened.