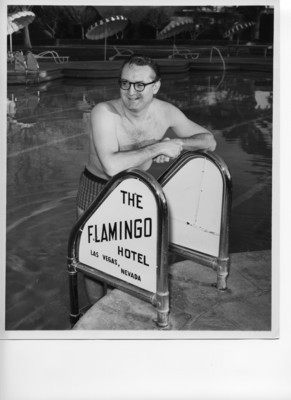 EDITOR'S NOTE: This is the final part of an occasional series of stories highlighting performers who played an interesting role in the history of entertainment in Las Vegas. The series will return in May.
When Steve Allen and Jayne Meadows signed on for a show at the Flamingo in 1961 they figured they better see what they were getting into. After all, they had never been to Las Vegas.
Traveling from Los Angeles, they took in a stage show.
"We just looked at each other. We both sat there horrified, me particularly," Meadows told me recently while discussing her and her late husband's careers. "With Steve it didn't matter, he was a brilliant comedian and all. But I thought, 'What in the world am I going to do?' when I saw all those girls, half-naked most of them!"
"I looked at Steve and said, 'I can't do it!' And he said to me: 'We have to. We've already signed the contract.' And I thought, 'This is ridiculous!' " she continued. "I knew why we were invited to appear there. Steve was the 'fair-haired kid' on television having started 'The Tonight Show,' literally inventing late-night television. And he was a comic legend. I had been on a hit television show ('I've Got a Secret'), which was rated number five for seven years in a row. But I mean, I was the daughter of Anglican Catholic (High Episcopal) missionaries, born and raised in China. I never thought I would be on a stage in Las Vegas!"
And yet, when Allen and Meadows headlined at the Flamingo during Easter week 1961, they broke house records and were held over.
"Both Steve and I fell in love with Las Vegas, absolutely fell in love with Las Vegas," she conceded.
But how did that happen?
Meadows and Allen's engagement followed Jack Benny, who encouraged them to stay in the hotel's cottage.
"Well, little did he realize the people we brought with us: four sons, (mother-in-law) Belle Montrose, a nanny, bicycles and motorcycles. We had secretaries, a hairdresser for me, dressers for me and Belle, a dresser for Steve, makeup people. Steve had a stage manager, conductor Paul Smith (who had worked with Ella Fitzgerald and Sammy Davis Jr.), band leader Terry Gibbs, comedian Gabe Dell, a girl singer. We had an entourage — practically a little city of our own that arrived at the Flamingo. … We took over the cottage, and everyone else stayed at the hotel."
In contrast to what they had seen on the Las Vegas stage, "I decided to do the exact opposite," Meadows said.
A strong point in the show featured Allen's mother, Montrose, who had worked in vaudeville.
"It was my idea to use Steve's mother at the Flamingo for that first show," Meadows said. "Steve had been raised very poor, and his parents were never there. His mother sometimes acted jealous of his success. But there was no denying the fact that she was a brilliant comedienne. That woman was such a genius."
"We were rehearsing for the opening day, the first show, the dinner show, and those bored waitresses and waiters, you know they've seen every act, and they were setting up the tables," Meadows recalled. "And all of a sudden, (Montrose) started her act, which was she came out of the audience dressed like some almost bag lady from the Midwest who had come there to gamble, and she walks up to the stage in the middle of Steve doing a monologue. And he stops dead in his tracks and says, 'Just a minute, lady. I'm doing a show.' And she says, 'Yeah? Where is it?' And she wanted the ladies' room, starting this bit that was so funny."
"She stopped all the waiters and waitresses, they were laughing so much at the rehearsal," Meadows added. "I mean to tell you, she stopped the show in Vegas. Life magazine took a picture showing Steve and his mother in the middle of their act, saying she stole the show."
Wrote Don Alpert in the Los Angeles Times (March 12, 1961) the week of their opening: "Many-faceted Steve Allen reveals yet another facet Thursday when he invades the Las Vegas gold coast for the first time. With him for his assault on the Flamingo hotel will be his wife, Jayne Meadows; mother, vaudevillian Belle Montrose; and Gabe Dell, a regular from his television show. They will be accompanied by three black caskets. As Steve tells it: 'We broke the act in last week in Fresno. About the only problem was transporting three black caskets around. It looks pretty weird when you come up to a motel and instead of suitcases you unload coffins.' "
During that first appearance in Las Vegas, Meadows admitted she sang only a medley with Allen — "It was all fashion," Meadows said. — but then in the "Bride of Frankenstein" number, she did a wild comedy sketch, a takeoff of musicals with Dell and the three coffins on the stage.
"We were so different," Meadows said. "People told me when the curtain went up and they saw those coffins, they thought, 'What is this?' Instead of naked ladies, they see these three coffins. But it was a very funny sketch. We had done it originally on television, and they had it redone for Las Vegas."
"Everybody we knew in Hollywood came over to see us," Meadows added. "And Louella Parsons, who had been a fan of mine from the movies and a real fan of Steve's … just adored the show."
Their show was so unusual it was held over. When the Flamingo's then owner, Morris Lansburgh, was asked why he extended the couple's stay and always picked up their checks, he replied, "Well if you do the business they've been doing for five weeks, we'll do the same for you."
Both Meadows and Allen had long, successful careers before they showed up in Las Vegas.
Meadows was born Jayne Meadows Cotter in Wu-ch'ang (now Wuchang), China, on Sept. 27, 1920, one of four children; her younger sister, Audrey, also became an actress and is best remembered as Alice Kramden on television's classic 1950s sitcom "The Honeymooners."
The family returned to the United States in 1929, settling in Connecticut.
Allen was born Stephen Valentine Patrick William Allen on Dec. 26, 1921, in New York City. Both of his parents worked in vaudeville, and he was raised by his mother's family in Chicago.
Allen worked his way through school, served in the armed forces during World War II and began his career in show business in radio. A master of ad-libbing, Allen gained recognition as a comedian and host on television.
After completing her schooling, Meadows set out to be an actress.
"I did eight plays on Broadway," she said. "I have a very New England accent and during my whole career it was luck, because they put me down as a young Katharine Hepburn. My first job on Broadway I got (working under the name Jayne Cotter in "Spring Again" in 1941) was because they were looking for somebody they used to call 'of the manner born.' And (they were looking for) the same thing for my first movie ("Undercurrent" in 1946 for MGM), which was with Katharine Hepburn."
While under contract with MGM, Meadows also starred in such pictures as "Dark Delusion" and "Lady in the Lake" in 1947. Perhaps her best role was in "Enchantment" (RKO, 1948). Her last major film was 20th Century Fox's "David and Bathsheba" in 1951.
Allen married Dorothy Goodman in 1943, and the couple had three sons. They divorced in 1952. Allen and Meadows married on July 31, 1954, and had one son, Bill.
In 1953, Allen originated a local East Coast-based talk-variety show, and the following year it went national as "The Tonight Show" for NBC.
In 1956, NBC gave Allen a new prime-time show, "The Steve Allen Show," that featured such future stars as Elvis Presley and Jerry Lee Lewis. In 1957, Allen left "The Tonight Show" (Jack Paar took over) to devote all his time to "The Steve Allen Show."
Over the years, Meadows would work in television as well, earning three Emmy Award nominations.
Allen and Meadows together made only occasional appearances in Las Vegas after their debut in 1961. In August 1965, they headlined the New Thunderbird Hotel, with singer Marilyn Maye, Terry Gibbs and the Dunhills on the same bill. Jerry Schafer produced. This time, Meadows took a more active role in the production. In July 1970, the couple headlined the Flamingo again.
One of her favorite comedy bits included being pulled onstage in a rickshaw, then singing "Hello Dolly" in Chinese and dancing The Skate.
"It was so exciting. It was such fun," Meadows said. "We had the greatest time in Vegas every time we played there. In our day, it was more the entertainers of the old school. You would see Jack Benny … it was still entertainers from vaudeville, dancers and singers."
A prolific writer of both music and prose, Allen died on Sept. 30, 2000, the night he finished editing his 54th book.
"Vegas is a very emotional word for me, because we had so many happy engagements there, plus the fact that we met so many lovely people," Meadows reflected. "Las Vegas is really the entertainment capital of the world. You can see everything there. … I've been back a few times since Steve died. And the last time, I stayed at the Flamingo."
About Las Vegas, Meadows remembered: "It's like the early days of the movies and the early days, incidentally, of 'The Golden Age of Television' in New York. We were the kings and the queens. And that's what you are in Las Vegas — that is what you are in Las Vegas! When people fly in from this city and that, and they get out and look at the city. Like Dubai — just to look at the lights and the architecture. It's a show unto itself. It's all glitz and to please an audience."
"There's nothing to equal the atmosphere of Las Vegas," Meadows added. "It's a whole city. It's like Disneyland for show business."