Las Vegas designer to debut 'Kitchen Crashers' on DIY network
October 9, 2011 - 1:01 am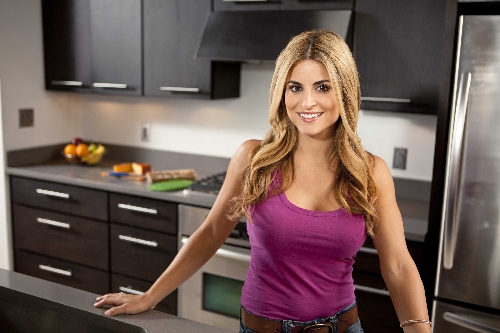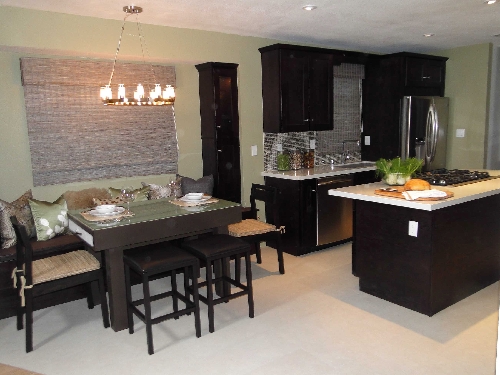 When Alison Victoria Gramenos approaches shoppers at Las Vegas Valley home improvement stores to deliver her pitch, a couple of reactions might follow.
For male shoppers: elation that an attractive woman they don't even know wants to go home with them.
And for couples: disbelief that Gramenos — who works professionally as Alison Victoria — really means it when she says she wants to go home with them to remodel their kitchens.
But that — the second one, not the first — is exactly the twist that forms the foundation of "Kitchen Crashers," Gramenos' new TV show that premieres 6:30 p.m. Monday (repeating at 9:30 p.m.) on DIY Network.
"Kitchen Crashers" is the latest edition of the network's "Crashers" franchise, which also includes "House Crashers," "Room Crashers," "Yard Crashers" and "Bath Crashers."
The premise of the show is as straightforward as it is unpredictable: Gramenos approaches shoppers in a home improvement store and offers to renovate their kitchens for free.
"It's unsuspecting people and they're working on their bathroom or getting cleaning products," Gramenos says with a laugh. "And, the next thing they know, there's a camera in their face and I'm running over to them and saying, 'You want me to go home with you?'
"We've been getting a lot of 'yeses' from some men. Some women have questions, like, 'What are you doing?' "
And some even admit that they'd love to remodel their kitchens but, out of apprehension about doing it themselves or fear about what it would cost to hire someone else to do it, have put their plans on the back burner.
With "Kitchen Crashers," Gramenos becomes the first woman to host a DIY "Crashers" show.
"I think it's a whole new twist for them," she says. "I do think I fit in well. I view myself as a tomboy. Maybe other people don't, but I'm not afraid to try any type of power tool."
Gramenos, 30, is a Chicago native who moved to Las Vegas when she was 19. An aspiring interior designer since the age of 10 — early projects included re-doing her best friend's bedroom — Gramenos studied interior architecture at the University of Nevada, Las Vegas, where she graduated with a psychology degree in 2006. When she was 24, Gramenos became the youngest designer for Christopher Homes, a Las Vegas luxury home builder. At 26, she founded her own Las Vegas-based design company, Alison Victoria Interiors. Two years ago, she launched her first furniture collection, the Alison Victoria Avenue Collection.
Gramenos' work has taken her to Chicago, Los Angeles, Park City, Utah, and, of course, Las Vegas, where she also serves as creative director of the Silverton hotel and casino.
In an interview last week, Gramenos says she was finishing up episode seven of her new series and preparing to begin filming episode eight. However, "Kitchen Crashers" does represent a dramatic departure from her usual work process. Instead of the six months or even a year that she might normally devote to working with a client, each "Kitchen Crashers" job takes about three days from start to finish.
"So you've got every single contractor in the kitchen at one time," Gramenos says. "There could be 30 people coming and going — plumbers, electricians, tile guys. So it's all about delegation.
"The kitchen is not only more difficult (to renovate) than any other room, but it's the most important room in the house. When you go somewhere or you sit at home with your wife and kids, you congregate in the kitchen. It's the hub of a home."
However, whether working with her own clients or with guests on the show, Gramenos says her most important tool is simply listening to what they have to say.
"I always ask all my clients and homeowners to give me (their) wish list," Gramenos says. "The fun thing is, with my personal clients, they have a budget in mind. And even though we have a budget (on the show), we like to give them what they want."
Within reason, anyway.
"One woman had a whole list. It was like three pages, and I'm thinking, 'OK, I'm not here to buy you knives, but I like the fact you want a smoker in your backyard. I like the fact you want a cappuccino machine built in. Maybe we can give those to you.' "
Gramenos says designing a kitchen requires taking into account both comfort and functionality.
"In the family room, you could say, 'We just want to be cozy, we just want a lot of lighting, we want to be able to lounge and be comfortable,' " Gramenos says. "That's different than the kitchen, where it's, 'I'm going to need six burners, and I need a grill, and I've got to have a double oven because I do Christmas every year for the family so one isn't going to cut it for me. It's the most-used room in the house, and, again, it all falls back to function."
What has Gramenos learned about the American kitchen since beginning work on the show? "I didn't know there's such a demand for linoleum," she answers. "It's just everywhere. Vegas. Chicago."
Entertainment value aside, Gramenos hopes "Kitchen Crashers" will give viewers ideas for sprucing up their own kitchens. Las Vegas has been hit hard by foreclosures, unemployment and general hard economic times and, whether by necessity or choice, "more people are staying put," she says.
So, Gramenos hopes viewers will take from the before-and-after projects the realization that there are many things homeowners can do — not necessarily terribly expensive things, and either by themselves or with the help of a good contractor — to give their kitchens a face-lift.
Not everyone can enjoy a firsthand kitchen revamp from Gramenos. But, she says, "I hope they're going to take (ideas) from this show and make (them) their own and add to it."
Contact reporter John Przybys at jprzybys@ reviewjournal.com or 702-383-0280.