'Las Vegas is truly the romance capital of the world'
February 10, 2017 - 11:30 am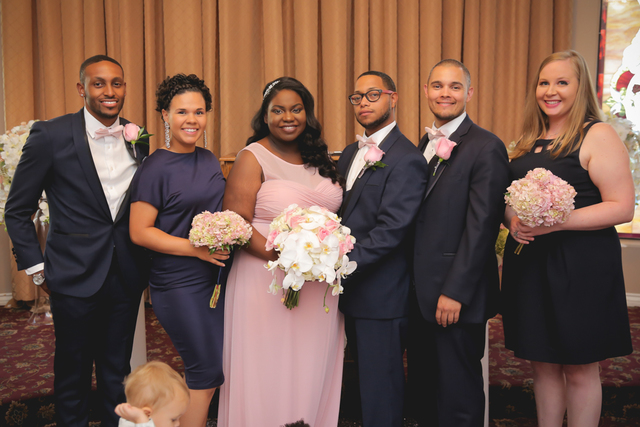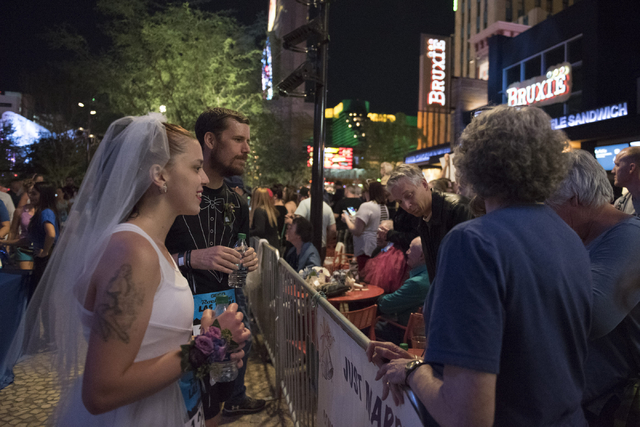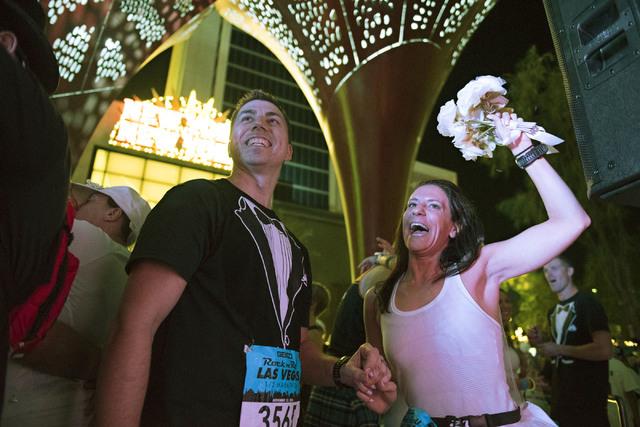 With Valentine's Day on Tuesday, our wedding chapels will shift into overdrive for romantic couples wanting to tie the knot or renew their vows. The economic impact from wedding tourism here is $2 billion. That was the 2015 figure computed for me by county clerk Lynn Goya.
Lynn also told me that of the annual 40 million-plus visitors, 4 percent are here to get married or renew vows. In 2015, 350,000 couples traveled here to get married, and 80 percent of them were younger than 40. "Yes, Millennials are getting married," said Lynn. "And one-quarter of all the duos from Britain fly here just to get married."
Aimee Stephens of Vegas Weddings, who also is chairwoman of Las Vegas Wedding Chamber of Commerce, explained: "Las Vegas is truly the romance capital of the world, and we have so much to offer — from your bachelor and bachelorette festivities and world-class dining to spas and entertainment.
"Then with weddings, we have amazing photographers, wedding chapels catering to the more economical couple to grand weddings at our resorts, country clubs and more. Valentine's is extra-special for our 113 chapels, plus even mobile chapels. There will be three to five officiants working straight through at each chapel from midnight to midnight on Valentine's Day."
LVWCC is a public/private partnership between the Las Vegas wedding industry and Clark County Clerk's Office to promote the $2 billion industry in Clark County. With members from every sector of the industry, the alliance is designed to reinvigorate wedding tourism to Southern Nevada. More information: WeddingChamber.Vegas.
With Cupid getting ready to fire his arrows Tuesday, we have a beautiful first-person story from a wedding planner who wanted a glam Las Vegas ceremony to mark her eighth anniversary of her wedding that was traditional. Shanaye Sommers is Vegas Weddings senior lead coordinator. Here's her story:
Marriage is all about compromise, a lesson I had to learn early in the planning stages of my wedding eight years ago. My then-fiance, now husband, wanted a traditional wedding with family only.
I on the other hand wanted Las Vegas. I wanted glitz, glam and bling. I wanted our wedding to be a few people and to be a fun time. I didn't want to worry about planning it. I just wanted to show up and look fabulous.
This battle was won by my fiance. We had a traditional wedding in a gazebo in our small town with our family and friends there to help us celebrate. Because we had our wedding in our hometown, we had to sacrifice a few important things to make it work.
We did not get a professional photographer or floral, and I had to stress over every little detail of my wedding day. It was fine then because I was just happy to be married to the love of my life. As the years went on and I became more enthralled with the wedding industry, I looked back at my day with melancholy.
I didn't have any great professional photos to share or a beautiful dried flower as a keepsake. Working at one of the best wedding chapels, Vegas Weddings, didn't help, either. I knew that we could make any wedding a couple envisioned come to light because I did it almost every day.
With my anniversary fast approaching, I was determined to have the wedding that I wanted. My husband had won the battle, but I was determined to win the war. I sat down with my wedding planner and began planning our vow renewal. My planner made it so simple. Everything I wanted, she provided for me.
It was my dream come true. My custom floral was made by our florist Samantha at Downtown Artistic Floral, and it was gorgeous. I told Samantha what I envisioned, and she provided that and more. I was in awe of my bouquet on the day of — it was prettier than me.
We chose to have decor for our ceremony. I didn't want just any decor; I wanted the room to stand out. Vegas Weddings provided a sequined aisle runner, candlelit pathway and beautiful sprinkled petals. The decor stood out beautifully and added to the chandelier and stained-glass windows of the chapel.
My only concern was dressing my husband for the ceremony. He is a jeans and T-shirt kind of guy, and I wanted him to look good but feel comfortable. Well, once Rickey at Downtown Tux & Gown got ahold of him, I had no worries. My husband looked like a gentleman.
The photography also very important to me. I was so glad that I had Emerson as my photographer because he is great at capturing small, intimate details that were essential memories I wanted to remember. I loved the pictures of my friends who traveled here from North Carolina.
I loved the photos of my adorable flower girls. Emerson even got a few of my favorite locations throughout the chapel, like The Terrace Gazebo, and a few metropolitan areas that make for beautiful backdrops for photo sessions. I had to buy all of our pictures because they were so beautiful.
Vegas Weddings really took the time and care to make my day special, and I truly appreciated every moment.
* * *
I was curious about three things to do with marriage ceremonies in Las Vegas: flower petals, the tradition of the ring bearer and flower girl and why the officiant always asks, "Does anyone object?" Kris Labuda, LVWCC president and wedding services manager for select Caesars Entertainment wedding chapels, and Aimee had the answers:
There's always the great story about flower petals. Each petal dropped is a wish the couple can use later in life. In medieval times, before written records, townspeople who witnessed important events were the record-keepers. Young people were always needed at weddings as they would be most likely to keep the memory alive longer, thus the ring bearer and flower girl.
Why is "does anyone object to this marriage" asked? That was again because memory was the record-keeper, and it was done largely to determine if either person was married to someone else.
To all the lovebirds arriving this weekend to celebrate their romance, we extend champagne wishes and caviar dreams. I can testify that Las Vegas definitely beats Gretna Green, which was the English-Scottish border town to get married in when I lived there. It's the first village over the border and has been the home of famous runaway marriages since 1754, but Las Vegas still holds the record with more than 350,000 ceremonies each year.
The wedding statistics here are awesome. On Valentine's Day, the first marriage will take place at 12:01 a.m., and the last will be at the stroke of midnight. Some 1,000 weddings are planned for Monday and Tuesday, and nearly 1,200 certificates have been filed for this weekend. Our marriage license bureau also has already surpassed 10,000 same-sex marriage licenses.
County Clerk Lynn Goya summed up: "Las Vegas is proud to be the wedding capital of the world."