Lumos! 4-day Harry Potter convention coming to Las Vegas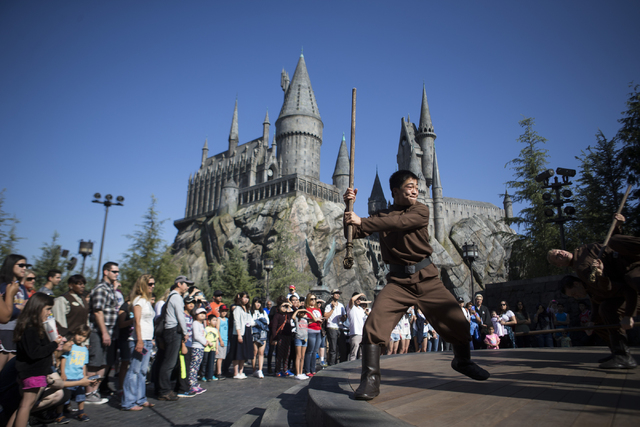 A new Harry Potter theme park may have just opened in Hollywood, but Las Vegas isn't completely left out of the magic. Wizards and muggles who can't make it to the enchanting park can experience the wonder of Harry Potter in Las Vegas this summer at a four-day convention.
Dubbed "Leviosa Con," fans of JK Rowling's beloved series can enjoy four days of activities dedicated solely to the boy who lived.
According to the organizers, events at the convention include: "a welcome feast (with a) full buffet dinner, close to 80 hours of programming over 6 tracks, a magic ball, wizard wrock, magical fashions and crafts, and more."
For fans that do venture to Universal's Wizarding World and pick up a wand from Ollivanders, there will be a "dueling quick course for beginners" session to teach the ins-and-outs of spell casting.
The convention will also feature several keynote speakers including Chris Rankin — the actor who plays Percy Weasley in the Harry Potter films — and various best-selling young adult authors.
The event, hosted by the nonprofit group Imagination, Creativity, Education, Inc., is scheduled for July 7-10 at Green Valley Ranch, 2300 Paseo Verde Pkwy., in Henderson.
For more information and to purchase tickets, go to leviosa.org.
Contact Caitlin Lilly at clilly@reviewjournal.com. Find her on Twitter: @caitielilly_
RELATED
Harry Potter-themed coffee shop opens in Henderson
See Universal's Wizarding World of Harry Potter before it opens — PHOTOS
Tickets sell out for grand opening of Universal's Wizarding World of Harry Potter