March's TV highlights include programs with local ties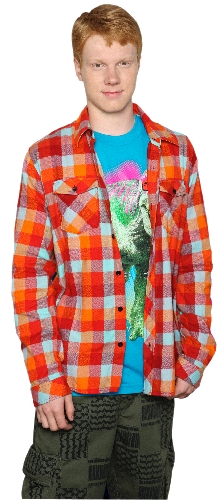 Now that the snow has settled on the Olympics and viewers have had some time to recover from NBC's around-the-clock coverage — I'm honestly a little surprised my TV still works without Lindsey Vonn on it every couple of hours, and I'm not entirely sure I even want it to — networks and cable channels are using the rest of March to roll out their last batches of new programming before summer.
And for the first time in nearly a month, none of it involves Bob Costas, spandex or Norwegians.
Here's a look at March's highlights. And, as always, times and dates are subject to change.
LOCAL TIES
Two teenage Las Vegas natives return to TV as Meaghan Martin's "10 Things I Hate About You" (8 p.m. March 29, ABC Family) is back for the second half of its first season, while Adam Hicks' skateboard comedy "Zeke and Luther" (7:30 p.m. March 15, Disney XD) begins its second season.
Team Chuck Liddell takes on Team Tito Ortiz on the 11th installment of "The Ultimate Fighter" (10 p.m. March 31, Spike).
Heidi Fleiss remains under the watchful eye of Dr. Drew as she moves from "Celebrity Rehab" to "Sober House" (10 p.m. Thursday, VH1).
And University of Nevada, Las Vegas alum Guy Fieri hosts the new game show "Minute to Win It" (7 p.m. March 14, KVBC-TV, Channel 3).
WHERE'VE YOU BEEN?
Four missing-in-action series are back this month, kicking off Monday with "Gossip Girl" (9 p.m., KVCW-TV, Channel 33), which hasn't had a new episode since Dec. 7, and "Trauma" (9 p.m., Channel 3), which hasn't been heard from since Nov. 30.
After having disappeared Dec. 3, "FlashForward" (8 p.m. March 18, KTNV-TV, Channel 13) returns with a handy recap special (10 p.m. March 16, Channel 13) to help viewers remember its convoluted plot. And "V" (10 p.m. March 30, Channel 13), off the air since Nov. 24, also resurfaces, but it looks like you're on your own when it comes to piecing together where it left off.
NEW SHOWS
Follow-ups to two of cable's biggest events of the past decade highlight the month's new offerings. "The Pacific" (9 p.m. March 14, HBO), the companion piece to 2001's "Band of Brothers," reunites most of the epic miniseries' behind-the-scenes talent, including executive producers Tom Hanks and Steven Spielberg. And the 11-part documentary "Life" (8 p.m. March 21, Discovery) picks up where 2007's "Planet Earth" left off.
Stetson-wearing U.S. Marshal Raylan Givens (Timothy Olyphant) is transferred from Miami back to his native Eastern Kentucky in "Justified" (10 p.m. March 16, FX), the quirky drama based on an Elmore Leonard short story.
And when their con-man father is sent to prison, three young brothers hire a loser sporting goods salesman (Tyler Labine) to fill in for him so they won't be sent to foster care in the "Malcolm in the Middle"-meets-"The Riches" comedy "Sons of Tucson" (9:30 p.m. March 14, KVVU-TV, Channel 5).
On the reality front, "High Society" (9:30 p.m. Wednesday, Channel 33) follows New York socialite Tinsley Mortimer and promises "outrageous parties." "Fly Girls" (9:30 p.m. March 24, Channel 33) trails five Virgin America flight attendants and promises "great parties." And "Jamie Oliver's Food Revolution" (9 p.m. March 26, Channel 13) finds the chef trying to get the residents of Huntington, W.Va., to change their eating habits; no parties are promised.
NEW SEASONS
"Breaking Bad" (10 p.m. March 21, AMC), TV's best drama, enters its third season, but there's still time to catch up on the misadventures of Walt White, the show's high school chemistry teacher turned meth kingpin. AMC is giving a daily late-night showcase to the previous 20 episodes (the first two air at 3:30 and 4:30 a.m. Tuesday), and the entire second season is available on-demand.
Elsewhere, USA brings back "Law & Order: Criminal Intent" (10 p.m. March 30) and "In Plain Sight" (10 p.m. March 31). Showtime's dark comedies "Nurse Jackie" (10 p.m. March 22) and "United States of Tara" (10:30 p.m. March 22) return for their second seasons. And Holly Hunter begins her final season of "Saving Grace" (9 p.m. March 29, TNT).
As far as reality shows go, "Dancing with the Stars" (8 p.m. March 22, Channel 13), kicks off its 10th season while trying not to kill 80-year-old contestant Buzz Aldrin. "Celebrity Apprentice" (9 p.m. March 14, Channel 3) and "Wife Swap" (8 p.m. March 26, Channel 13) return. And Tyra Banks continues her search for "America's Next Top Model" (8 p.m. Wednesday, Channel 33). Here's hoping this is the season Tyra finally finds her.
Christopher Lawrence's Life on the Couch column appears on Sundays. E-mail him at clawrence@ reviewjournal.com.