Museum supporters 'put on the Ritz' at annual gala
November 1, 2009 - 10:00 pm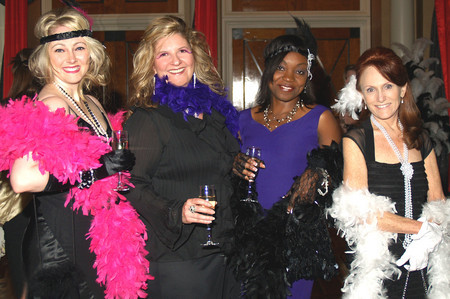 The Lied Discovery Children's Museum had their 27th annual Fantasy Gala on Oct. 24 at the Palace Ballroom at Caesars Palace.
It was an evening of "Puttin on the Ritz," as guests donned vintage garb for the formal affair that turned the page to 1929. The benefit raised funds to assist the museum with new exhibits and programming.
The museum honored the Epicurean Charitable Foundation with their annual Great Friend to Kids Award.
The party began with a silent auction, where libations flowed and guests posed for photos in front of two classic 1929 Ford Roadsters loaned by Judy and Mort Skoll. A "police raid" ended the reception, as the ballroom doors opened, showcasing the red and black decorated ballroom filled with white and black feather plumes and centerpieces of red roses and white lilies surrounding a flickering lamp centerpiece.
Dinner was served to 579 guests, including attending board members Joyce and Steve Schneider, David Goldwater, Bridget and Steve Phillips, Candy and Mike Schneider, Judy Stokey, Peter Poggione, Thomas Amick, Jennifer Carleton, Frank Beck, Todd Lefkowitz, Roy Centrella, Cindy Dreibeibis, Brian Fink, Craig Miller, Judy Skoll, George Smith, Hilary Westrom and John Ritter.
Entertainment was provided by the Center Stage Academy's performers, ages 5-16, the Joey Doucette Dancers and Harbor Lights. Emcees for the gala were Paula Francis and Gary Waddell, KLAS-TV, Channel 8 news anchors.
Fantasy's co-chairs, Judy Cebulko and Carrie Henderson, presented Rino Armeni and Jay Bluhm of the Epicurean Charitable Foundation with the Great Friend to Kids Award. Paul Brittain conducted a live auction for 11 packages, including an original by Jennifer Main that was painted during the gala's reception that sold for $7,500. Also included were getaways with plane tickets and airport limos to San Diego, Lake Tahoe, Chicago, Montage Resort at Laguna Beach, Calif., the Four Seasons in Maui, and golf with Greg Maddux at Clint Eastwood's Tehama Golf Club in Carmel, Calif.
More guests tripping the light fantastic were Dee and Don Snyder, Maureen and Phil Peckman, Joan and Jim Hammer, Judy and Jim Kropid, Denise and Tim Cashman, Sandra and Steven Hardie, John Klai, Jon Sparer, Michael Yackira, Shaima and Alex Graham, Heather Estus, Jennifer Main and Jason Steiner, Jerry Olivarez, Sandy Peltyn, Ken Kulas, Jim Manning, Terri and Rollie Strum, and the museum's executive director Linda Quinn.