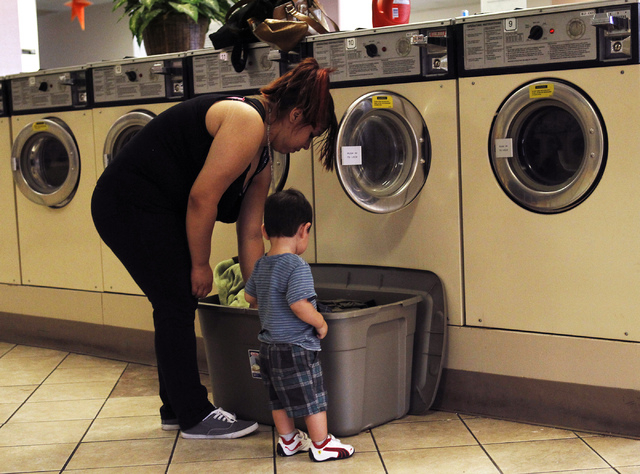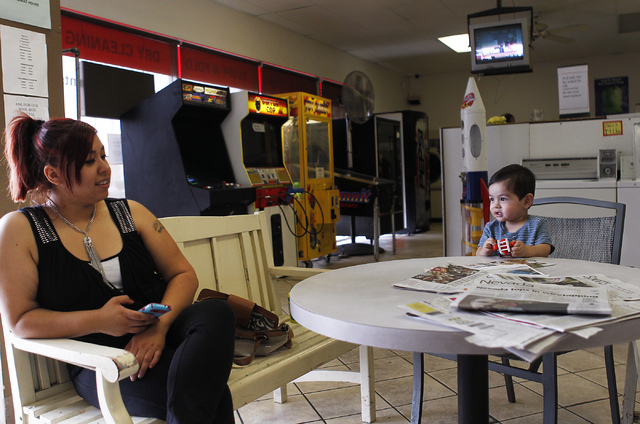 One, two, three, four, five, six, seven, eight quarters into the coin slot and the door to the washing machine at the Wizard of Suds unlocks.
Another day at the laundromat brings people from all walks of life who want to get their clothes washed for $2, $3 if it's a bigger load or larger item such as a comforter. With four more coins or so, the customers can get their clothes dried, leaving the weekly or biweekly trip costing about $5 with a cup of detergent.
"I think it can save a little money on your water and power bill," says Jackie Moreno, who has been using laundromats for years and is visiting Wash N Fun on this day. "Plus, I can come here and get it all done at once instead of waiting for one load to finish at a time."
No matter which facility it is, a trip to the laundromat can produce a de facto community spot.
While waiting the 20-plus minutes for their clothes to get done followed by another 30 minutes or so for them to dry, people read, chat, watch television, smoke or play the slot machines at the laundromat.
Despite being a quiet Wednesday night inside Wizard of Suds, the few customers find themselves drawn to the television to watch a movie — "Mission: Impossible 4: Ghost Protocol."
After transferring a large load from the washer to the dryer, another couple joins in to watch.
"That is supposed to be one of the largest buildings in the world," says one customer talking about a scene from the movie.
Back over at the long row of 30-plus dryers, Abebe Ertachew removes his freshly dried clothes to fold.
He has been coming to Wizard of Suds, 4275 Arville St., for years and remains a customer even after he moved from the area.
"I like that it's 24 hours," he says. "I'm here at least once a week."
It's not just Las Vegas locals using the machines.
Ozzy Sheikh paces back and forth from the dryers to the television as he waits for his load to dry.
He says he has been in town for the past few weeks competing at the World Series of Poker.
"And I'll probably be here another two weeks," he says.
He is staying at the Rio, just around the corner from Wizard of Suds.
"It's pretty convenient," he says. "People are pretty friendly, but I mostly keep to myself."
Across town at the Wash N Fun, 4425 E. Stewart Ave., it is a slow Tuesday afternoon.
"The summers are usually quieter times around here," says Jo Ann Bedell, the store's manager. "People are wearing less clothes meaning they have less clothes to wash."
She says other winter-related items such as comforters or coats aren't being brought in.
In the back of the Wash N Fun, Moreno folds her laundry fresh from the dryer.
"I like using the laundromat," she says. "It's faster. With all these loads, it would take forever at my house."
Every two weeks or so, Moreno is back for a wash. While she waits for the cycle to complete, she has magazines or iPhone games to keep her company.
At the front of the shop, Sandy Feld plops down and collects dissected sections from a discarded newspaper.
"I never turn down a free newspaper," he says.
Feld isn't just a customer. He used to own the joint and now returns as a patron.
"It's the only place I trust to have my clothes dry cleaned," he says.
Though he lives in Henderson, he says the drive is worth it.
While the customers who use the laundromat have their experiences, he says the owners and managers have collected their share of stories, too.
"I once found a bullet in the water," he says.
In his heyday as an owner, he used to pass out a nickel or two from time to time for customers to play the slot machines while they wait.
"They would take the nickel and kept playing," he recalls.
Most of the slot machines are run-down and older. Besides being costly to repair, he says most laundromats can't get newer machines because of city ordinances.
"The reason we can still have the machines we have is because we've been grandfathered in," he says.
From her office, Bedell can glimpse the security footage of the Wash N Fun while she works.
"You can't shove that all in there," she says as she scans the screen. "That's too big for the machine."
She has seen it all.
"I've found everything from credit cards to toys (in the machines)," she says.
She adds it is not uncommon for people to abandon full loads.
"There was once 15 pairs of jeans left in the washer," Bedell says. "They weren't even left in the dryer. We held them for about a month."
Under normal policy, Wash N Fun holds unclaimed items for 14 days to a month.
In the end, the jeans were put in a charity drop-off.
Bedell says they have found money, but usually it is destroyed by the machines.
"But we find tons of coin," she adds.
Like many places that draw people with a common pursuit, laundromats tend to generate a colorful array of stories.
For nearly 30 years, Bud Roach was in the laundromat business and saw his share of changes and bizarre characters. His own start in the business was fairly unusual. Roach worked repairing appliances and would often come to laundromats to repair washers and dryers.
One day, the owner offered to sell the place for $10,000 — he owed Roach money for repairs and thought the balance could go toward purchasing the business.
From there, Roach accumulated two other businesses.
His shops were all over town: one at Rancho Drive and Washington Avenue, one on Boulder Highway and one near Bonanza Road and Nellis Boulevard.
The business came with many surprises.
"One thing I could never believe is people leave entire loads — huge loads — in the dryer," he says. "I once had someone leave brand-new towels and never come back."
Another time, an attendant found $600 in cash in a machine.
"She asked if she could keep it," he recalls. "I said, 'You certainly may not.' "
A few hours later, a man called from the airport asking if they found cash.
"He had a heart attack when I said I only found $25," he says. "Then I told him I was joking and asked how much he left. He said $600."
Roach's laundromats have also had scarier moments.
Once, he says three teenagers robbed a slot machine in his store, stealing $1,200 in quarters. Even though they were caught, the money wasn't recovered.
Roach says some business owners faced backlash in the '90s from racial tensions that spilled over to Las Vegas from the Los Angeles riots — civil disobedience that occurred in 1992 after the acquittal of police officers charged in the beating of an African-American resident.
"Stores with white owners were getting vandalized," he says. "(My employee) told me I (had) better keep my white (butt) home for a little bit to be safe."
He adds he had to sneak into his facility in North Las Vegas.
Doing repairs and owning several businesses, Roach has obtained a different perspective of the industry.
He says having a 24-hour laundromat brings positives and negatives.
As a plus, the business catches all the Las Vegas workers who work unconventional hours.
But with no attendants to monitor the store in the late hours, it can be risky.
"You always risk the danger of being vandalized," he says.
Eventually, he decided to sell the stores — each of those stores has since closed.
But he still keeps tabs on the business and says being an owner today can be a risk.
He estimates that more than half of the city's laundromats have closed during the past decade because fewer people are using them.
"The industry is hurting," Roach says. "It's not what it used to be."
Contact reporter Michael Lyle at mlyle@reviewjournal.com or 702-387-5201. Find him on Twitter: @mjlyle.