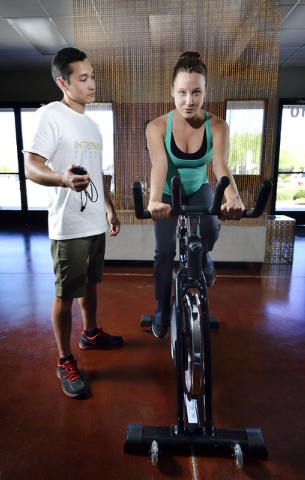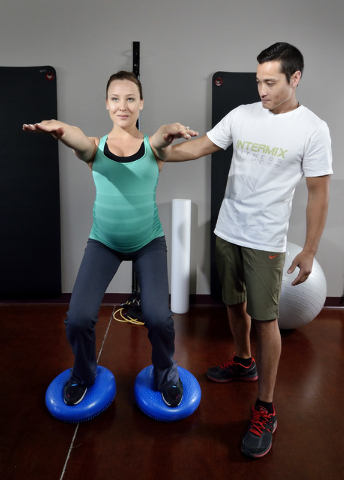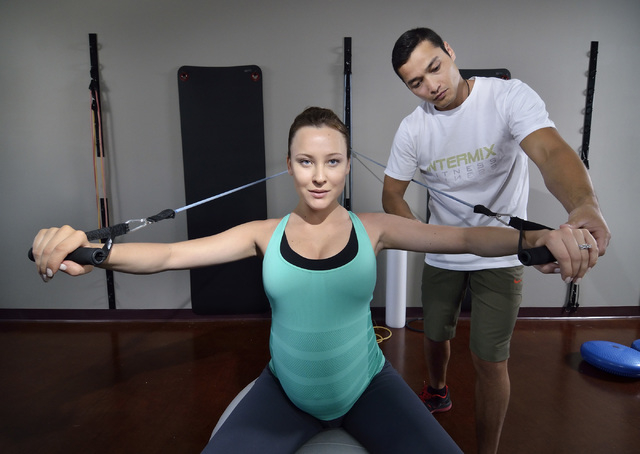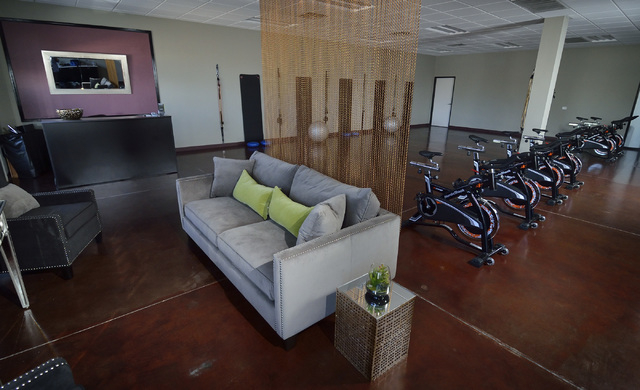 As an acrobat, Almas Meirmanov's life has been one great, literal balancing act.
Now, the "Absinthe" performer is adding a new meaning to the word as he opens Intermix Fitness Elite.
"I'm a professional balancer here," Meirmanov said. "I have time to do both."
The gym at 1770 W. Horizon Ridge Parkway celebrated its grand opening April 21.
Born in Russia, Meirmanov has been a circus performer since he was 5. His travels landed him in the United States when he was 16.
With his home base established in Chicago, he traveled around the country competing and performing in acrobatics and gymnastics.
In 2006, he was part of a team that won a gold medal at the U.S. sport acrobatics competition.
Along the way, he met his wife, Katia Dmitrieva, a contortionist who is also his partner at the gym.
In 2011, the couple came to Las Vegas when Meirmanov was offered a job at "Absinthe" at Caesars Palace.
"We were only supposed to be here six months," he said. "The show ended up doing amazing, so we signed a three-year contract."
While performing, Meirmanov kept thinking of developing his own fitness program.
"Acrobats and gymnasts are very familiar with how to use the body," he said.
With that mindset, he figured he could help people get into shape and reach fitness goals.
Meirmanov received his personal training certificate from the National Academy of Sports Medicine and decided to launch a pilot program in Chicago at his uncle's gym.
"It's different than an everyday gym class. There is no heavy equipment," he said. "We focus on each individual's body weight and strength training."
Dmitrieva was able to manage the program flying between Chicago and Las Vegas. The program, they said, received a lot of positive feedback.
"It is very hands-on," Dmitrieva said.
Her husband toyed with the idea of launching the program in Henderson, opening his own space this time. When looking for a space in Henderson, they decided they wanted the gym to be off the beaten path.
"We like the location because it's exclusive," Dmitrieva said. "I like it that you come in, and it has a private feel rather than located on a busy street. This gives it the feel of being more high-end."
At Intermix Fitness Elite, classes are private and semi-private to allow the instructor to focus on what each person needs.
"We like to be involved with all our students," Dmitrieva said.
Meirmanov said classes focus on strength training according to a person's body weight and uses items such as resistance bands.
"It's used in sports medicine," he said. "It's not just about building strength. It's therapeutic, too."
Along with the training, instructors also help with nutrition.
Meirmanov and Dmitrieva are still working on establishing their foundation in Henderson, but they have discussed the idea of opening another location. In the future, they would love to expand to Miami and Los Angeles.
"We don't want to become a franchise, though," Meirmanov said. "We still want to make sure we are very hands-on, which separates us from other gyms."
They are also entering another balancing act as they prepare for the arrival of their first child.
For more information, visit intermixfitness.com or call 702-558-5277.
Contact Henderson View reporter Michael Lyle at mlyle@viewnews.com or 702-387-5201.